Back in September ( http://anerleybc.org/thursday-ride-12-sept/ ) the Thursday Riders met up with a heavily laden cycle tourist. He was a Romanian named George Marcu and was on his way home after a mammoth bike ride from his home, around much of Europe going as far as Welsh Wales, and was now on his way back to Dover and onwards to home.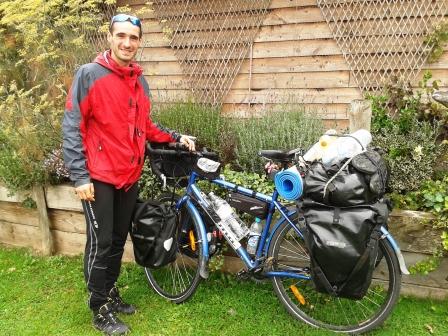 He was invited to join our club riders for a cuppa and a chat about his adventures. When leaving to continue his journey to Dover and the ferry he promised to sent some information about his European tour. This he has recently done, including a map of his tour route which I have copied below.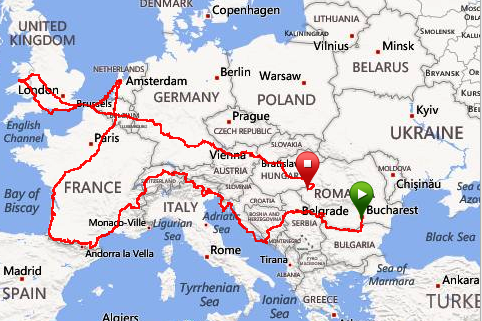 The accompanying notes are from his Garmin created log, full details can be seen at http://connect.garmin.com/activity/390373830.
George's total mileage for this European tour of several months was just over 6,985 miles. That is probably about 2 years cycling for many of us!
Naturally a self sufficient tour such as this requires a lot of luggage, as evidenced by his heavily loaded bike, in the first photo above. What these luggage bags hold can be seen in the 2 following photos, taken before he set off. The first being an assortment of clothing.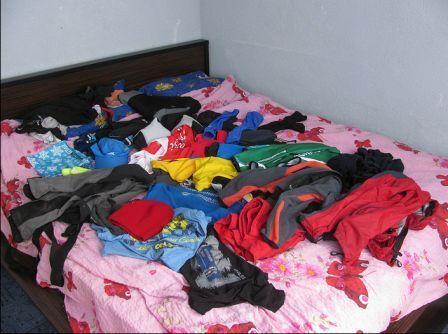 And the second, everything else!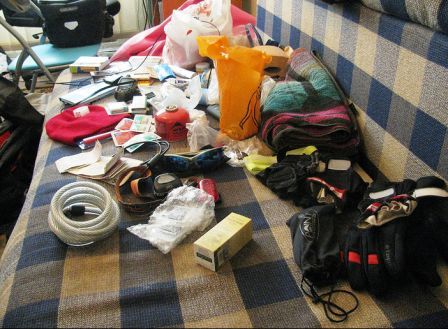 The next shows his loaded bike at his first border crossing, the River Danube and thence into Bulgaria.
The Garmin log shows several large numbers. For example that George climbed a  total of 324,688 feet during his ride. The highest point being in the French Alps when he climbed up to a height of 8,638 feet, some ten times higher than the highest point of the North Downs at Botley Hill!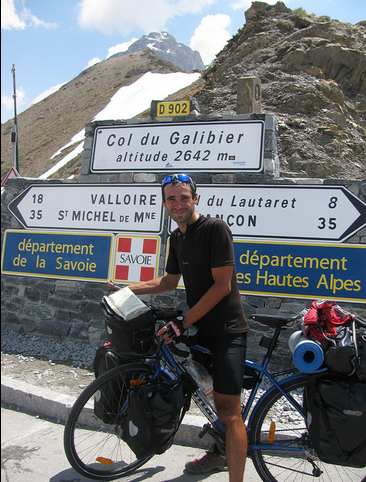 I  don't need to tell where this photo of George was taken!
And at the farthest point in his travels, or somewhere near to it is this photo taken along the Welsh National Cycle Route, part of which Tom Vaz and I cycled some three years ago.
These are but a few of the many photos taken by George on his travels from the far east of Europe, and thru many countries to the west of the United Kingdom, and back via a circular route and many more places. His full photographic log can be seen at http://www.flickr.com/photos/32068169@N06/sets/
So thank you George for sharing some of your travels with us.
Des.