Freewheel Competition: 2013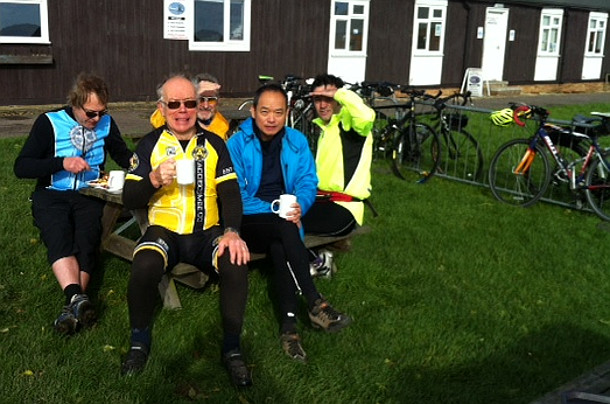 Sunday saw the annual "Freewheel" competition down Outwood Lane return after being washed out in 2012. Ten hardy soles braved the coolish weather, the conditions were not perfect for any club records to be broken. The road was wet and covered in leaves, an odd pothole or two could be found on the decent plus there was a fairly strong south westerly wind blowing up the hill. For the first time to my knowledge only one person managed to freewheel over the first hump, so it goes without saying that person (Graham) won the competition by a country mile and on his "old" bike which recently made a come back following years of gathering dust in the garage.
Following the downhill the "freewheelers" then headed to Redhill aerodrome for some tea and rock cake (although a few of the group indulged in bacon sarnies or full English!). As you can see from the picture below part of the group braved the cool breeze and dined outside.
As tradition mandates this Sunday's ride didn't continue to a lunch stop as the AGM was being held at TV's house later that day.
Finally, well done Graham on winning the downhill.
Jim