Weekday Rides 29th and 31st October
The last week of October started with the worst storm since 1987, with high winds and lashing rain over Sunday night and Monday morning. However 24 hours later it was bright sunshine and blue sky when the Tuesday Riders set off to Otford.
I cannot tell you anything about the ride except what can be gleaned from these photos sent to me by Henry Joseph who obviously enjoyed his day out!
They must have reached their destination, as evidenced by this shot of the local pub and high street. No doubt they went to the lovely tea room for a cuppa, rather than a pint in the pub.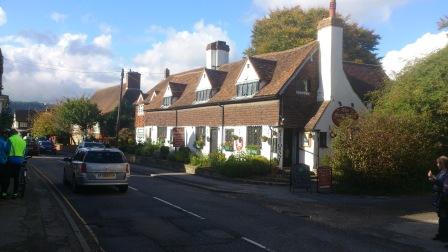 But then again they might have wanted something a bit stonger than tea, after what was obviously an eventful ride! Here they ponder a rather large fallen tree, completely blocking the road.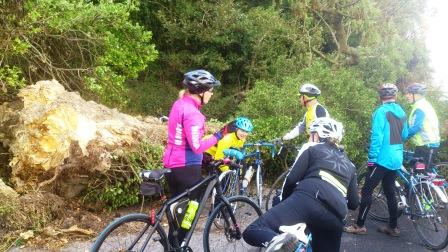 However, not detered, Eva soon leads the way with her cunning plan and a bit of muscle power to overcome this rather large obstruction!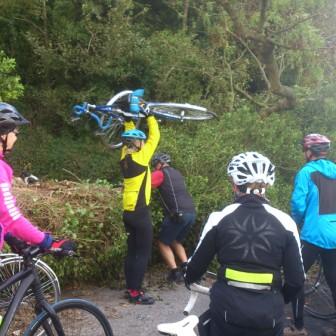 Thursday was not such a success. The forecast was for early morning rain, expected to clear before 10 o'clock. Except that it didn't. At 9.30 with rain still falling and no sign of the sky clearing I e-mailed every one to say that I was going to stay at home in the warm and dry. As did several others, but not all! Frank Kippin sent me this e-mail on behalf of the brave, all weather contingent of the Thursday Riders:
As promised my comments on the ride that Mark and I rode into heavy weather.
The heavy rain eventually stopped about 11.30 am! Somewhat later than expected.
As we went down the lower part Pebblecombe Hill Mark got a rear tyre puncture on his space frame Moulton bike.  Only the second puncture with this bike albeit the 1st was not so long ago. Mark found a shard of glass in the tyre. Meanwhile I contacted Meike with my mobile only to be thwarted by the battery giving up the ghost before completing the conversation. I subsequently filled in the gap with Meike during the AGM on Sunday.
Mark struggled manfully to remove the tight tyre plus inner tube in one go using 2 wide tyre levers. A technique he learnt from a racing pal some years ago.
As you would expect the pressure in the rear was not now high enough so we headed direct to Pilgrim Cycles/cafe at West Humble/Box Hill Station for an air top up and refreshments. My 1st visit and a most impressive ambiance and cycles on display that even JT would admire. Another lone mountain bike cyclist dropped by spattered with mud. His bike was a down hill racer made of carbon fibre and aluminium rear forks costing only £4000!
Next we went up to Ranmore Common. Quite a grind.,Then Box Hill. Mark waited at the top for me and then it was full steam back to  Chipstead Valley Road where Mark peeled of to Woodmansterne. I then had Purley Downs Road/Sanderstead Hill to assail before I got home.
Frank.

So thanks to Henry and Frank for keeping us upto date with what the Anerley mid-week riders have been up to.
Des.