Relaxed Tuesday Ride: 21st May
A perfect day for cycling, sunshine!  And I had lots more than expected, lining up at Shurgard to join my group.  Even some of our club's fastest riders, including Barry, to name but one!  Then a few more waiting at Coulsdon.  So many now, that we had to split up into two sub groups.  Sub group 2 ably led by Ian who kept a disciplined 100 yds gap between us, for cars to pull into if necessary.
Due to a road closure along the Chipstead valley we went up to Banstead and onto Epsom Downs, en-route to Stoke D'Abernon.  From there it was thru the grounds of the Freeman's School at Ashstead and onto Leatherhead.
Whilst Surrey has lots of hills and woodland, it lacks rivers and other water features.  Just having come back from a long weekend in North Wales, which abounds in big lakes and big rivers, I searched out every drop of water on this days ride.  So it was the Mill ponds at Leatherhead, then over a couple of bridges to cross some minor trickles of the River Mole at Fetcham, and soon we were at the tea stop at Stoke D'Abernon.
Here we were met by Meike, who had driven out to meet us for a sociable, Anerley chat and cuppa. And what a crowd of us there was! Photo by courtesy of  Chrys.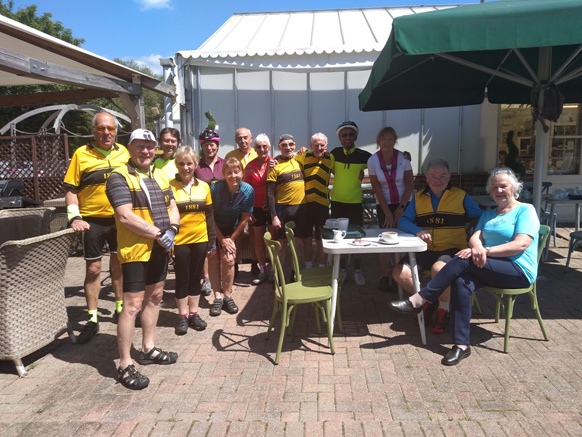 Our Club President takes pride of place in the front row, and note Denise also in the front row, first time out on an Anerley Ride since her skiing accident. And back row, third from left, a new face – Kay, who is more normally a very active rider/leader with British Cycling's Breeze, ladies rides.
Return ride was back to Leatherhead, where we took a footpath beside the Mole, followed by the cycle path alongside to A24.  And one last detour to cross over  a couple of small bridges over the Mole, where Kay captured my sub-group.  Denise taking pride of place at the front!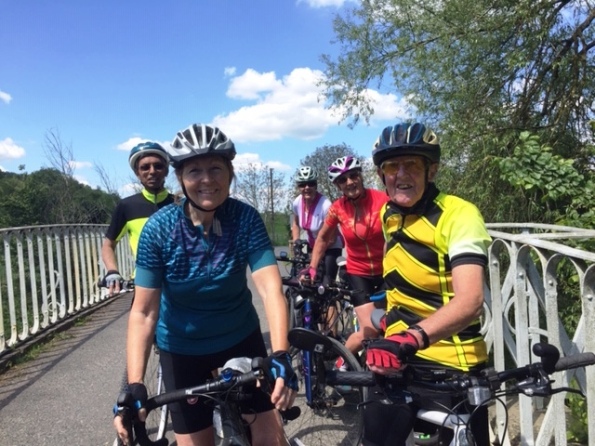 Then it was homewards bound with a climb up Box Hill and on to Walton on the Hill.  Arriving at the A217, Reigate Rd, we had a split.  Some decided to go back via Outwood Lane and take a chance at getting thru the road closure, whilst I took a small group back via the scenic back road thru Mugswell and over Chipstead on the Hill.
At the bottom of the fast descent of Portnalls Road, as we came back into Coulsdon, we met the group who had obviously got past the road closure, but at some delay as we had taken a longer but much nicer route!
For me, the home and back mileage was exactly 40 miles, but longer for most of the others who had to cycle to the start point at Shurgard and back.
Des