So we had 13 riders to my knowledge, representing the club this year, not always in club colours of course, ranging in distance from 10 miles to 209 miles in one day & an epic tour of 2,907 miles.
Shak started the season off with a ride in the Surrey Rumble on the 5th of March. He rode 56 miles in 4 hours 34 minutes. Again shak was in Action on the 1st of April riding the Wiltshire sportive over 70 miles, in 6 hours 40 minutes.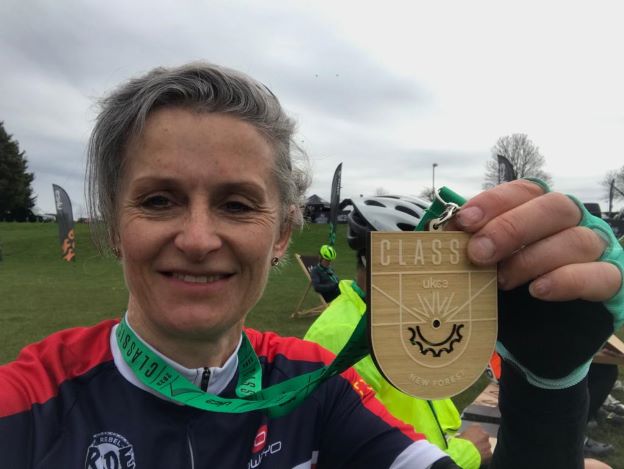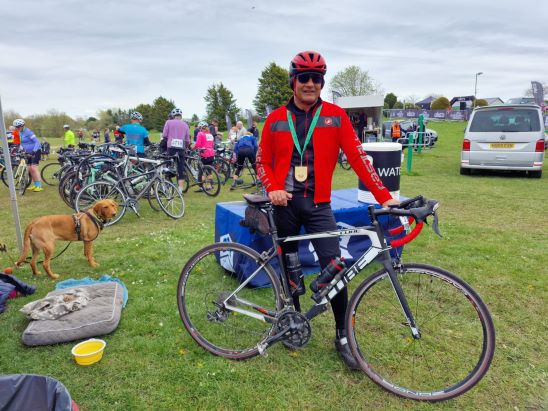 On the weekend of the 15th & 16th of April, four Anerley B.C riders rode the New Forest classic, over 57 & 80 miles. These were myself, Vivienne & Alison who stayed over in Sway at an Air BnB. I was first in action on the Saturday over the 57 mile course. The Forest had lots of puddles due to overnight rain but it was warm enough to ride in shortsleeves. I finished in 4 hours 25 minutes on my steel Cliff Shrub bike. On the Sunday Alison rode the 57 mile event, & Vivienne rode the 80 mile event in 5 hours 28 minutes. I was out on the course taking photos & noticed Shak riding as well on my favourite New forest climb of Boulderwood. He did the long 80 mile course, his time was 5 hours 49 minutes.
Shak was in action once more on the 13th of May, riding the Surrey Hills Classic over 77 miles. in 6 hours 51 minutes.
On the 13th of May Barrie rode his only T.T of the year, doing the SCCU 10 mile event in 28 minutes 9 seconds. This was the fastest ride over 10 miles this year.
On the 28th of May three of are riders rode Ride London over 100 miles. Andrea did 6 hours 42 minutes & 57 seconds which is the fastest ride by a lady in the club this year. Jim did a very good 5 hours 44 minutes & 32 seconds. Gavin did the fastest time for many a year over the 100 miles – it was almost T.T fast! His time was 4 hours 34 minutes & 43 seconds – ave speed pretty close to 22mph. He should consider doing a 100 T.T in 2024.
On the 4th of June Alison & Vivienne rode the Tour of Cambridge over 100 miles. It is a closed road event. They finished together in 7 hours 2 minutes.
Meanwhile I was off to Scotland on the 2nd of June to ride the Isle of Mull sportive on Sunday the 4th. The weather on Mull was sunny all day & we had a full field of 400 riders. Its pretty much closed roads as well. and most of the islanders come out to watch. Being the only London rider I was in club colours for my second ride in the event, & was happy to finish the 86 miles in 6 hours 58 minutes. This might seem slow but there are three 20% climbs over the last 35 miles.
On the 9th of June, our Long Distance couple set off riding the Great Divide from Mexico. I'm talking about Tim & Sally of course.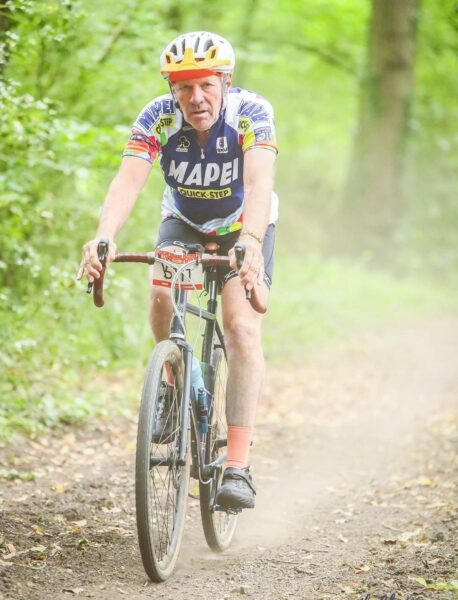 On the 17th of June I decided to ride my first Gravel sportive. These are new events on the sportive calendar. What I didn't appreciate, was when it said epic – it meant almost unrideable, with sections I had to get off & walk – including Leith hill off road. Anyway I got round the 36 miles in 4 hours 44 minutes without falling off!
On the 25th of June Vivienne rode the Never Stop Pushing Sportive over 47 miles in 3 hours 19 minutes.
Also on the 25th of June, Shak rode the South Downs Classic over 82 miles in 7 hours 27 minutes.
But not to be out done on the 25th, Stuart Lloyd had travelled to Ireland to ride The Chase the Sun event. You start at sunrise on one coast of Ireland & ride all day to finish 209 miles later, before the sun goes down, on the other coast. He came 11th in 12 hours 43 minutes – Strava time.
On the 9th of July, Vivienne rode the Ride Reigate event over 63 miles in 4 hours 35 minutes.
On the 16th of July Shak rode London to Southend in 5 hours 24 minutes, a ride of 67 miles.
Again on the 16th of Jul, it was the ninth edition of the 101 Rebel Ride organised by Ashtead Velo. Its a charity ride of 100 miles & I had a team of three Anerley riders with me, on my fifth ride. The course is different every year & this year we headed into Surrey via Windsor. We were lead by an Ashtead Velo leader who set a very fast pace, unfortunately Deepak was soon off the back because he had done very little training. Alison finished at the pub in Ashtead first, in 7 hours. I was 4 minutes back & Vivienne finished in 7 hours 21 minutes. But the ride of the day went to Deepak who rode over 70 miles on his own! (yes I was ringing him to make sure he was still ok). Anyway he reached the pub in 8 hours, very tired but happy to finish.
On the 30th of July I decided to ride my first T.T since my Achilles problem. So I dusted off the Cliff Shrubb & lined up for the Addiscombe 10 mile road bike event. Of course as I started the rain came down but had stopped by the turn-around. I was going ok & happy to finish inside evens with 29 minutes 38 seconds.
On the 15th of August Tim & Sally reached the finish of the great Divide in Canada, a ride of 2,907 miles mainly off road, both I should add, a few stone lighter than when they started out!
On the 26th of August I rode the Sussex C.A 10 mile T.T on the hilly Loxwood curcuit, again in the roadbike category, but this time on my carbon framed Daccordi. The course has lots of left turns & was pretty wet again, but I finished in a pretty slow 33 minutes 56 seconds. But it wasn't a wasted journey, as Robin Johnson always has a wine raffle & I won a bottle of red to take home!
On the 8th of October Vivienne rode the Grid Iron event over 66 miles in 4 hours 46 minutes. I believe other Anerley members rode this, but I have no other times I'm afraid.
On the 29th of October Alison finished the season off with a ride in the Kent Classic over 50 miles, in 4 hours 13 minutes, on a very wet & windy day.
So in conclusion we still have an element of competition within the club, even if its only in challenge events. Indeed, I believe there are one or two riders who would do very well in long distance Time Trails! Its not only about training for these rides, its also the cost of entering & travel that needs to be taken into account.
And by the way, at some point in 2024 there will be another track training session.
So well done to all the riders who took part in these events this year, lets hope we see more riders on the line in 2024. So stay safe over the coming winter & lets have a good 2024.
Mark H – Racing Secretary.