No Business Like Snow Business!
On the evening of Sunday 11th December 2022 we had the first major snow for well over 5 years. Obviously cycling was out for several days, but it did however offer the opportunity for an Anerley Hike. And much to my surprise, a baker's dozen turned up at Botley Hill Farm for this artic adventure.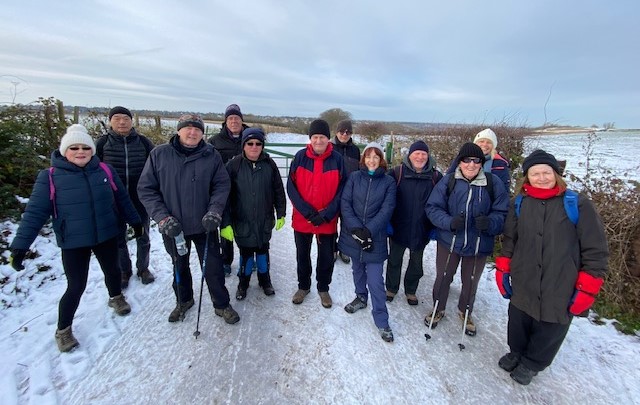 Leaving Botley's car park we crossed the main Limpsfield Rd and headed back towards Warlingham along the cycle path. The road side hedges had recently been cut and on this crisp and sunny morning, we had a clear view across the fields of the skyscrapers of London and it's Canary Wharf. After 3/4 of a mile we crossed back over the main road to where the above photo was taken. The baker's dozen – 12 + Denise, who as the official photographer, does not appear in any of the pics.
This gateway is the entrance to what is officially known as Upland Rd, because in earlier times it was a well used by-way. It is now a designated bridleway and hence an opportunity for our club's Gravel bikers to try out.
I think we were all very surprised, when coming up the icy track were 5 cyclists (obviously on Gravel bikes!) who appeared to have no problem staying upright, when we on foot were slipping and sliding – except those wiser ones amongst us, making use of hiking poles!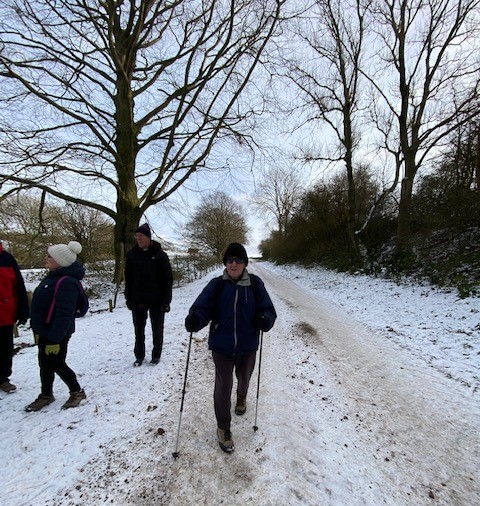 This tree lined section of Upland Rd indicated that we were approaching the Vanguard Way, a long distance footpath which starts at East Croydon Railway Station and carries on for 66 miles to the Sussex coast at Cookmere Haven near the famous Seven Sisters cliffs. Or if you want to cycle there, our local NCR 21 through Marden Park, also finishes down there!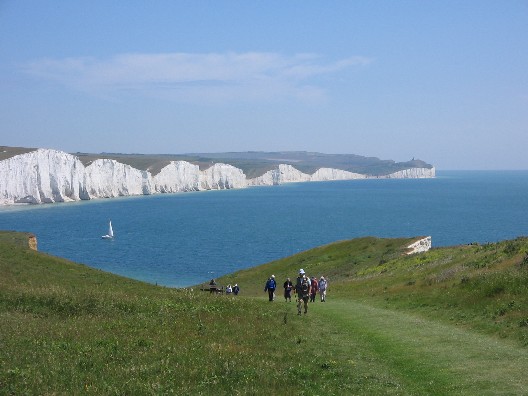 But although we were not walking to the Seven Sisters, we were going to join the Vanguard Way for the next part of our hike. This change in direction was easy to follow as the route was well signposted, and with a can't be missed kissing gate thru the barbed wire fence.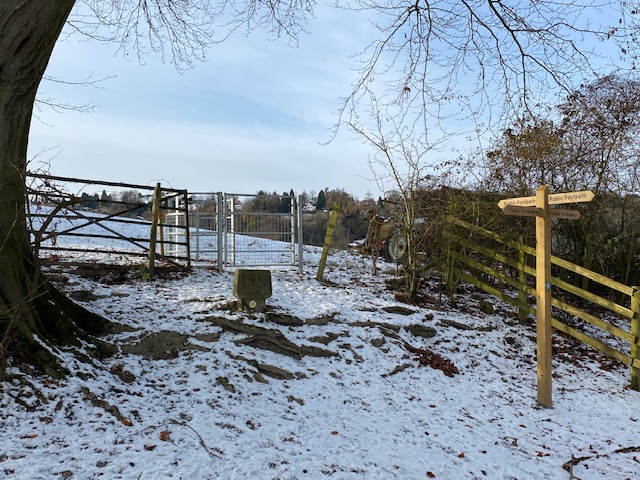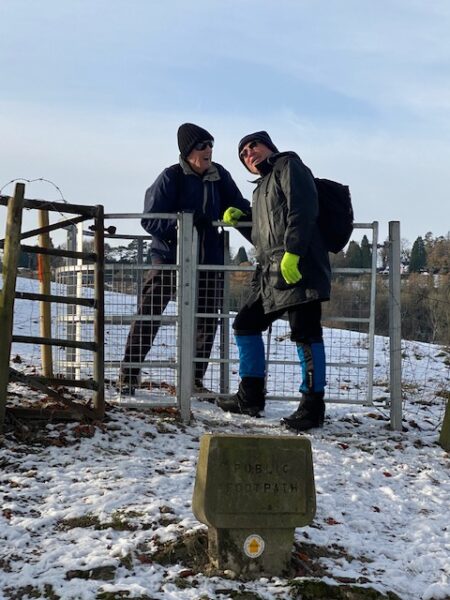 The path across the next field followed the tree line to a good old fashioned stile, with a 3+ foot drop on the other side, onto Slines Oak Rd. We should all be familiar with this bit of road as we often cycle along it. It is one of our alternative routes leading upto Woldingham Village centre.
Now we just needed to look out for the next Vanguard Way sign, which was easy to see, with a finger post and sign to Warren Barn Farm.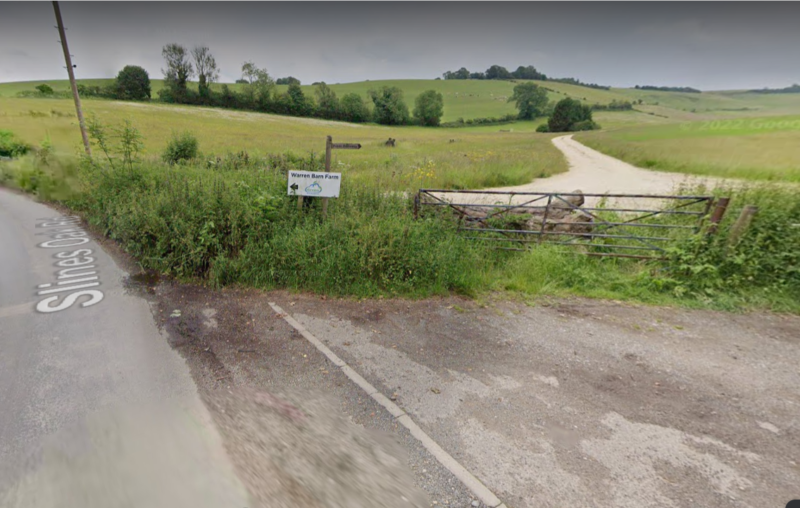 This bridleway was a longish climb up, bringing us out near to the highest point on the North Downs ridge way (890 ft), and opposite the top end of Chalkpit Lane. Here there is a footpath (a continuation of the Vanguard Way) which paralleled Chalkpit and was an equally steep – and slippery – down. This eventually took us to a stile which led us off the Vanguard Way but onto a much more evident trackway, but heading back up hill within the private estate of Titsey Place. This trackway took us up to join Pitchfont Lane (a public bridleway within Titsey Estate). This bridleway comes out by the car park adjacent to the mini-roundabout where the top of Titsey Hill joins Clarks Lane/Limpsfield Rd.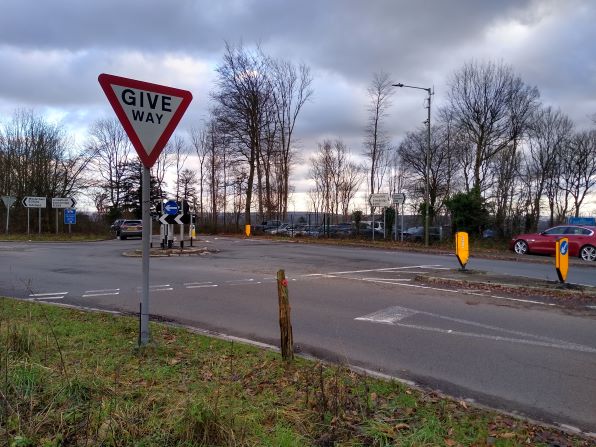 And from there it was only a couple of hundred yards back to Botley Hill Farm for an end of hike photo.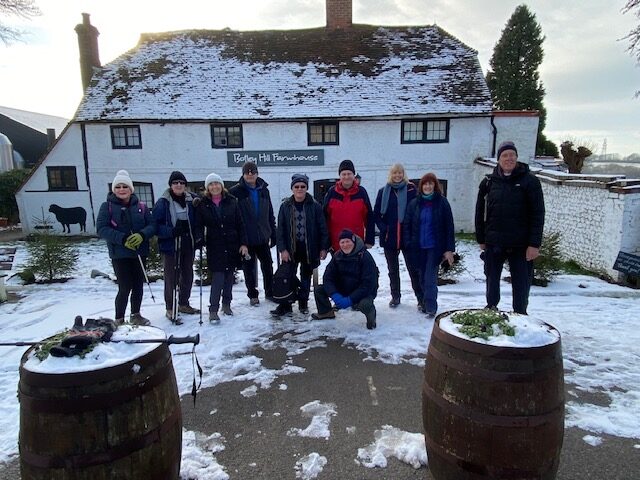 Unfortunately for us, Botley Hill is very popular and we were unable to get seating inside for hot food, drink, and a warm up, so we had to make do with sitting out side at the Sheep Barn Tearoom. Brrrrh!
Des.