The first part of Mark's ride following  the river took us to Wimbledon Common (see http://anerleybc.org/wandering-the-wandle/). From there we passed thru a tunnel under the A3, which took us onto Putney Heath. The A3 is of course the old road to Portsmouth and in earlier times the heath was a popular place for highwaymen to ply their trade. It was also a popular place for dualling, a famous one being between William Pitt, the then Prime Minister and another M.P. Fortunately both were poor shots and both survived without injury!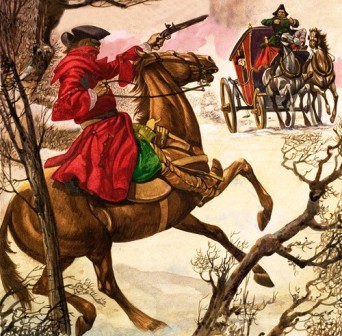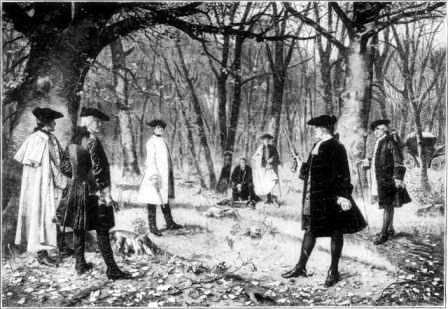 From Putney Heath we had a short on road ride to enter Richmond Park via Roehampton Gate.  Even this Royal Park is not immune to law breakers. A mugging at gun point lead to a park police force being formed.  However this was in 1854! Today their duties are not quite so demanding. The police can (and do!) issue £50 fines for cycling on paths which are not designated for cyclists. Bridleways are exclusively for the use of horse riders, but designated off road cycle paths are laid with yellow gravel so easily identifiable.  However, mind how you go! Another offence is "cycling furiously". In 2013 a cyclist was prosecuted, and convicted at the local magistrates court for pedaling at 37 mph. But why speed?  There is so much to see in Richmond Park that a gentle pedal to enjoy the great vistas is so much more rewarding.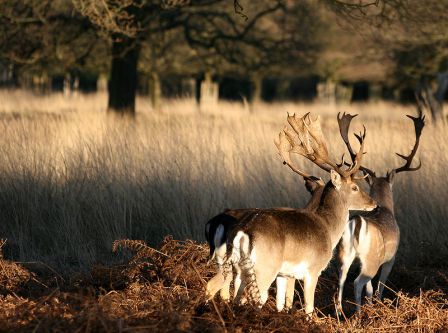 The most famous view and high point in Richmond Park is King Henry's Mound. Fortunately the day of our ride was bright and sunny, and with the aid of a mounted, large, brass telescope, we were able to enjoy the views.  In one direction an avenue of trees leads the eye to St Paul's Cathedral at some 10 miles distant. In the opposite direction and much further away, could be seen Windsor Castle.
Back on our bikes and with the clock showing nearly one o'clock, it was time for tea at Pembroke Lodge, with another viewpoint from the terrace.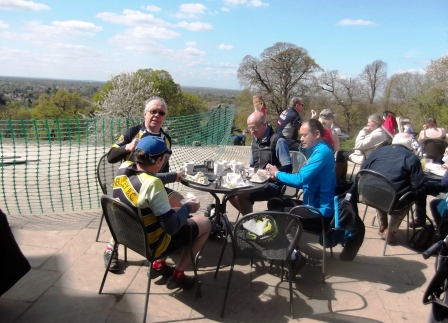 After this pleasant break in the mid-day sun it was back in the saddle, along the yellow gravel path to complete a 7 mile circuit of the Park back to Roehampton Gate and onwards bound to the River Wandle.
Back in the grounds of old Merton Abbey we went to visit an old mill, once used for making snuff, but now in the care of the National Trust.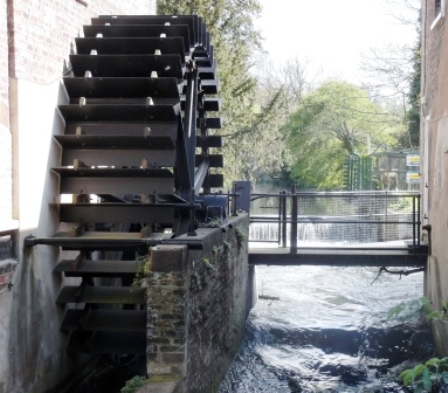 In the mill complex is a nice court yard tea room where we stopped for some light refreshment and took the opportunity to pose before a rather large gear wheel!  Not manufactured by Shimano, but home cast when Britain was still "Great"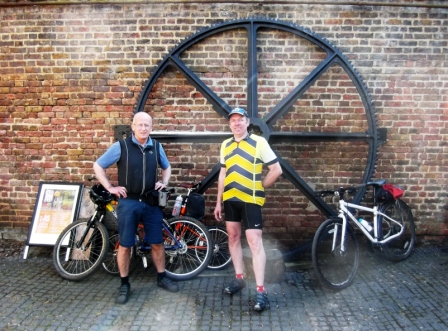 It was a great day out and a most enjoyable ride, a full day ride as it was nearly 5 o'clock when I got home. We all agreed that we must do another club ride , wandleing to Richmond Park during the summer months.
Des.