Sunday Ride: 4th May 2014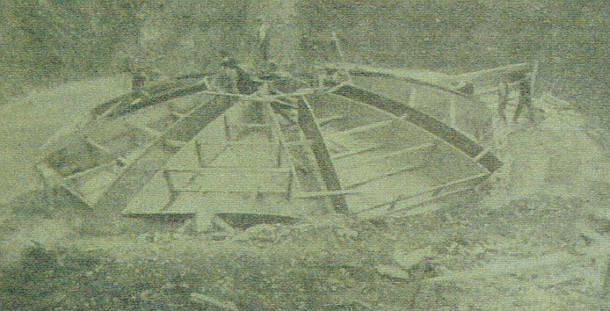 Frank writes …
I overslept to join the Sunday ride to Leith Hill and left Selson about 9.10am in an uncertain chase via Purley, Chipstead Valley Road, Kingswood, Pemblecombe Hill, A25, Dorking and up the lane to Coldharbour. I first came across Rob who was slaking his thirst at side of lane but I said I could not stop in case I could not restart. Rob later stormed past as I slowly over hauled Eva to join the group at Coldharbour.
Jeremy led us round the hill to find a footpath/track to the top of the hill via mud, roots and ambling walkers. No cycling on this stretch as I got stuck in mud!
Magnificent view at top and excellent tea and cake.
Back down the track to rejoin the road where I, Rob and another turned right in the direction of Dorking, thinking it would be a quick way back. Not really. Initially followed signs to Broadmoor not Friday St then ignored turning to Broadmoor [1in 8] and continued down steep narrow lane barely room for cycle and car and pot hole deviations. Passed lonely, lost, small, long haired mutt walking up the hill. Rob stopped to examine mutt for identification and flagged down a large car that passed me, to ask if they knew owner. Yes, and they took the dog on board for delivery!
We came out at Wooton Hatch pub and headed to Dorking. I lost the other 2 and did the shortcut to the A24 clockwise round Dorking and onto the A24 cycle path. Here I came across a large number of cyclists and an injured one at side of the main road just passed Denbies entrance. No rubber necking so on to Mickleham and up Box Hill at 1pm.
Gasp…. 30 min stop for refreshments and back the usual way to Coulsdon, Shurgard and up Purley Downs Road and Sanderstead for 2.30pm then Selsdon home.
Hindsight should have stuck with Jeremy's group and been back earlier!
See attached article re swallow hole and A24 widening 1937. We all must have cycled over the swallow hole dome structure under A24 over the years.
I will drop a line to Ben Latham if he has more information regarding the exact location of dome.
Regards
Frank