Maps and Navigation. Start here.
I asked via the Anerley Bugle if anyone had topics that they would be interested in reading about.  This one was sent in:
I suspect that I'm the only person interested in this due to my poor sense of direction and lack of experience but I'd find a piece on navigation helpful – planning, and navigating while riding; using maps, GPS and the tools available on the internet; a look at some of the practical issues and the pros and cons of the different methods.  How are you, Tom and Christopher going to find your way around Spain for example? 
To me, maps are an interesting subject, and I have been asked similar questions before.  This request does however cover a lot of ground, and to provide useful info on the various points raised would require several articles.  But I can make a start!
Only recently I read an article where the pros and cons of maps versus GPS were discussed.  I hope I can find the article!  However the writer came out in favour of maps.  They might be old fashioned but once you have learned the arts of map reading, they can provide much more useful information.  And they are fun and mentally stimulating, compared to looking at yet another screen!
The fun side of map reading?
What better to do on a winter's evening than to plan the next summer's tour!  I can, and do, spend hours pouring over maps to find interesting places to go to, and the most interesting routes to get there.  All of this can be done at home on a P.C, although later I would get a real map of the chosen area.  So let me start with P.C based resources.
There are lots of route and mapping web sites, but my favourites for bike rides are Bing maps and Viamichelin .
Bing maps (and others) have a variety of good mapping resources.  These  include: locating a place; marking a route from A to B, plus written route instructions;  street maps and with Bing – O.S maps at a wide variety of scales; and a very useful "Birds Eye" satellite photo view.  However my main use of Bing is for the O.S map facility which is opened via a box at top right of their web page.  O.S maps are the world's best maps, but unfortunately only cover the U.K.
Here, I have typed in Box Hill, Surrey, and selected the O.S map version. "Full screen" expands width of map and you can zoom in/out, navigate, etc, etc.
 There is a minor problem with Bing route finding (and other mapping systems), and that is that they produce routes for car drivers.  We cyclists prefer quiet country lanes, not motorways and dual carriageways!  And this is where my other favourite mapping option wins out.
Michelin produce very good quality paper maps which cover all, or most of Europe.  They are the best available for use by cyclists (excluding of course our own O.S maps!). Naturally Tom and I have bought Michelin maps for our charity bike ride to Santiago Compostela in Spain, as the O.S map ends at Portsmouth!
These paper maps are the basis of their web based maps, but the web site offers much more than is available on paper. In particular the ability to zoom in to much larger scales than would be practical for paper maps.  What I like about Michelin maps is that the most scenic parts of roads are marked in green.  Very useful for picking the best cycling routes in areas that you don't know!
The second feature is that the web site has a "bike route" option. Select that and it produces those nice country lane routes that we all prefer!  The web site has just been updated so I am now starting to find out what improvements are available.  The first one is that click "Full screen" and you do get a full screen map, not just a wider one!
Below is a bit taken from the web site showing what a paper map would look like. Whereas our Motorways are marked in blue, these ("A" = Autopistas) are marked white. The Spanish "A" roads, in red, are "N" (National), and their "B" roads (yellow) and lesser (white) roads are designated by the local region.  In this case "CA" standing for the region of Cantabria. Blue and red numbers show distances in kilometres between points.  And as I said before, green edging = the most scenic sections of the roads.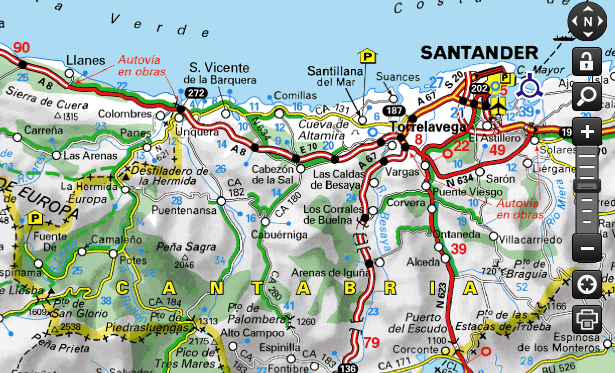 Using the full sized paper map I had worked out what seemed to be the best route from Santander, taking in some of the best bits of scenic coast and other notable feature. I then used the web version, "Bike" option to see what Michelin recommended. Unlike Google maps which opted for the shorter, main coast road (N634), Michelin chose what I thought would be our best route!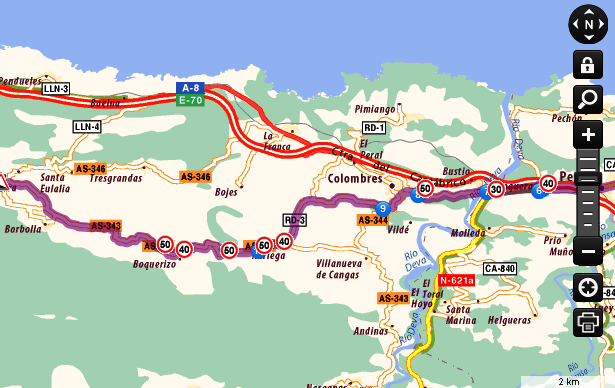 Now let's enlarge (above) a bit of the coastal route between Llanes and San Vicente de la Barquera.  And choose the "Bike" option.
It avoids the shortest routes along the motorway and the parallel main "N" road, but has chosen a more devious way along what we would term "B" roads and country lanes. In this case the AS 343 and 344. We are now in the region of Asturias, hence the "AS" designation!
The circled 30,40, 50 are speed limits (in kilometres) for cars, and the blue circled 6,7,8,9 are reference points to the written route instructions, in these cases telling you to bear right/left, etc at road junctions.  When cycling you do not normally need these instructions, but they do have some useful bits, namely where steep hills are!
BUT NOTE: these are steep downs so drivers don't crash. We need to know steep ups!  What I do is click on "Return" which shows the route back in reverse. Then the steep downs for drivers become the steep up hills for cyclists!
Now if I was looking for a bike route in the UK, in an area of which I am unfamiliar, I would start off with the Michelin web site to get their bike route option, and to see where the best, scenic roads are. Then I would go to the Bing O.S map option and check out the Michelin route against the much greater detail shown on O.S maps.
I will explain the advantages of doing this in the next part of this series. In the mean time, pop out to W.H. Smith and buy an O.S Landranger map, Sheet No. 187, entitled Dorking and Reigate (shown at top of this posting).  This one map covers over 80% of the area and places that Anerley B.C  Sunday/Tuesday rides visit.    Now sit down with a cuppa and familiarise yourself with all the symbols, and what the map shows.  You will then be ready for Part 2 .
Hasta luego (Until then) bon voyage. Must get back to the Michelin maps for the next bit of my foreign tour!