Ride to Pevensey Levels July 17 2011
CUCKOO TRAIL
On Sunday 17th July, six intrepid cyclists met at Polegate for a car/train assisted Guest Leader ride. Tom and Julia were keen to show any willing victims a route they had ridden the previous year in East Sussex: the Pevensey Levels and Cuckoo Trail.
Tom, Julia, Des and Tom Vaz drove to Polegate and found a car park, before meeting Louise and Eamon in the High St – they had cycled all the way down from home! Fortified with supplies from a grocery store, we headed off on a (very ) leisurely ride through the area known as the Pevensey Levels. This area is a "Site of Special Scientific Interest"; it covers 8,651 acres of Marshland, and is a conservation area containing many rare plants and invertebrates. The brochure promised "a landscape of deep and dark drainage channels, tall reeds and rushes, and contented cows munching the lush grass in the rich pastures." Well, we certainly saw plenty of the latter, although whether they were contented is anyone's guess. The cyclists were certainly contented, as it was a very flat and easy ride!
Towards the end of the levels, we stopped in the Hurstmonceux area, the location of a fairytale castle, Science Centre and former royal observatory telescopes.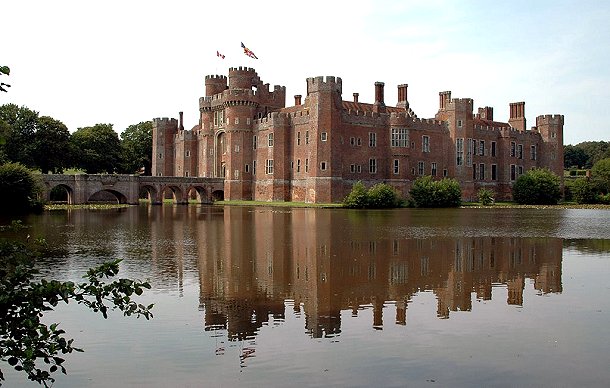 Herstmonceux Castle is a magnificent building and was constructed to replace an earlier manor house. It was built circa 1441/5 during the reign of King Henry VI. It has a bit of a history, for example, in 1541, Lord Dacre the then lord of the manor, was hanged as a commoner for poaching the King's deer and killing one of his game keepers.
Judging by the reaction of the caretakers to our arrival, six cyclists could have met the same fate. Luckily, Tom's charm prevailed on those who were trying to stop us going along the private road by the castle, and we were allowed to "hop the fence" and slink past the castle and back up to the main road – with strict instructions to under no account dare to actually look at the castle, let alone set foot within 100 yards of it.
In recent times, 1957 to 1988, the area was home to the Royal Greenwich Observatory. It was from the observatory's atomic clocks that the familiar 'six-pips' were sent by land-line to the BBC for broadcast.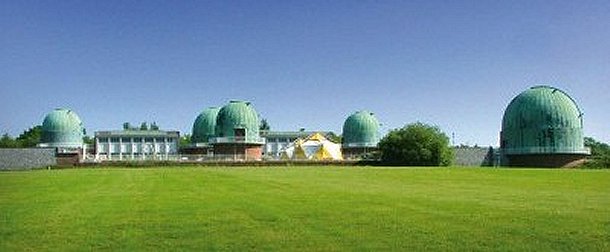 One of the several domes contains the Thompson 26 inch refracting telescope which is one of the largest of its type in the world. Whilst it looks like a very modern piece of astronomical engineering, it is in fact over 115 years old and hence qualifies as an antique! When constructed in 1896 it cost £5,000, just a little cheaper than Hubble! It has proved to be a very worthwhile investment, between 1897 and 1988 it was used to take over 60,000 photos of the night sky.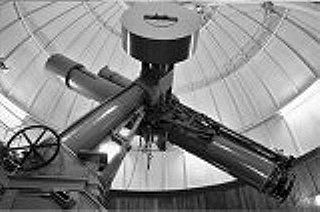 By this time, rumbling stomachs were becoming louder than clattering gears, so, heading back along the A271, after about 2 miles we came to Lime Cross Nursery and Café along Windmill Hill Rd. It was a most welcome find. Good food, lashings of tea, and at very reasonable prices. A place to remember for future rides!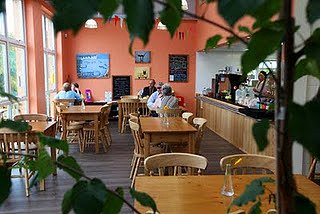 Suitably fortified after our arduous eleven miles, we headed for the Cuckoo Trail, originally the Polegate to Eridge railway, which stretches for 11 miles from Heathfield to our destination at Polegate. The railway carried milk, livestock and animal feed as well as passengers. It was named the Cuckoo Line after the tradition that the first cuckoo of spring was released at Heathfield Fair. It was closed due to the cuts made by Beeching in 1968, and became a leisure route used by walkers, cyclists and horseriders in 1990.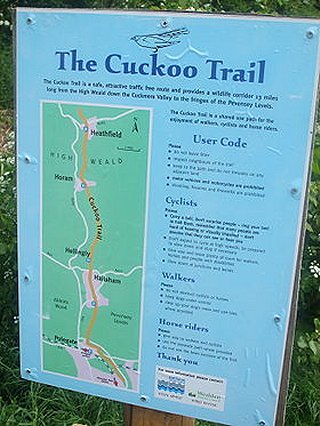 The trail is now part of the cycle route 21 which continues on to the coast at Eastbourne. We could have cycled home to Marden Park! We enjoyed the gentle cycle along the trail, which is traffic-free, lush and leafy and has some interesting sculptures thrown in to boot.
We arrived back at Polegate, content with our pleasant day out – it was not a taxing ride by any stretch of the imagination, but lovely to have a ride in a different area for a change. Shortly after we had loaded bikes into cars the heavens opened and it poured, long term. Just as well that Louise and Eamon had decided to get the train back to Croydon!
For future reference and perhaps another Anerley Away Day there is a very useful leaflet detailing 6 circular cycle rides from 15 to 24 miles in length. Two or more can be joined together to make longer rides.
See http://www.eastsussex.gov.uk/NR/rdonlyres/FBA5D3C6-EEE3-42CF-8E3D-3F89959BDC8E/0/cuckoo_trail_leafletprint.pdf