Tuesday Ride: 10th January 2012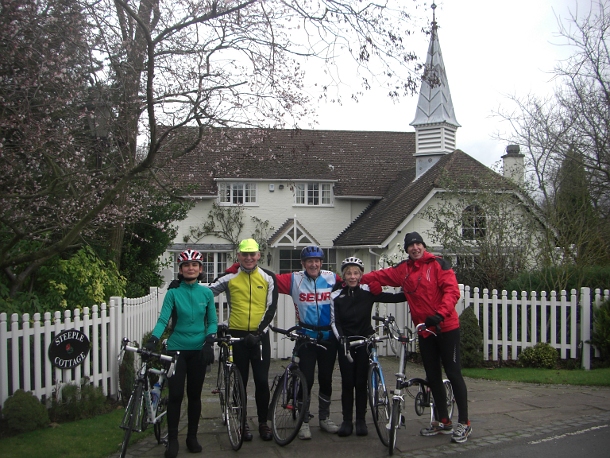 As you can all see, we had quite a few out on this Tuesday's ride.  Add in Tom Vaz who took this picture and we nearly had enough to create our own traffic jam!
It was great to have Sandra back after her knee op, and although it is still a bit painful I couldn't keep up with her.  Not sure if that is a sign of her enthusiasm, or my old age.   Another welcome back (only his third Tuesday ride), was Stuart. He's the one with the funny bike.   Just back from a trip to Welsh Wales, where the ease of transporting his versatile Brompton folder makes train travel a pleasant experience.  On a dull and overcast day, John Dadson added the colour (it will soon be daffodil time, John).  And last but not least there is Sharon who at this rate will soon be up for the Anerley B.C  Club Run Attendence Award.
We all had to pause somewhere on our ride for the Tuesday Riders' New Year hug, and this place seemed as good as any.  In fact better than most.  Isn't it a wonderful old house?  Every time that I pass I am always intrigued by its spire.  Was it once a little country church, or perhaps a tiny village school?  The arched window on the upper floor suggests the former,  but whatever it's origin, it is now a most beautifully kept home.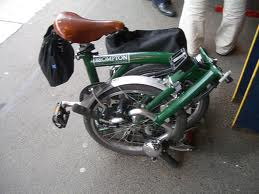 From our photo shoot we continued onwards to Annie's Tearoom at Leatherhead.  As we  went into the pedestrianised area by the bike shop, Cycleworks, we caught up with John  and Meike.  A first for most of us was that John was walking aided only by his walking    sticks, and which he continued for the long walk all the way to the tea shop. This is great  progress and a good start for him in 2012!
But this was not the only first for an Anerley club ride.  Whilst we all securely locked up  our bikes outside, Stuart folded up his Brompton and brought it inside with him, into the  tea shop.
I thought for a moment that he was going to ask the waitress for some olive oil to do a  quick lube job!
Fed and watered  (I noted that diet concious  Sharon was again ladling out the cream to complement her organic scone) and it was onwards and upwards with the climb up Chalk Lane on to the top of Epsom Downs.  Time for another photo shoot, this time with Tom included.
Those who read Sporting Life, or even the Sun, will have noted that part of the roof of the stands complex was blown off in last Tuesday's gales, hence the crane and scaffolding.  Tom came out with the quick quip for this occasion " The Anerley Bike Club goes topless!"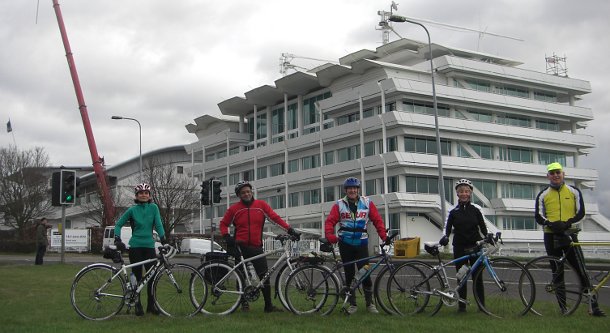 So its a goodbye from me, and its goodbye from them, hope to see you next week.  Meet next Tuesday, 10 o'clock at the Shurguard Building, Purley Oaks, weather permitting.