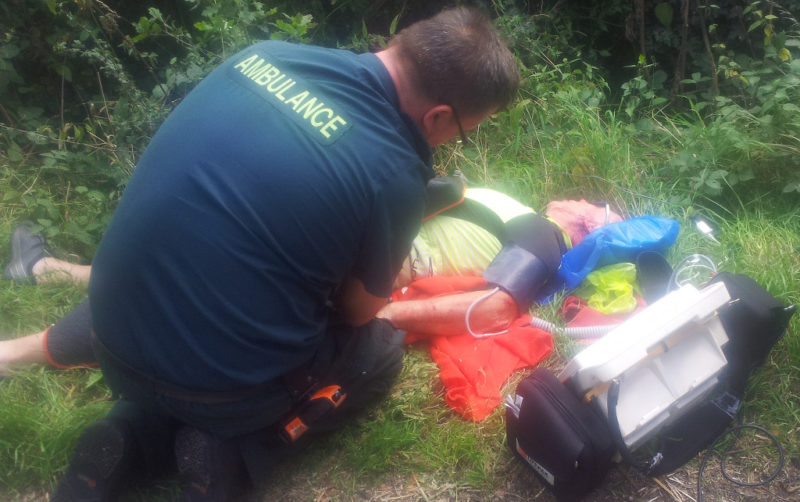 Date: 24th August 2017
The crash according to Frank
My recollection of the accident was initially overtaking our group on a roll, seeing the railway over bridge, a green blur and waking up laying down at the side of the road and seeing helmets looking down at me. Then a board was pushed under me… Although I apparently regained consciousness as you pushed and pulled me out of the hedge and then stumbled across the ditch and spoke to you I do not remember it.
I was airlifted to Tunbridge Wells Hospital, Pembury where I had CT scans in A&E and moved to Ward 30 on Friday for 5* nursing treatment and food. I had a single room with walk in shower and toilet with a 32" TV on wall opposite with two controllers. At midnight a doctor visited me to question me to assess the effects on my hedge impact concussion. Then each day I was checked at 6 am for blood pressure reading and measuring the oxygen saturation of my blood using a small device [pulse oximeter] that clipped to my finger and temperature in my ear.
I was ravenous on the Friday, regretted it later…. and belatedly realised I must switch to very nice salads each day as not burning too many calories each day in bed!
The most painful part of my anatomy was my anterior fractured T7 vertebrae and referred pain in my rib cage and back. I was dosed with Codeine and Paracetamol painkillers plus initial tummy injections for nausea. My fractured LH collar bone has not been a real problem as break near to shoulder. Got used to bed controller tilting me up from horizontal very slowly to start with.
I was up on Monday for the glorious Bank Holiday weather and Tuesday had my 1st relaxing shower sitting down just in case.
Tuesday night I walked round the hospital grounds and up to the local garage for a coffee. Wednesday night I walked to Pembury for a 1/2 pint in the two local pubs and went to Tesco for a large tub of chocolates to thank Ward 30 staff for their sterling work.
Last Friday I had my 1st collar bone xray and saw Dr Prahbu. He made me put both arms above my head and said I must do light work and exercise and listen to my body… I went to New Addington pool at the w/e for 1/2 hr swim on my back and side stroke. Breast stoke a back killer so will have to wait.
Spoke to Mark Beardon last Sunday. He kindly sent me photos and a resume of his experience on the day. I will bring a copy to Ightham Mote. Apparently someone beckoned him to stop as he was travelling towards Tonbridge and he pulled into the field entrance opposite the railway bridge. He mentioned he was controlling the traffic from the other side of the bridge and heard someone [Mark H] shouting at the chap that ran over Mark H's foot…
Since then I have contacted SE Coast Ambulance, Coxheath Maidstone and Kent Sussex Surrey Air Ambulance to thank them. The KSS Air Ambulance came from Redhill and we have an open invite to visit them.
1st Lesson learnt the hard way I must follow the leader at all times unless given permission to ride ahead! Hope to join Tuesday ride in December.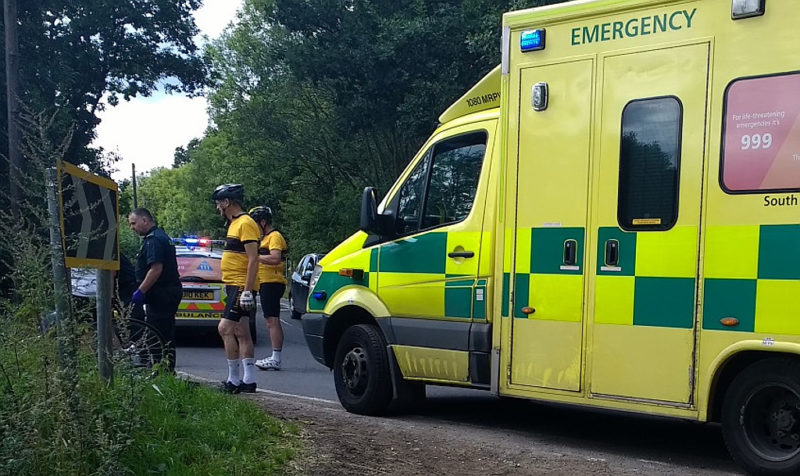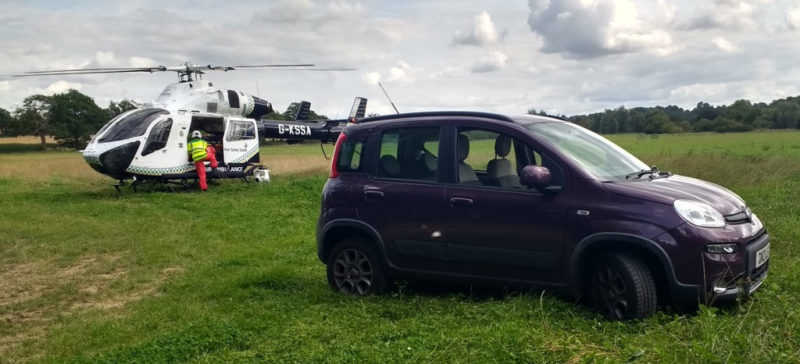 The aftermath as recorded by a local resident
I turned left out the end of my road (heading towards Tonbridge) and just as I rounded the bend heading down towards the railway bridge, I saw some cyclists at the side of the road. I thought a chain may have come off one of the bikes or a puncture so I slowed down as a precaution.
As I was passing, one of the cyclists waved me down (presumably to help in some way). There were no other vehicles at the scene of the accident and I pulled my car into the entrance to the field opposite the bridge.
As I walked over to where the cyclists were gathered, I saw one lady and one or two male cyclists trying to pull another cyclist (Frank) out of a hedgerow.(from my recollection it appeared that he (Frank) had gone in head first with his feet sticking out (as comical as it sounds, although not at all funny at the time)). I struggled to take all this information on board all at once and I could hear the lady shouting that his airways were blocked (or something similar) and yet I could hear him gasping for breath. The lady then shouted that we need to get him out because of his breathing difficulty despite the fact he may have a broken back or neck and another cyclist jumped into the ditch and helped pull him out. I then helped pull Frank up out of the ditch and the lady said Frank must lie down and I also encouraged Frank to do so. Once Frank was lying down I helped pull one or two of the other cyclists out of the ditch (as it is quite steep).
One of the cyclists phoned for an ambulance and when asked where we were, handed the phone to me to try and explain exactly where we were. I remember the operator asking Franks age and I had no idea but someone shouter he in in his late fifties.
Because I now knew an emergency vehicle (or vehicles) were about to arrive I decided to move my car out of the entrance to the field and actually park it in the field and out of the way (The purple Fiat Panda in the photos).
Someone then asked if I could take Franks bike to look after and another one of Franks cycling companions wheeled it up the road to where I live and put it down the side of the house. When we were walking back to the scene of the accident I was asking what happened exactly (did Frank hit a pothole as he came under the bridge? or what) and he told me he was watching Frank as he went under the bridge and he just went straight on into the hedge for no apparent reason) His thought at that moment was "why is he doing that" it didn't seem to make logical sense.
When we got back to where Frank was, the road ambulance had arrived and they were attending to Frank and shortly after, the air ambulance also arrived (this is when I took the photos below).
Someone, I think it was an ambulance paramedic asked if we could stop the traffic from coming past while they got Frank strapped onto a stretcher and into or onto one of the ambulances. So I went under the bridge and stopped the cars heading towards the Edenbridge direction from going under the bridge while someone else stopped the cars heading towards the Tonbridge direction.
Out of the drivers that I stopped, most of them wanted to know what was going on, some people cursed the fact it was a cyclist involved, some people turned around and went a different way and some people offered help.
I could not see what was going on, on the other side of the bridge, but the way I understand it is that one of the drivers on the accident side of the bridge got very irate and run over the foot of one of the cyclists. I heard a very loud shout and shortly after a car came under the bridge and stopped not far from where I was standing (talking to a man in a pick-up truck with a Pitbull type dog next to him). Then under the bridge came one of the cyclists and he was hobbling towards the car that had stopped. He took a note of the number plate and then went back.
I spoke to the driver of the car that had stopped and he told me that he worked for the police and had to get to an emergency and that he did not know that he had run the cyclists foot over and that he felt quite shaken by the experience. I let him go on his way.
I believe that it was decided to take Frank off in the air ambulance to Pembury hospital as it would get there 10 minutes quicker than by road.
Once all the traffic was moving again and the air ambulance had taken off, a police car pulled up behind where the road ambulance was stopped. The police didn't stay long and once I had seen them back safely I was able to get my car back out of the field and close the gate.
The ambulance went on its way and the same with the cyclists and all the excitement was over.