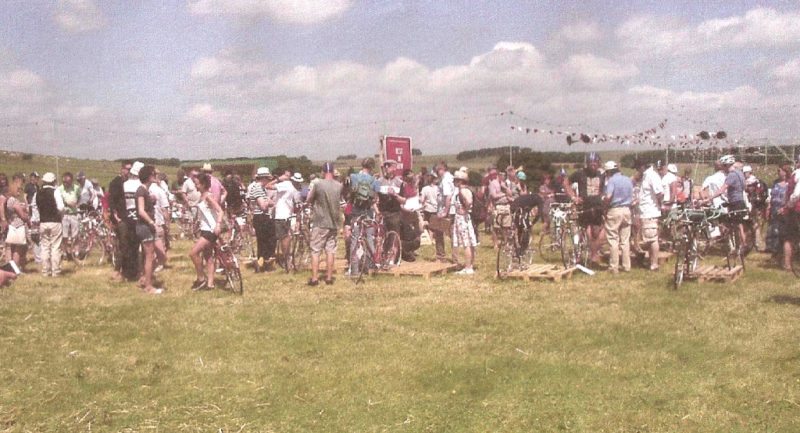 Gathering at the start
Yes that's right, not Erotical. Though by the time you have completed the ride rude words could well describe the course designer.
This is an Annual event, which has been running in the Peak district now for the past four or more years. It is limited to riders of pre-1987 cycles. You are encouraged to wear appropriate era clothing The course for which you have three choices, 25/55/or 100 miles uses what are referred to as "white roads," trails, bridleways and tracks, as well as a little bit of tarmac road.
I opted for the 25 mile one this year. Based at Findon Grange a large site the ride which this year attracted some 4,500 riders, starts on the High Peak Trail, an old railway line and continues on it for some five miles or so, where upon it turns on to a bridleway which is rather rough, This leads up to a main road, but oh, no, no smooth tarmac for you, there is a track alongside which you are directed onto for about a half mile, Then it's across the main road and onto a hilly section. Just the thing you all love This continues all the way to Moynash where we have the luxury of lunch in the Bulls Head, picnic on the village green or the vast array of stalls selling everything you can think of in an adjacent field, with even the offer of a free glass of beer, and adjacent to the pub is Smiths stall selling hot dogs etc.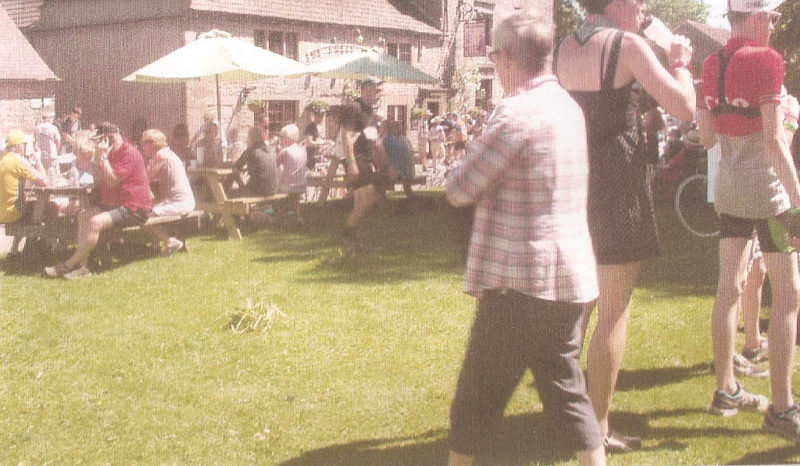 Lunch at Moynash
Make the most of it, you will need you strength as after lunch you have an uphill stretch that runs for about a mile. Many of us walked this. A further stretch of bumpy riding on tarmac brings us to the Tissington trail, again an old railway line. After a few miles, we come to an afternoon tea stop, however with the vast number of riders you can imagine the queue. Strange to say even this rail line has its ups. This decants us back onto the tarmac to cross the A512, whereupon the roughest part is yet to come, again uphill and nearly un-rideable, before we gain the High Peak trail. At this point a strategically placed mechanic is on hand for puncture repairs and similar minor defects. Now it is only four miles or so to the finish again relatively flat though by no means smooth. Finally we come to the turn off the trail that leads – yes uphill- to the finish line, where several hundred cheer you on, though by this time I was past enjoying it.
With 25 miles under my belt there is a free glass of beer to look forward to. Makes a change from the usual cuppa after a 25m TT.
If you think of riding in 2018, good tyres are an essential, as it is like riding a 25m rough stuff event. The festival site is huge the choice of food is immense, there are at least two stages for concerts, etc. Naturally there are plenty of trade stands and a very large selection of cycle jumble stalls as well. The entertainment goes on till late in the evening.
Overall a very enjoyable weekend , why not try it next year.
Sian C.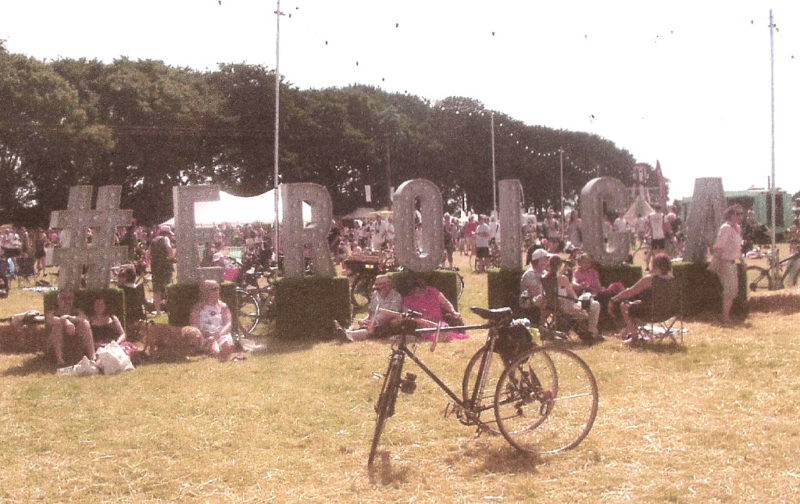 Sian's trike centre stage