Dee's Coast to Coast Adventure
Dee spent her summer taking on the inspiring challenge devised by renowned walker and writer Alfred Wainwright in 1973 and is a route from St Bees Head on the Irish Sea coast of Cumbria to Robin Hood's Bay on the North Sea coast. The distance has been traditionally stated as 192 miles but, according to recent re-measurings, the real distance of the route usually undertaken nowadays is approximately 220 miles. It passes through 3 National Parks and some of the most beautiful and varied scenery in England including the rugged mountains and beautiful lakes of Cumbria, the rolling hills and pretty valleys of the Yorkshire Dales, the beautiful Vale of Mobray & Cleveland Hills, and the expansive heather moorland of the North York Moors – with some dramatic coastal scenery at each end.

We have had other members taking this challenge on a bike but here Dee tells us how it feels to walk the route…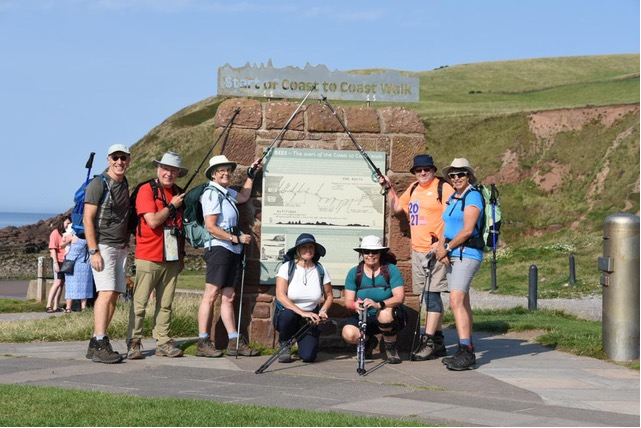 Some of you will have noticed that I've just returned to two wheels over the last few weeks and am considerably slower than I was before. I'm putting this down to concentrating on exercising with just my two feet for the best part of three weeks. I've been walking (not at any great pace) the 192 mile Coast to Coast walk. We started at St Bees in Cumbria and finished on the West Coast of England to Robin Hood's Bay, on the East Coast.
We did this as a group of seven friends – including one with no cartilage left in one of her knees and significant ligament damage. She reckoned this would be the last possible year she would be able to manage it – albeit wearing a knee brace. The good news is she did!
The plan was made last October. We agreed not to rush it and thought that 18 days would be a sensible, achievable time to take. The start date was agreed, accommodation booked and arrangements made with the people taking our main luggage from place to place. We made our most important purchase, fitted walking boots, along with waterproof day sacks and raincoats. We even did some practice walks in preparation.
Nearer the time, train tickets were booked and all was going to plan – until the train drivers planned to strike on the very day we planned to travel up t'north! Never mind, we were not deterred – we travelled up a day early instead.
So we had a bonus day, on a Northern English beach. Who knew we'd start our adventure with a swim in the Irish Sea! It was fantastic.
As you may already know, the first part of the route actually heads northwards along the West Coast, with views of Scotland ahead and the Isle of Man to our west. Stunning scenery. The next few days through the Lake District were hard work. The paths were, in parts, very uneven or non-existent and entailed a certain amount of clambering over rocks. We hadn't expected that! Also, it was mentally tiring, as you had to concentrate on every single step taken. To admire the stunning scenery you had to physically stop walking and look around.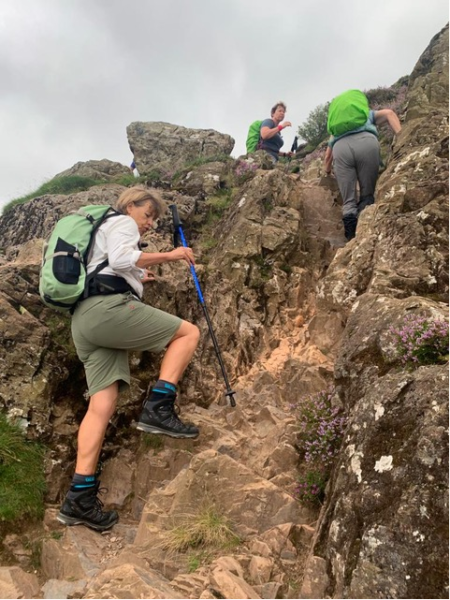 We did have the worst weather here, on the day we crossed over alongside Grisedale Tarn, right next to the wonderfully named Dollywagon Pike. It was cold, lashing rain and blowing a gale. Without walking poles we'd have struggled to stay upright. Anyway, we survived that and the next day took the Steamer up Ullswater, where I revisited the scene of my aborted attempt to swim the length of the lake a month before! It was a long way, for a swim. 
I'm not going to go into the ins and outs or ups and downs of every day, you'll be pleased to know, but suffice to say we had a fantastic time. Lots of laughs and new memories made.  My husband, Trevor, managed to put away 19 Full English Breakfasts over the course of 20 mornings – he was disappointed, with hindsight, not to have gone for the 20 but was tempted by a speciality of Black Pudding & Poached Egg! He also managed to have a pie on 10 of the 20 evenings, basically anywhere there was one on the menu. I think nine of these were Steak & Ale and one was a fish pie! Irritatingly, he didn't put on an ounce of weight.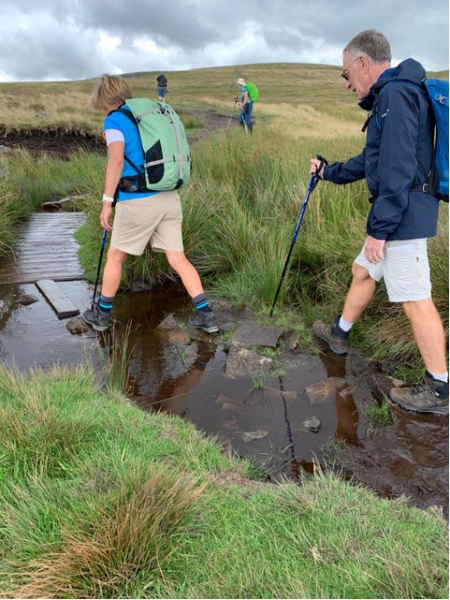 The final day of walking, a nice symmetry to the first day, included a long coastal walk, southbound for Robin Hood's Bay. Frustratingly, we were looking at the coast ahead of us, for about three days, with Whitby Abbey in the distance. Luckily, we had great weather for this, which made it all the nicer. Now it's time to get my cycling legs back and shed the half stone that I managed to gain – this might account for my struggle with the hills since my return!!