Cheap day return to Brighton please!
One of the pleasures of being in the Anerley has been the coastal rides that I've done, usually with Tom Vaz leading the way. Over the past 3 years I've been to Hastings, Chichester and Eastbourne (each twice) and all have been brilliant days out.
So when I saw that Tom had posted a ride to Brighton (and back) on the register I was sorely tempted. BUT I was not in good riding shape. I'd recently returned from 2 lovely weeks in Crete where I had overenjoyed the food and done no cycling. I had only been on one club ride after that and had struggled with High Elms golf club…
Then a thought occurred to me. What would Tim and Sally do with this negative attitude? They would tear it up and throw it in the bin, put their camping equipment on their bikes and head off into the wilderness for a year or two. So I put my name down and said I'd probably get a train back from Brighton.
Sunday arrived and it looked like being a perfect one for cycling – warm but not hot and with a southerly wind, ideal for blowing us back up from Brighton.
Six of us set off – Tom, Karen, Asif, Barath, Mark and me, Mark proudly wearing his Arsenal cap (his 3-0 prediction for the game that day did not work out, but best not to mention it).
Tom went for a brutal start to test our commitment – up Portnalls Road. The reward was a fast run down Reigate Hill and at the bottom we were joined by Alison. We then cruised through Reigate Heath, Leigh, Charlwood, Faygate, Colgate, Watergate (not really, just checking someone's reading this) and, just as I was thinking "are we going to stop for coffee before the coast", we alighted at Cowfold on the lovely café "The Fold". Great choice Tom. Good tasting coffee and nice ambience. The only photo we have of the place is one Asif took of me locking up my bike. I look dreadful but it needs to go in the Gazette simply for Alison's expression in the window behind me – that was before any caffeine!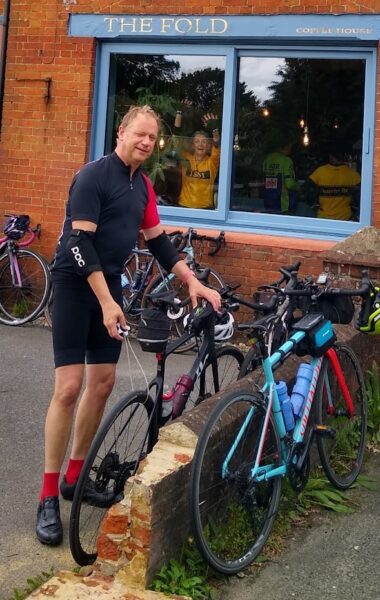 Suitably refreshed we cracked on. One place which made an impression as we whizzed through was Steyning – according to "Discover Sussex" it's a "small town nestled at the foot of the South Downs, known for it pretty picturesque streets, independent shops and beautiful surroundings."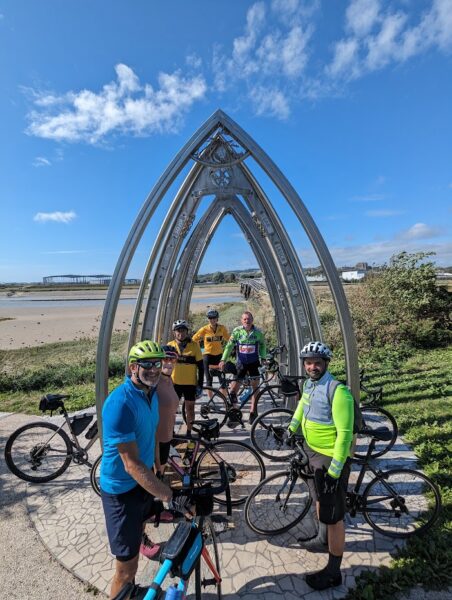 Five miles on and we crossed a bridge over the River Adur and spotted an interesting structure that turned out to be a memorial to the 11 people killed when a plane crashed onto the A27 during the 2015 Shoreham Airshow. Eleven steel arches reminiscent of a boat hull stand on a circular marble mosaic. Each arch represents one of the people killed.
My main exposure to Shoreham has been through the Peter James crime novels which are focused on Brighton but have, at times, strayed down the coast to Shoreham. Shoreham harbour was as I pictured it from his books – pretty industrial and not somewhere you'd want to find yourself late at night with a murderer on the loose!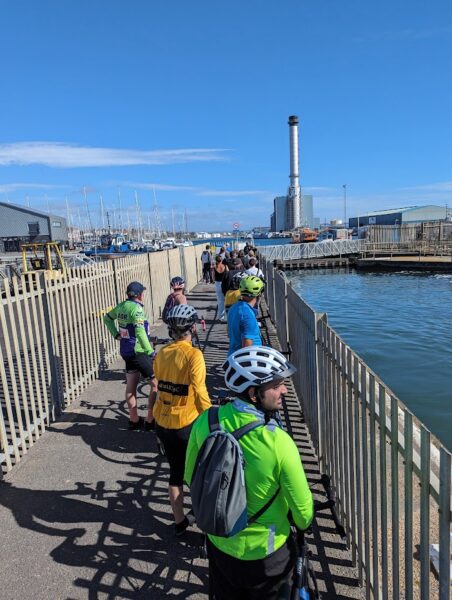 We crossed the lock at the harbour then hit the coast proper and immediately saw a wind turbine spinning faster than I've seen before. We were quickly distracted by the sight of a café, ice creams and outside chairs so decided to have a well-earned break. Come on it had been 17 miles since the last one. Carats Café Bar served us well and we headed along the coast to Brighton, taking care to avoid the varied mix of people and animals that were enjoying the area on a Sunday afternoon.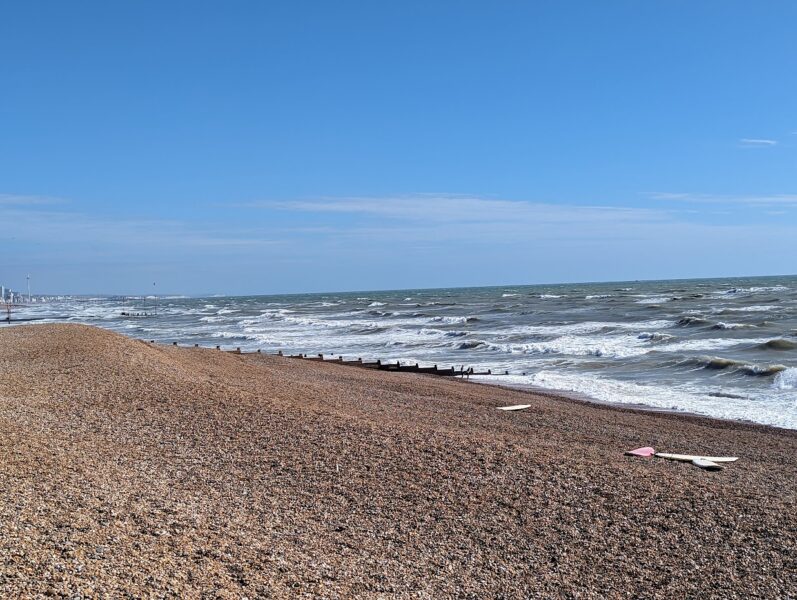 Barath and Mark headed off to get the train home from Brighton. I had got a second wind and was keen to carry on, thinking Haywards Heath would be another option for a break point. I was glad I did as the views heading north out of Brighton were spectacular and well worth the effort. As we headed along Ditchling Road you could see westwards for miles and it was a truly beautiful sight.
From literally sea level we climbed 645 feet in 5 miles, paused at the top to survey north, then swept down the steep descent that is renowned for being the main challenge coming the other way on the London-Brighton run.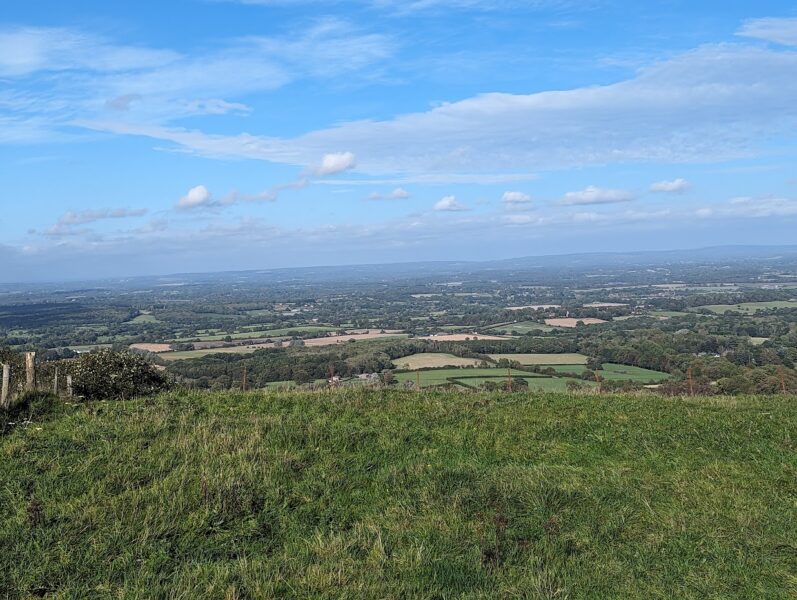 We then stuck to the B2112 as time was ticking on and we didn't want to be riding too much in the dark. Next stop was Haywards Heath and we opted for a quick top up at a Sainsburys Local – oh the glamour. Tom reassured me that from there it was just like a normal club ride. He can be so persuasive at times.
He was right. It looked just like a normal club ride. Only difference was that I hadn't normally done 65 miles before starting the ride. But I am not going to complain. The miles ticked away, we all got into a good rhythm and before we knew it we were up Turners Hill and heading downhill for home.
Before that we passed the South of England showground at Ardingly and an event had obviously just finished. We were treated to the sight of a couple of impressive steam powered machines – I reckon a traction engine and a steam roller but I'm ready to be put right by the many machine geeks in the club.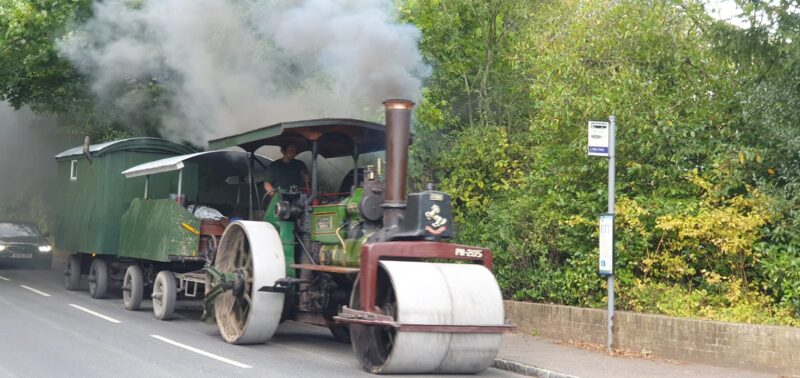 It was about 7.30pm when I got home. My Garmin told me I'd done 95 miles which I was slightly disappointed with as I thought I'd crack the 100 for the first time this year. But I quickly got over that and reflected on a beautiful day with great company.