The Annual Dinner and Awards Evening returned after a break in 2021 due to Covid so there were twice as many medals to hand out on an evening with glittering trophies and cyclists looking glamourous out of lycra.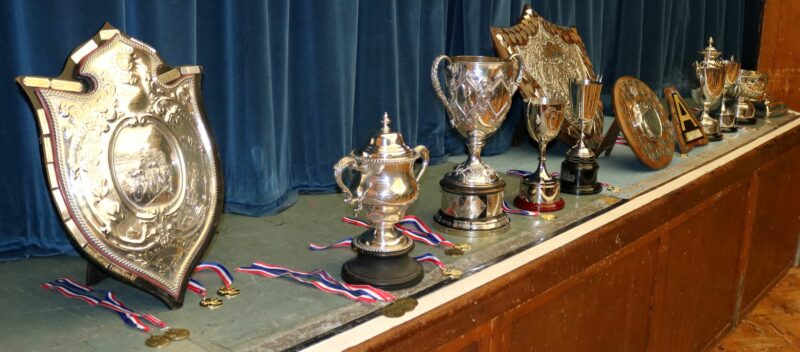 Despite the absence of our President, the evening carried on in the Anerley tradition of celebrating our glorious history but also making gentle fun of each other with some cross toasting. Once the raffle in aid of Cancer Research was over and we had eaten our fill it, was time for the trophies.
2020
Appletree Shield Long Distance Challenge – Tim & Sally Styles for their South American tour.
Ladies 100 miles – Karen Wrighton, Alison Plant & Belinda Wigmore for the 101 Rebel Ride 2020.
Mens 100 miles – John Drake for the 101 Rebel Ride 2020.
2021
Appletree Shield Long Distance Challenge – John & Sue Diamond for their John O'Groats to Lands End.
Jackson Cup Ladies 10 – Fran Steadman for the Farnborough & District 10.
Anerley Cup Mens 10 – Mark Hancock for the Crawley Wheelers 10.
Map Reading A Shield – Asif Iqbal
The S.F.Edge New Members Cup – Brian Chapman
Ladies 100 – Vivienne Inglis for the 101 Rebel Ride.
Mens 100 – Gavin Hook for the 101 Rebel Ride.

The President Award – Vince Hemment for his work on the Club Ride Register.
Many thanks to Mark Hancock for organising the awards and Barrie for polishing them all even though he didn't win this time!