Anerley's Audacious Cyclists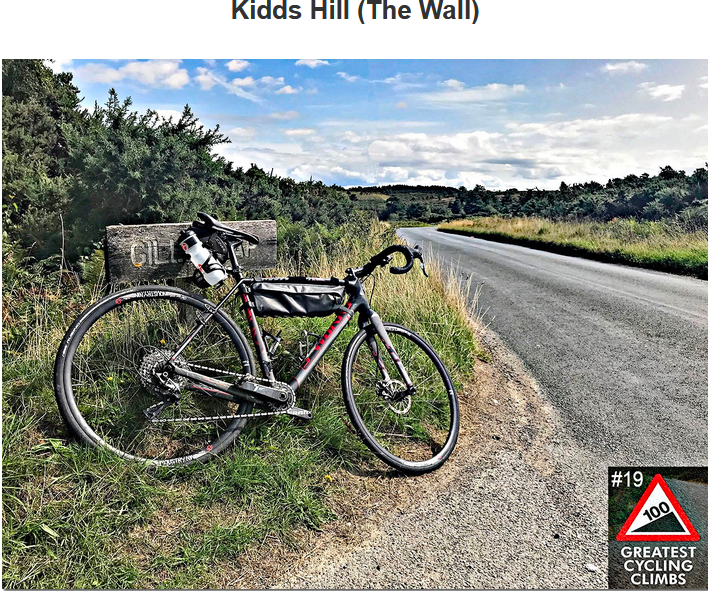 By the 1890s the Dulwich school boys who started Anerley B.C, would have been young and very hardy men in the prime of their life. This is not speculation, because we have the evidence to show it.
You will read in Denise's Gossip Column about G.H Smith one of the greats of Anerley B.C. Our club has a photo copy of his cycling diary, covering the years from 1891 to 1896. This is the starting entries on the first page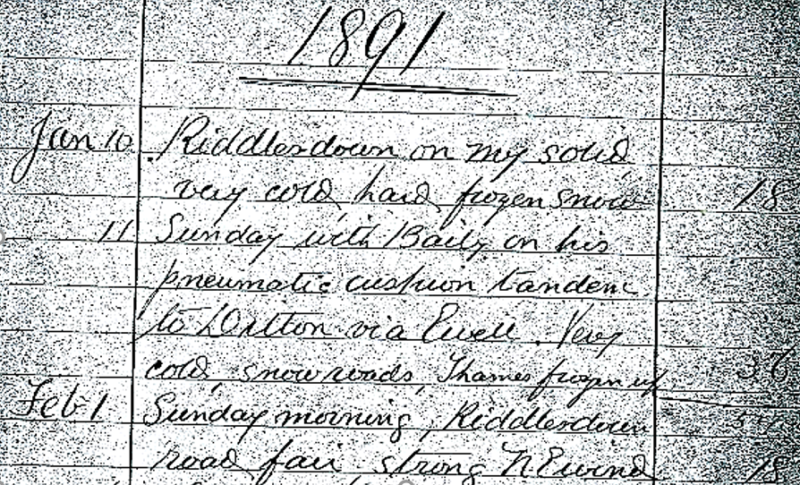 The first entry on 10th of January, on hard, frozen snow. He rides 18 miles, his bicycle being shod with solid tyres. The next day he goes out as a "passenger" on a club mates tandem. This would have been an Olympia trike, like the one below – with 3 wheels, much more stable on the frozen snow! He notes that when they reach Ditton, it is so cold that even the Thames was frozen over!
As a "passenger" G.H had no free ride. He would sit on the front seat in the cold wind and have to pedal as hard as his club mate. But at least there was a small crumb of comfort on this 36 mile ride, the tandem we are told, had the very latest pneumatic tyres!
These winter rides were not for fun. They were winter training rides to maintain fitness for the upcoming racing season. The diary finishes in 1896. The distances ridden, the conditions in which ridden, the accumulative mileage over the 6 years, were prodigious.

For the next bit of the history of audacious cyclists, here are some excerpts from https://audax.uk/ This provides much more and detailed information about Audaxing. Plus, it's full and varied range of a challenging rides. So why not be audacious and have a look!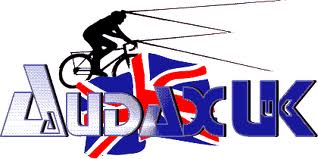 The History of Audax started in 1897 
Audax means 'bold' in Latin. The first Olympics was held in 1896.  In 1897 the idea of Audax was first formulated in Italy. Participants had to cycle, swim, run, or walk, a set distance in 14 hours. This was approximately the time between sunrise and sunset. The distance to be covered by cycling was 200 kilometres, over the unmade roads of those times, little more than cart tracks and drovers trails.
Following on from this first event, further Audax events were created in France over 100 years ago. These were to fill the void between elite, licenced road racing on closed roads, and the slower alternative on heavily laden cycle touring bikes, carrying food, water, clothing, tools, spare tyres, etc. 

In 1903 Henri Desgranges, the owner of the French magazine Auto, organised the first Tour de France. It was a successful promotion for his magazine, so in the following year of 1904, he produce Audax regulations – for teams of riders, each with a captain, that stayed together for the entire 200 km ride. In later years, rule changes allowed that cyclists did not have to ride as a group. Each individual could go at his own pace and stop at will for refreshment, etc.

 Today's Rides Organised by Audax UK.
An Audax ride – known as a Randonnée – is a cycle ride that has to be completed within a set time limit, which includes any stops to eat or rest. In most cases, riders have to maintain a minimum speed of 15km/h (some particularly long or hilly rides have a slightly lower minimum speed) and importantly a maximum speed of 30km/h. That's a little under 10mph and 20mph in Imperial measures. But remember the clock keeps ticking even when you stop to eat, rest, fix a puncture, etc.
It is not a race, so if you finish inside the minimum time you will be disqualified. Or if you do not complete the ride within the maximum allowed time limit, you will normally, also be disqualified.
Throw in the hills (points are awarded for every 1,000 metres of climbing), the British weather and distances ranging from 100km to 1400km, and what might have sounded like a simple bike ride, becomes more of a challenge. Are you up to it?