Anerley Gossip! – May 2021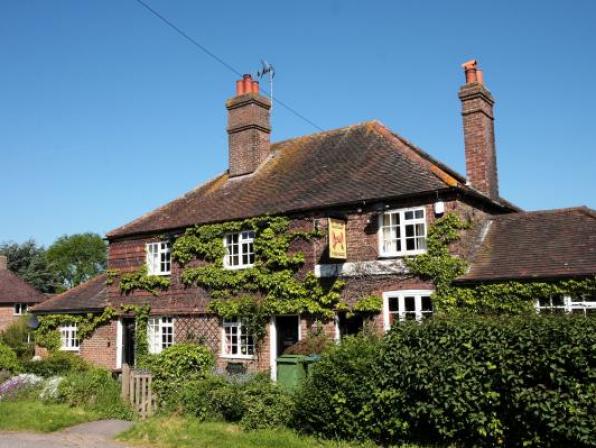 ESCAPE FROM LOCKDOWN, Tuesday 30th March …
… a day to remember as many of us were at last able to meet up and ride together for the first time in ages. I must admit I was very excited to be seeing and riding with old friends again and so it was that 6 of us met Des at Geoffrey Butlers at 10am and set off for a long ride in the sun. We were heading out to Tanhouse Farm and beyond. Des was definitely on a mission and had worked out a very lovely route to give us a 100k ride. Talk about escaping lockdown with a bang, we were about to find out that Des's personal lockdown fitness regime paid dividends and he tells me that long rides will be the norm for his Tuesday group.
Tanhouse was lovely in the sun and we were greeted by the donkeys braying and lots of cyclists queuing for their refreshments. After a quick stop we said goodbye to John Dadson who was heading home while the intrepid 6 made our way to Faygate. We reached the Frog & Nightgown in time for lunch but alas it his was closed – Covid restrictions! Thank goodness for the packed sandwiches and bananas which we ate in the garden of the pub. Suitably fuelled we headed down the road to cross over the A 264 dual carriageway, up a short footpath, to come out opposite New House Farm. It and it's tea room also closed – Covid again!
We then headed west towards Horsham and arriving in the town's outskirts took a left turn, now heading east into St Leonard's Forest and on to Pease Pottage (passing the radar station that monitors in and outbound air traffic for Gatwick) then into Crawley New Town.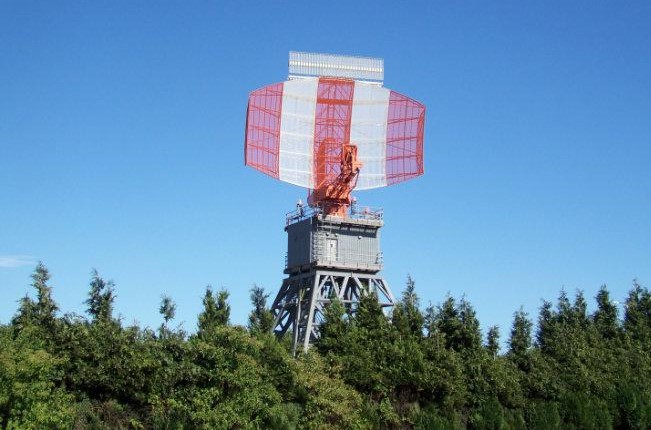 Crawley was where Des, desperate for another cuppa, spotted a small shopping precinct in the middle of one of the housing estates and decided to go in search of tea. It was a very stark contrast to the lovely scenery we'd been riding through and needless to say the stop was brief, so we were soon off and heading towards Ifield. Here there was a surprise waiting for us. Ifield Mill Pond and the old mill house was gorgeous in the sun and made a prefect photographic opportunity for us all.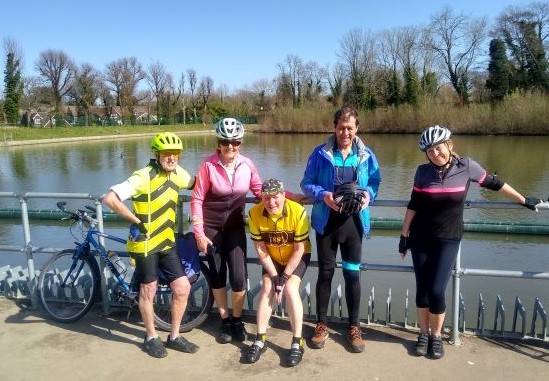 After a brief stop and promises made to return again we headed towards Charlwood and past the end of Gatwick's runway – not a lot happening there unfortunately, which doesn't bode well for our foreign holidays this year!
We waved to Des's favourite tea stop in Charlwood, "52 The Street" – closed of course till 12 April.
Last stop of the day, our swan song, was Earlswood Lakes (anyone would think we only drink tea on Des's rides), this was lovely in the afternoon sun and we were definitely in no hurry to head off home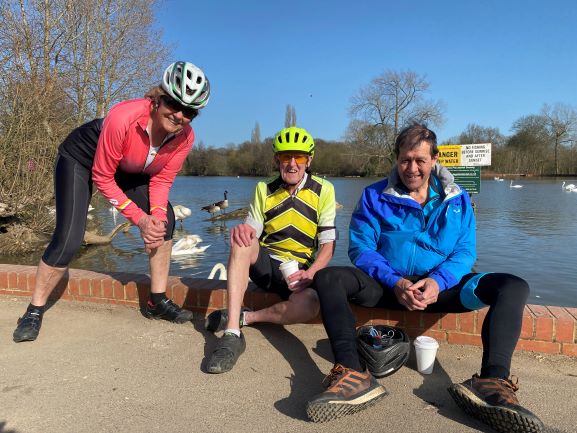 ARE YOU UP FOR A CHALLENGE ?
Launching during Cycle UK's Bike Week 2021 is the Cathedrals Cycle Route Challenge, taking you nearly 2,000 miles across England's landscapes between 42 cathedrals. There are many ways to complete the routes both on road and off road and you collect a stamp and a welcome from each cathedral visited.
A little birdie tells me Tom Tom might be thinking about doing Southwark to Guildford (and it wouldn't surprise me to hear Tim tackling the lot!
More info here: https://www.cyclinguk.org/cathedrals-cycle-route-challenge
WHO'S THIS?
It's come to my attention that a certain member will be off their bike for a while due to sustaining a nasty knee injury whilst rolling over on the bed to cuddle their dog. Barking mad or what? Best wishes for a speedy recovery Jo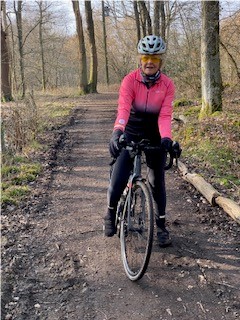 YET ANOTHER NEW BIKE
This time its Sandy who was spotted sporting a lovely looking Specialized Roubaix. With a frame size of 44 could this be the smallest frame ever to grace a club ride? Lovely colour Sandy !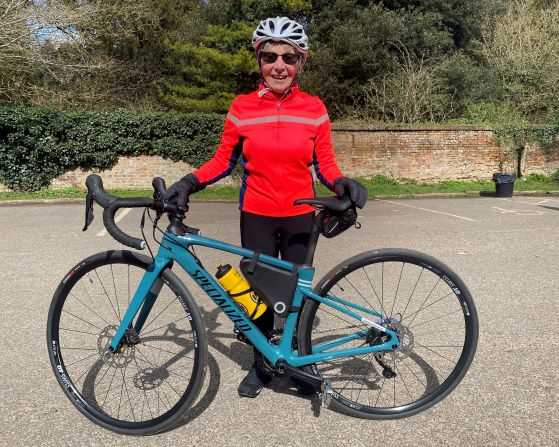 NOT ANOTHER SMITH?
Anerley seems to have its fair share of Smith's, the current ones being our 2 ladies Jo & Sue, but perhaps the most famous member of Anerley B.C was a gent who goes by the name of G.H. Smith. He was one of the earliest members of our club, perhaps a founding member in 1881. Some 50 years later, he wrote the first part of the history of our club "A Story Told by Members". This is the only picture I have been able to find of him!

He was still writing articles for the Anerley Gazette in the 1920s and 30s, when a Racing Secretary of our club was a certain S. Smith. Was he a son of the great G.H? But the Smith family connection with our club continues into the 21st Century with the duo below.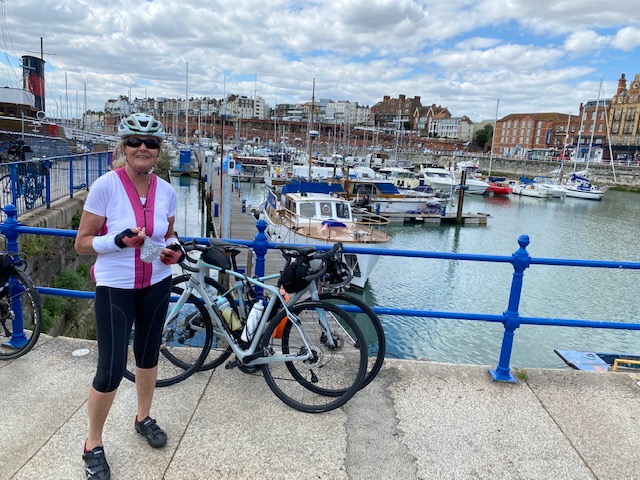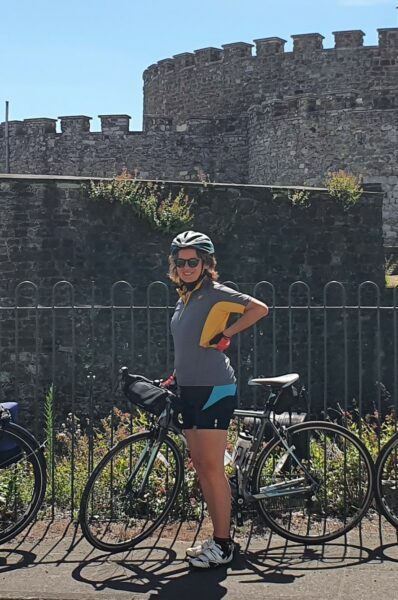 A BIG WELCOME BACK TO MARILYN (and Dave!)
Most of you will know that Marilyn had hip surgery (not a replacement) last year. But you may not have heard that it went horribly wrong, leaving her in a lot of pain, facing further surgery and months of struggling with her fitness and not being able to do much. She also moved house and in fact had her first operation the day before completion. Add lockdown to the mix and you will see she's had a tough 6 months. A few of us ladies drove down to visit her in her new place and of course we took our bikes as she now lives moments from the Viking Trail near Margate.
As she continued to improve and started to get back on her bike, the lovely rides between Broadstairs, Botany Bay and Reculver were ideal being mainly flat and right on her doorstep.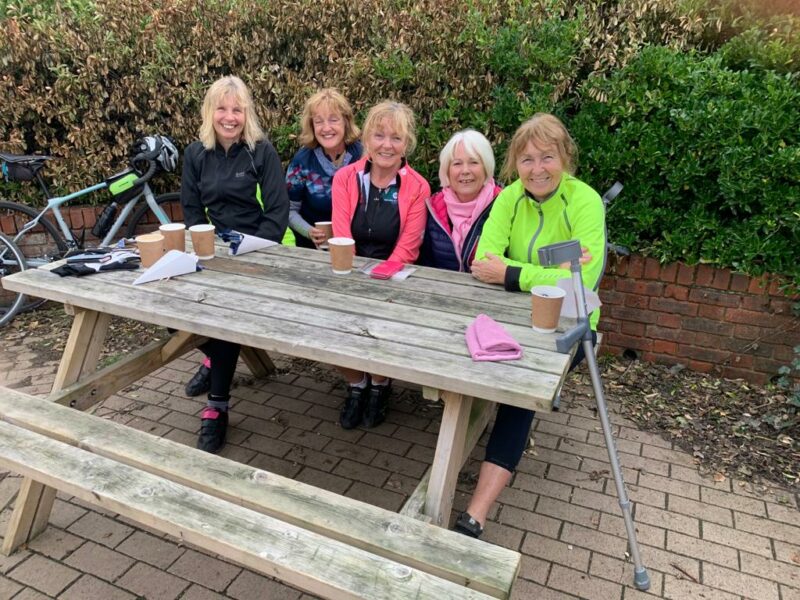 She's now venturing back to the Purley area and getting back (with Dave) onto our regular routes and managing up to 26 miles. I hear they are both planning to join Des's ride next Tuesday so ….WELCOME BACK MARILYN, WE'VE MISSED YOU !
And the NEXT TUESDAY, above, has been a record breaker! Marilyn's 26 miles has been more than eclipsed – 40 miles! So MARILYN IS WELL AND TRULY BACK !
And here is a photo taken by Tom Tom of the team crossing a bridge over the River Mole on the way to Charlwood.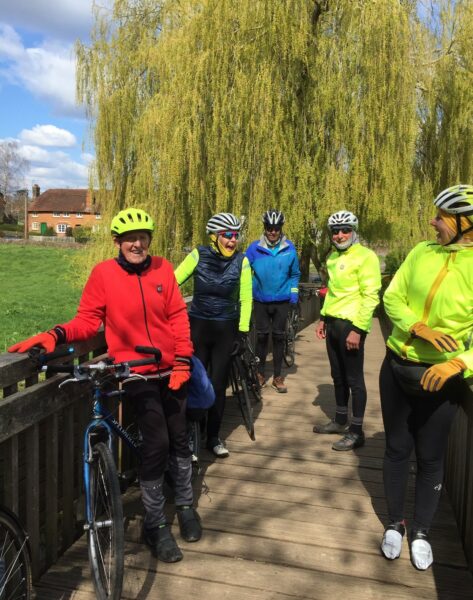 Denise