Once again I got together an Anerley B.C group for the 101 miles of the Rebel ride – this would be my 4th ride in the event.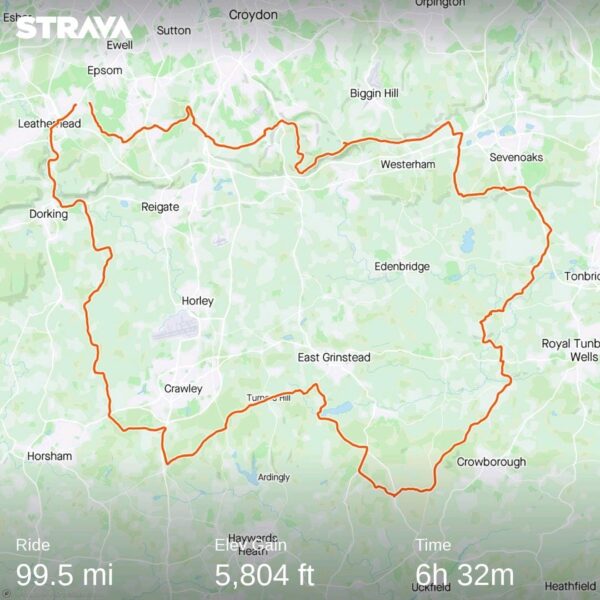 The ride started 9 years ago to raise money for the Riannas Fund Charity based in Ashtead – named after a local school girl who was killed when a tree fell on her in the school play ground.
I first became aware of the ride from Jamie Chisholm who set up the Bike Beans Cafe in Ashtead. The ride is organized by Ken Graham & his wife Karen, both leading members of Ashtead Velo who where formed out of the original Bike Beans Club. Karen Graham has done every ride so far.
Not being a fan of the Prudential 100 event this ride was something I wanted to support. The first year I did in 2018 was a washout- heavy rain all morning so most riders called it a day at 30 odd miles.
The route in 2019 was into Surrey & Sussex on a very hot day. I was in Karen Graham's group and was impressed by their group riding, something I saw as a way forward for the Anerley (we're still working on that one!) We took on some climbs I've never ridden before like Quill Hill just about got up it on a 34/28. I was made most welcome by everyone that year it was strange riding with people I didn't know but I learned a lot from it.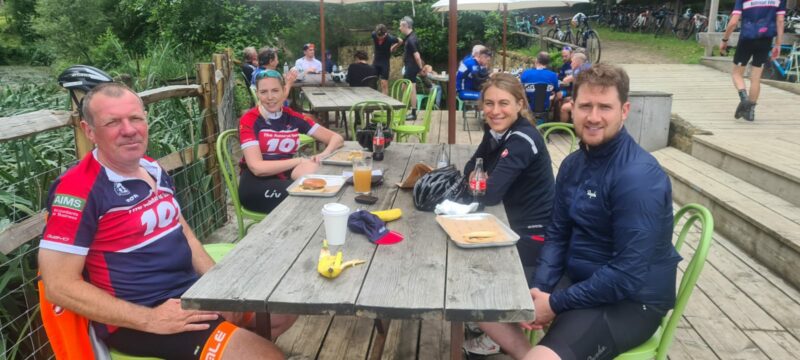 This year my group contained Vivienne & Gavin of the Anerley plus Claire & Peter from Ashtead Velo, both newer members who had not ridden 100 miles before. The route was again a challenge with nearly 7,000 ft of climbing Vivienne said it was much harder than the Prudential route. So the 101 have different groups of riders divided into speeds & abilities a bit like we have now. My group was Av4. We were first off from Coffee Active in Ashtead at 7am. Vivienne had a problem at the start – a missing battery on the rear mech it was on charge at her house. Luckily coffee active is a cycle shop too so they had a spare one, finally we got going – my garmin said we had 11 climbs to do first one was Hurst Lane with Gavin setting the pace.
Vivienne had another problem – the front mech wouldn't move to the big ring so it was small ring all day for her – just as well it was so hilly! We crossed the A217 at Kingswood before going down Outwood Lane then turning up Doghurst a climb I had once broken a chain on so I went easy there. We dropped down onto the A23 crossing near Starbucks & headed towards Chaldon. The route now took in Marden Park and as we climbed I talked to Claire & Peter about the area which they had never been to before. I warned my riders about the sharp left hand turn at the bottom of Gangers Hill it still caught riders out but I had the bike in the 30 spocket before the climb & made it up easily. Unfortunately Ken Graham in the fast group was not so lucky -he went wide just as a car came down the hill & had to move left hitting a pot hole & coming off resulting in a few stitches & Ken having to abandon his ride. He was ok later on having a few beers at the pub.
So me, Gavin & Peter reached the top of Gangers & waited for Claire & Vivienne to get to the top. It was Claire & Peters first ride up it. We reached the first stop at Botley Hill 10 minutes before they opened so decided to press on after a quick wee stop. The second group had joined us there, I had half a banana, Gavin was looking for a lighter and Vivienne nearly left without her helmet!
We set off down the Pilgrims Way before turning for the Church Lane climb of Ide Hill. I believe this was the fifth climb of the day with Gavin setting the pace again. We got to the top and once again some of the second group had caught up. From Ide Hill we turned left then right passed Yorks Hill before taking a single track road past Penhurst Place – a very nice part of the route missing out a hard climb from the year before.
6th climb of the day was the ride up Grove Road to Kingdom Cafe. The Oxted CC were already so luckily we were still ahead of the rest of the 101 groups and had no wait for food. I must mention the food its very limited for a meat eater like me. Lovely venue but could do better, me Vivienne & peter looked at the menu before deciding what to eat. I went for chicken, Vivienne decided on quiche we looked at Gavin who looked a bit put out. "Its ok", she said, "He is still looking for a light for his fag". Gavin would still have a bit of a wait.
After lunch Peter asked me if have we done black hill yet. I said, "Sorry no idea", as we headed for the Ashdown Forest and soon found it. Its not really steep like Kidds Hill but it goes on for a few miles. I remembered it once at the top from the days of the reliability trails where I was once nearly crying from cold and lack of food. I should add Gavin was way out in front again testing his new Pinarello Dogma out on the climbs (someone get that lad a heavier bike!).
I must add the second group missed out Black Hill – as we got to the top they were suddenly infront of us. We turned left at the top before a right hand turn took us to Nutley & the Indian restaurant on the A22. We were now on my favourite section over the cattle grid heading for Danehill. We came out near Wych Cross before heading for the climb near Deers Leap mountain bike centre when two 101 riders overtook us – Claire had found her climbing legs & started to move away from me. As we waited for Vivienne to arrive another 101 rider went past then Jamie Chisholm passed on his own. It was now the climb of Turners hill which didn't even show up as a climb would you believe.
Gavin went in pursuit followed by me & Peter we reached the pub at the top before moving off to the last feed station near the school at Turners Hill this was manned by Marnie once again who had water, cake, & bananas most welcome it was too. Vivienne was having feet issues so was I so I took my shoes off had a gel, two bits of cake & a banana. By this time i was sick of bananas.
Gavin was still looking for a light even thinking about asking the lads at the fire station.The second group were already there so we decided to hit the road again heading for High Beeches where Peter took the lead & I thought wow this is normally a hard ride for us. We reached Faygate before a roundabout where the fast group caught us Gavin & Peter joined them for 10 miles never to be seen by my group until the pub.
We reached Rusper – me & Claire out infront it was clouding over so Claire pulled into Tanhouse to put a rain mac on. Vivienne carried on as the rain came down at Brockham where I believe Gavin had finally got a lighter having dropped off the fast group. We reached the A25 before riding along the cycle path back to Leatherhead the second group caught us again so we reached the pub as the third group back. I found Gavin & Peter having a pint & a fag.
It was at this point I looked at my phone to see 50 Whatsapp messages & realized what had happened to Ken he came over to tell us all about it. I ordered a nice big burger & a few beers for the ladies before the last couple of groups got back.
I must say it was a real challenge again & well done to the 55 riders who took part & to ken for such a nice route it was very tempting to stop at a few of are usual venues we went passed riverhill gardens, the Teal cafe, High Beeches cafe,& Tanhouse Farm. It's an event I always look forward to & it's nice to meet up with Ashtead Velo at least once a year.
Next year i hope more Anerley riders can join me for this great event I've just one more thing to add Vivienne & Gavin have won the 100 mile trophies for 2021.