Sunday Ride: 28th September 2014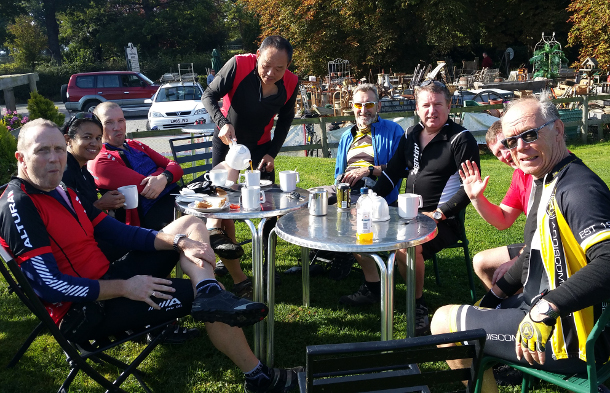 Peter S writes …
A good turn out with eight of us at the start and later to be joined by another two. The forecast of a dry, warm, late September day lived up to its promise.
Capt Jim led out via a familiar route through Kenley and up through Marden park (which was a glorious start to the ride) and then down Flower Lane. After a brief spell on the Oxted Road we branched off left and followed Barrow Green road round to the back of Oxstead and out to Titsey Place to join onto Pilgrims way. Then it was out over Crockham Hill and onto Four Elms garden centre for Tea. Jeremy and Gina had ridden separately to the tea stop and so now we were Ten.
The sun was shining and Ricki played mother pouring the tea.
The ride to the tea stop had been the larger part of the circuit so five chose to head back while the other five headed for the Ide Hill and the Cock Inn. Instead of going up Ide Hill Jim led us up York Hill. Now that's a hill . Rhymes with walk………… which two of us did !
The effort was worth it though with the reward being excellent beer and chat sitting outside the Cock Inn at Ide hill with yet more sunshine.
Finally back though Braested, along the Pilgrims way and up Church Lane over Botley hill. After all the climbing the long slightly downhill ride along Limpsfield rode was an incentive to ride fast with the aim of getting the average speed back up.
For me door to door it was 46.4 miles at 12.4mph.