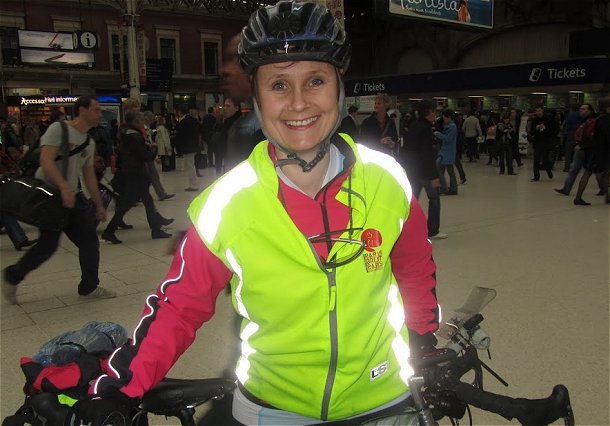 Posted missing from the last few rides – but now tracked down through the magic of the interwebs …
Friday 27th April was the annual York to Hull FNRttC. A mere 70 or so miles starting at midnight outside the York Minster and ending with breakfast in Hull with a few bridges in between.
It is believed that Louise took the train to York and was caught in Hi-Viz Flagranti by my erstwhile spy changing at Victoria (above). There she and thirty odd other crazies prepared for a long night time ride in the traditional manner …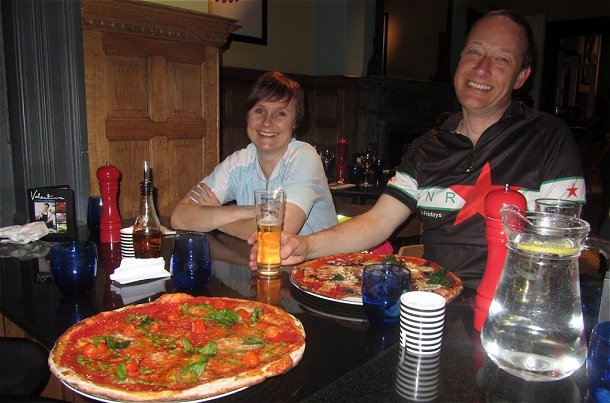 While London and the South were swept by fearsome wind and rain – balmy Yorkshire kept dry and everybody had a pleasant ride to the City of Poets, breakfast and the odd glass of hopjuice.
Sensible people then retired to the city station and dozed on the train back to Kings Cross. But not Louise!
Two folk deciding to save on the train fare decided to ride back from Hull to London: Martin and Louise. They pretended it was merely a training ride for the 2013 London-Edinburgh-London event. But who would sensibly head into the worst weather conditions even April 2012 could throw at you?
Here is the story as told by Martin on CycleChat about starting back that Saturday night after a short rest:
The least part of our problems was the weather. It was torrential rain and howling gales and there was a yellow warning from the met office for heavy rain and flooding but this is all in an audaxer's day. We had clothing to deal with the outside world. By and large we were soaked and cold for about 22 hours.
The three punctures slowed us for about 13 minutes each and that is also all part of the game. We had five fresh innertubes between us and just bunged a new one in, all v quick. We could never have used glue and patches as the glue doesn't work in the wet.
One problem we expected and couldn't solve was a supply of water. We started from Hull at 11pm with two bottles each but that doesn't last long so we were dehydrated until we found a newsagents just opening at 4.30am I think. As we passed through villages we were searching for outside taps and at about 3am scouted round a cemetery searching for the tap they often have to water the flowers on the graves, but no luck. On a properly organised audax ride there are places to get water. The lack of good fresh public drinking water is a real problem for long distance walkers and cyclists. During the day you can sneak into pub toilets and refill but in the night everything is shut.
As for food, I had made 12 cheese rolls, which lasted us to 7pm at Stansted airport. They were all dry and virtually inedible but kept us going. We called them the Surprise Rolls, because the surprise is that they were all the same.
The big problem we faced was the navigation. Remember this was an audax ride and we were following the route prescribed for the London-Edinburgh-London event in July next year. We had entered this as a DIY ride and been given a routesheet and a GPX track. We planned to email in the track taken by the GPS units we had, which would prove were we had ridden. The trouble was that the GPX track and the routesheet were very often several miles apart. At Stansted, which our instructions were to visit, the GPX track was 10 miles away to the east. In Spalding we lost an hour trying to decypher an instruction that took us up a busy one-way main road against the flow. I later learnt that the LEL routesheet for 2009 was terrible and suspect we had been given that one in the hope that our feedback would improve it. At one point the instructions took us along a lovely riverside cycle path while the GPX track followed a main road five miles away. We lost ages trying to puzzle out what to do. Combined with the lack of sleep on Friday night, lack of decent food, dehydration and the atrocious weather, this inability to work out where to go was a real time waster. The instructions were adamant that we had to visit some controls but sometimes the GPX track didn't.
At 8.45 south of Stansted Louise said what I was thinking. A quick look on the GPS for the nearest railway station and a call to National Rail Enquiries and we were dashing the 7k to a 9.21 train. It was three minutes late. As it arrived, so did we. It was over, a largely fruitless exercise because the time lost on interpreting the routesheet meant we took too long. We were supposed to do it in 21 hours and took 22 so we are "out of time".. If it is not a "valid" ride then it won't count as my long ride this month and there's no more time left to get one in, so I can't get a Randonneur Round The Year badge. And if I want to go for a Super Randonneur (200, 300, 400 and 600 k rides) I'll have to do another 300k sometime later in the year.
Sometime in the future I'll have to send in forms etc and see the ride was "valid".
Cycle computer says 305k. My GPS says 297.5k but it turned itself off because the batteries failed at some point.
So to sum up: no sleep on Friday night, 6 hours on Saturday afternoon and 22 hours in appalling weather trying to navigate with confusing navigation, exhaustion, hunger, dehydration, gales, torrents. Would I do it again? You bet. It was simply bloody awesome and I wouldn't have missed it for the world.
So that's it. Louise's excuse for welshing (sorry Gina) on the Sunday Ride leaving Jeremy standing in the drizzle. And that's not all – as Martin concludes:
Louise was superb company, the only trouble I had was keeping up with her. She has the three hardest rides in the country coming up. Brevet Cymru 400k, Bryan Chapman 600k chepstow across mid wales to menai and back, and mille alba 1000k of scotland …
BRAVO LOUISE!!!!