It is now 10'clock on Thursday morning and raining. I am certainly not going out in the wet and cold to lead this weeks Thursday Ride. Still it could be worse, it could be snowing! It was last year. This year it has been stormy winds, lots of rain, flooded rivers and roads. You may (or may not!) find it interesting to see how weather conditions have effected Anerley B.C's riders in earlier years. How about in January 1891. Yes that is 1891, over 120 years ago!
Those who know a bit about our historic club will be aware that the earliest days – circa 1881 to 1930 – were recorded in a memoire by G.H Smith, an earlier club President, Captain, and Editor of the Anerley Gazette. G.H was a very famous cyclist in his day. He was chosen as the subject of the second in a series about cycling greats. This is the item heading from the "Cycling" magazine dated 1st November 1917.



G.H was a prolific writer about cycling and we are fortunate that some of his words are still available to us. His memories of these early days were aided by the cycling diaries that he kept. We are again very fortunate that a copy of some of these, covering the years 1891 to 1897, were given to us by his great grand daughter.
So what does G.H have to say about the wintery month of January 1891?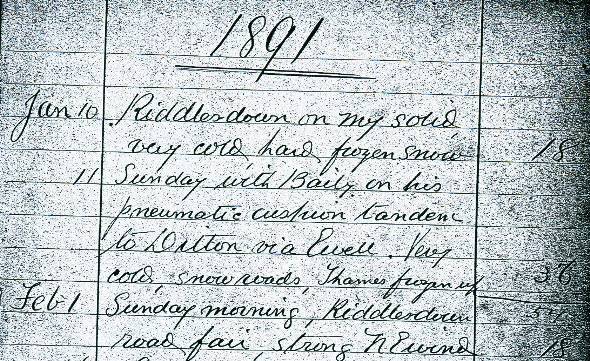 Well, not a lot!   Only two rides over a weekend, making 36 miles in total for that month due to the icy conditions. He tells us that it was very cold, with hard frozen snow.  Even the River Thames was frozen when they got to Thames Ditton!
His Sunday ride was to Riddlesdown. We know from his notes about the early history of Anerley B.C, that this would have been to the Rose and Crown pub on the Gostone Road. A popular club venue in those early day, the pub was demolished about 3 years back and replaced by a block of flats.
On this occasion he was riding a machine shod with solid tyres. But with the icy conditions in mind, was it a bike, trike, or perhaps even a four wheeled quad bike?
On  the Sunday ride it was a tandem, this being fitted with the recently introduced pneumatic tyres. From other writings by G.H, and the drawings shown in the headings of the Anerley Gazette, this tandem was probably an Olympia tricycle tandem. Much safer than a two wheeled bike on icy roads! See an Olympia tandem trike with lady passenger on left below.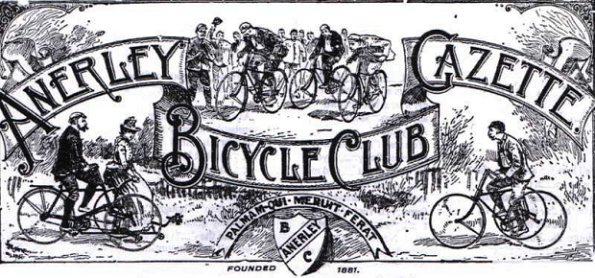 This January snow was not the last of icy conditions noted in G.H's diaries. And if it was not snow, it was mud on those early, rutted cart tracks which  served as roads in Victorian times and into the 20th century.
If you want to learn more about the life and times of an Anerley cyclist, from G.H's diaries, let me know.
Des.
A copy of G.H's memories of the Anerley Bicycle Club has kindly been made available by Dr Craig Horner of Manchester Metropolitan  University.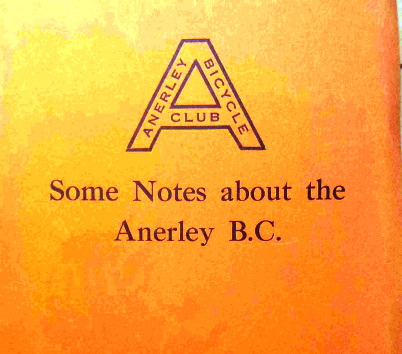 This can be down loaded as a PDF file, at  http://88.96.181.108/craig/some_notes.pdf    However I must warn you that it is a very large file (55 pages) and will take a long time to down load. Be patient, just make a cup of tea while you wait!