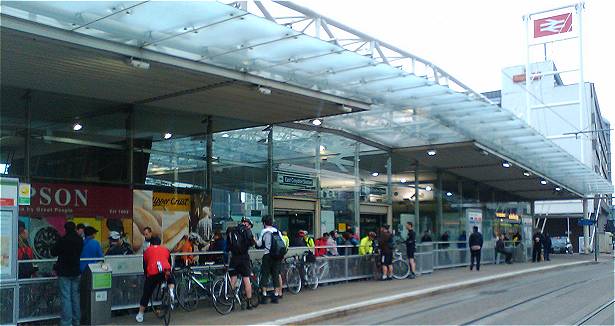 The fourth annual pursuit of the London to Brighton veteran Car Rally organised by Lewisham Cyclists clashed with the Club's freewheel competition. But the opportunity to see some even older gear was irresistible. We converged on East Croydon Station from various points and something over 30 of us headed south down the Brighton Road passing our phone box about 8.30am in concert with the most diverse set of engineering attempts of adding internal combustion (and a few steam) engines to wheels.
The wonderful thing is the cyclists has a faster and more reliable machine (well except for a few Mercs) and can weave, overtake, stop, take photos and be part of the rally. Indeed see more of the cars and their interesting occupants then by any other method. Its not often you enjoy mixing it with motors but the banter and shared love of the road was something not to be forgotten.
Strangely more modern cars held up didn't lose their rag. If only they could treat us as they do these dear old cars.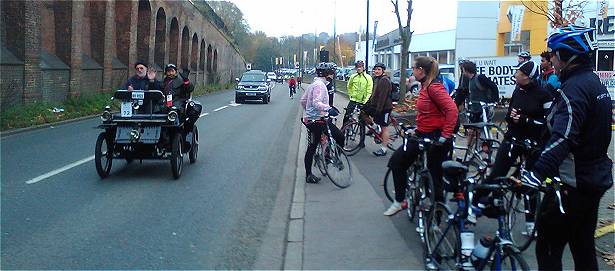 Regrouping at Coulsdon
Having said that just out of Coulsdon I spied an old blue job in the ASL! Naughty, but sadly the reason was apparent. The strain of starting (or stopping) at the traffic lights had sheared the four wooden spokes on the rear wheel. Rim was no longer attached to the hub and splinters were a bit of a hazard. No repair possible and he was still there when I returned 6 hours later!
The hill out of Redhill is a major hazard as getting up is hard enough, having to do a hill start if caught by traffic lights a near impossibility. So the police ushered us all through 'on the red' – another enjoyable experience!
Onwards passing Gatwick Airport and feeling perfectly safe on the dual carriage A23 protected by these wheezing machines. Crawley High Street had a very impressive line up as an official 'stop' on the route. The RAC were doing very good business.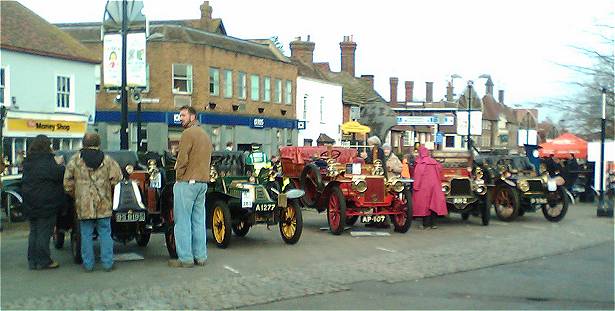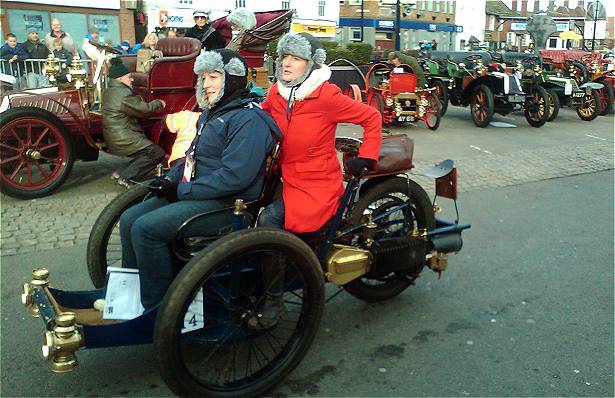 Pease Cottage, Balcombe and Cuckfield passed. Nearly all the way the roads were lined with people. Other car clubs: Jaguars, Morris 1000, Singers, US tracked military and many more had organised mini-rallies along the route adding to a great atmosphere.
Most of the riders were going on to Brighton but if missing the ABC's freewheeling competition is bad enough then missing the AGM would be too much. So at Ansty Cross (near Hayward's Heath) I bailed out and headed back to Kenley. 70 miles of great fun. Oh and so was the AGM of course …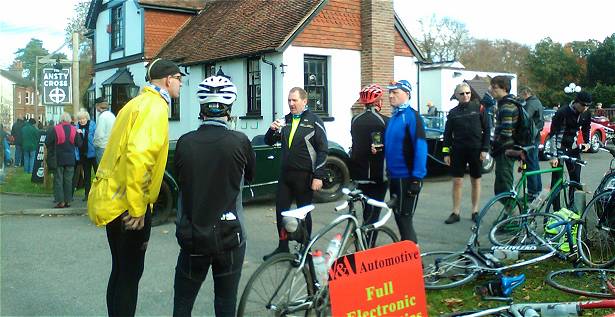 Above: Taking on fuel at Ansty Cross
Below: Des's next steed?