Turnbull Tours: Cuba 2000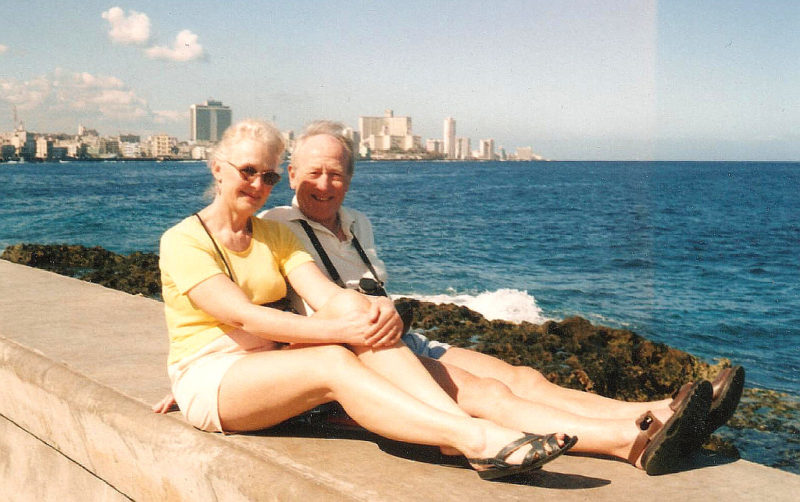 Cuba – Isla Estupenda!
It was a stark choice: the world's favourite airline (B.A.) £520. The world's worst airline (Cubanair) £284. Which would you choose?
Cubanair was our choice and it proved to be quite acceptable. The bikes went free, and the planes didn't crash!
A firm called Interchange, at Stafford Road, Croydon, booked our flights, obtained our visas, and booked the first two nights at Havana's poshest hotel, the "Inglaterra." After that we were on our own.
We'd chosen end February start to escape the decorators for three weeks. The weather was beautiful, about 80 degs. F and mostly sunny.
Spanish was the language there. I'd learned a little Spanish at evening classes and supplemented that with language tapes.
Meike and I arrived at the Jose Garcia airport at 11pm. to be met by a van to take us to our hotel, about 10 miles away in Havana. The van needed bump starting but eventually we were safely ensconsed in our plush room at the "Inglaterra."
After breakfast next morning we blinked in the blinding sunlight of a tropical island. Havana is wonderful: Spanish colonial architecture, ancient American cars, tumbledown buildings, exquisite mulatto girls, music, colour, excitement.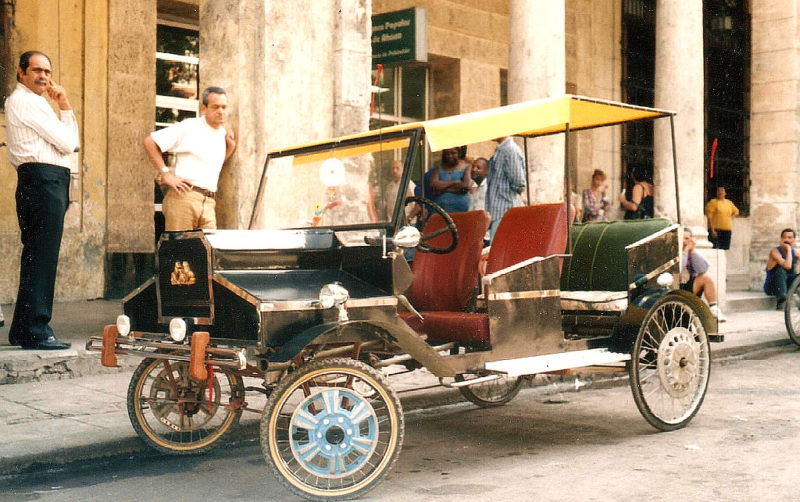 Posh pedal power
Though the currency is the peso, everything runs on American dollars. Pesos buy very
little.
We had planned a leisurely tour of the western province of Pinar del Rio, riding mainly 45-50 miles a day, with a maximum milage of 60 for a couple of days to start. Cuba is a large island, roughly the area of England, with mountains, plains, jungle, tobacco, and sugar cane.
Traffic was very light and drivers very courteous to cyclists. Roads were generally good, occasionally rough, but always ridable. Cyclists were able to use motorways, which were almost deserted!
Through the CTC and "Rough Guide to Cuba" we had learned that bed and breakfast accommodation was now legal in Cuba and that was the basis of our overnights.
Threading our way out of the city, we were soon in the the country. The land was flat, mainly devoted to sugar-cane plantations. Palm-trees and snowy egrets were plentiful.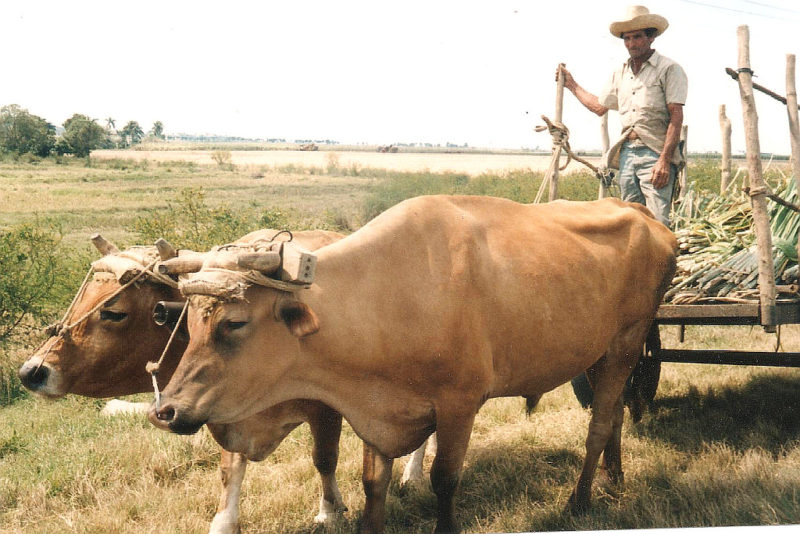 Bullock cart on way to Candelara
After 60 miles in unaccustomed heat, with frequent stops for drinks, we found our first "casa particular," or b. and b. at Candelara. Water came in buckets for washing, mains water being turned off for some hours owing to a drought. Room and breakfast $25 for the two of us.
We awoke to the grunting of pigs and the barking of dogs. Meike punctured at San Cristobal and attracted a curious audience of natives as she changed a tube. I deputed one to hold her bike while she replaced the back wheel. Everybody laughed. People were invariably friendly and helpful.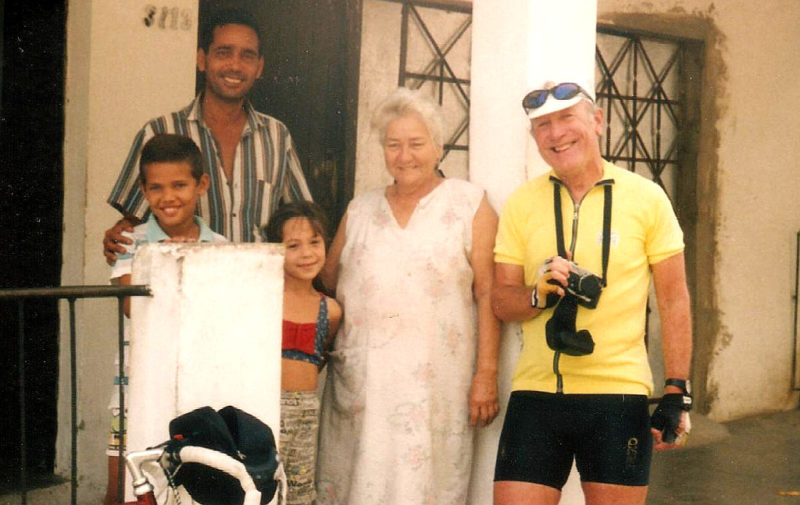 Our hosts in Candelara
During the day's ride we saw buzzards, pigs, goats, cows, horses, bananas, oranges, lemons, tobacco and sugar-cane.
Arriving in Pinar, we were taken by a black boy to a beautiful villa. The owner spoke German, having been a "guest worker" in East Germany years previously. He and his wife were really wonderful to us, nothing being too much trouble.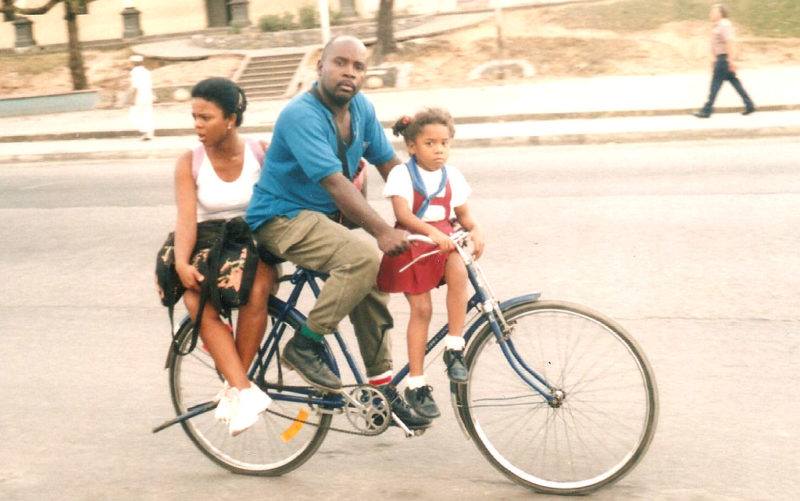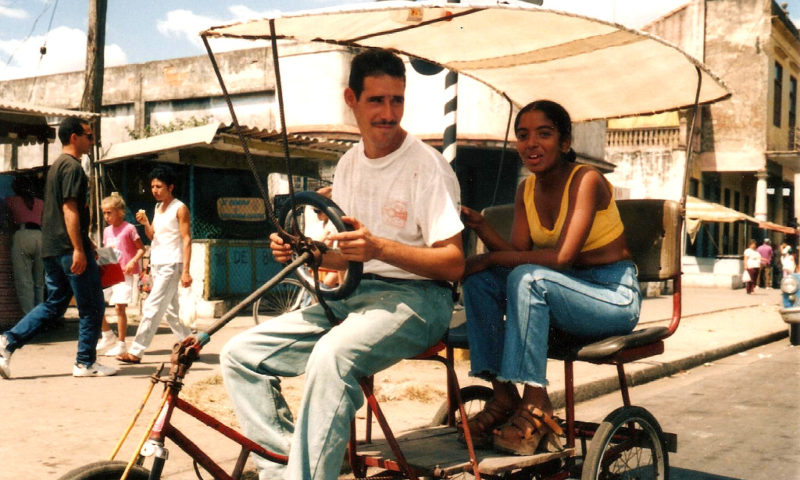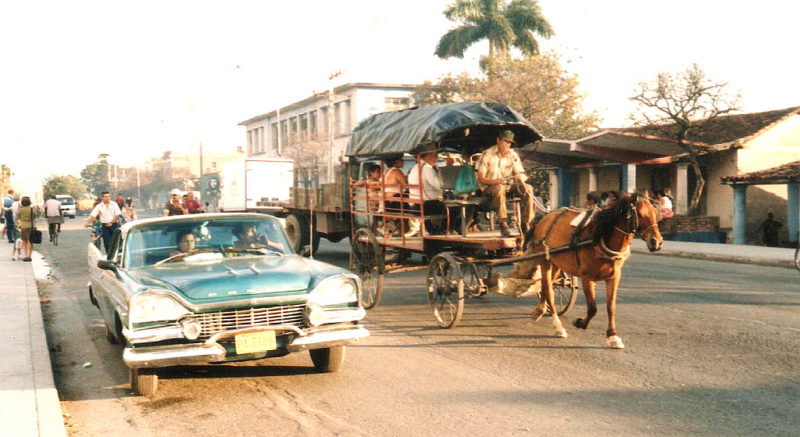 Transport in Pinar
Next day was a rest day and we walked round town drinking in the sights, being subjects of much interest to the Cubans. Some touts accosted us but were never threatening or troublesome. A short "No, gracias," sent them off.
I wanted to see a cigar factory, where girls rolled cigars on their beautiful brown thighs. We soon found a factory, paid our $5, and roamed freely inside. It was fascinating.
There were the girls sitting at wooden desks, much like a class-room. They nimbly rolled and cut the tobacco leaves, chopped them to length, and stuck the paper bands on. All the while they flashed coruscating smiles at us visitors, and indicated that tips would be welcome for posing for the camera.
The girls' skin colour varied from white through milk chocolate, to ebony. Some were absolutely ravishing. A few smoked cigars while they worked!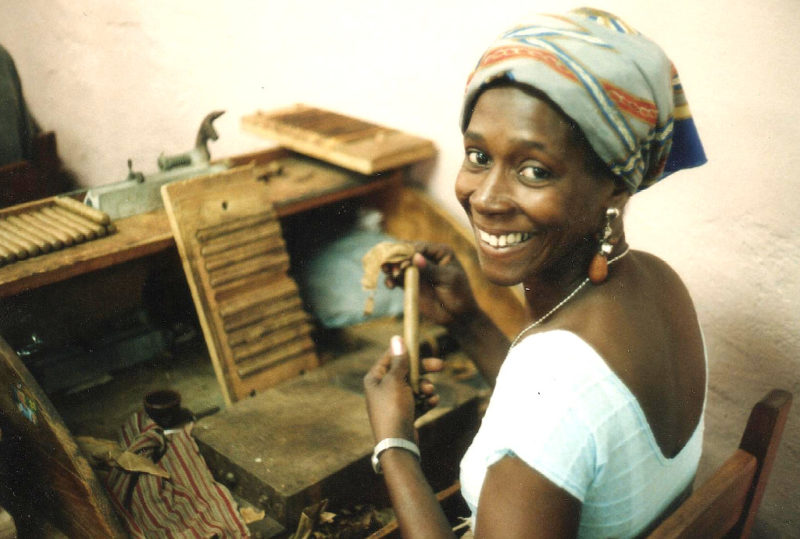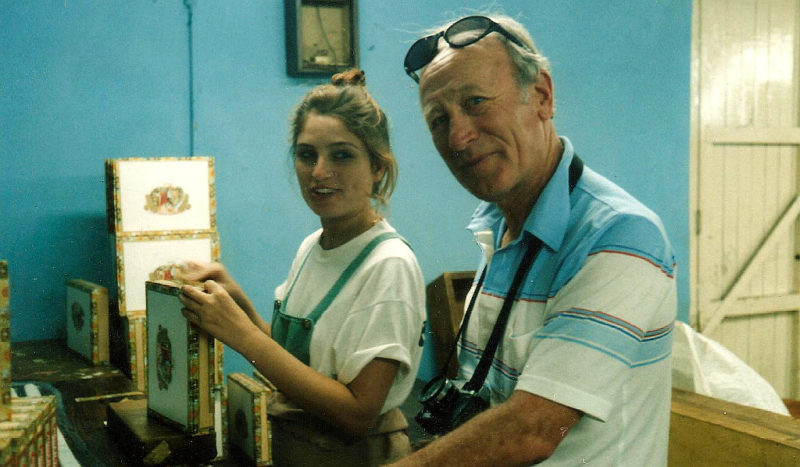 Cigar packers
Next day we had a short ride into the mountains, then a laze by a swimming-pool. Our host
invited us to his birthday dinner that evening and eventually we tumbled tired but happy into bed.
Anna-Maria, our hostesss, cried when we left next morning! We were heading for Matahambre, and it was an exquisite day's ride. Mountains, pueblas (villages) snakes, buzzards, tobacco, all featured en route. The climbs were severe, bottom-gear grinds. The heat was hot!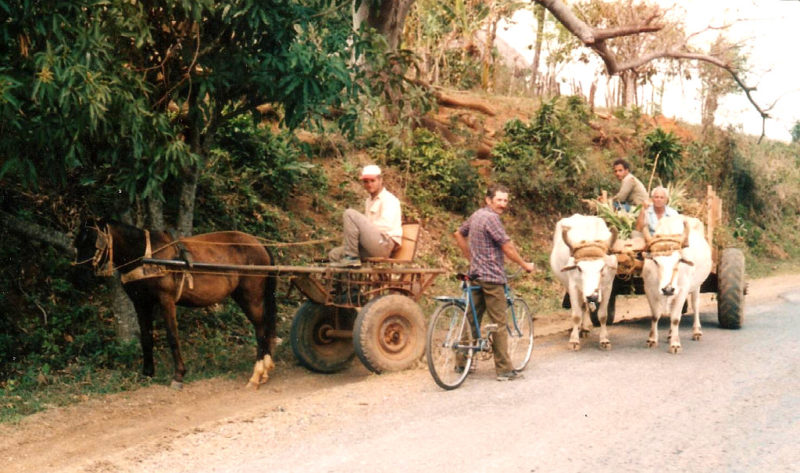 3 modes of transport, Matahambre Road
We stopped at a mountain village called Cabeza for a drink and sandwich. The entire population turned out to watch us in "la cantina," as though we were Martians.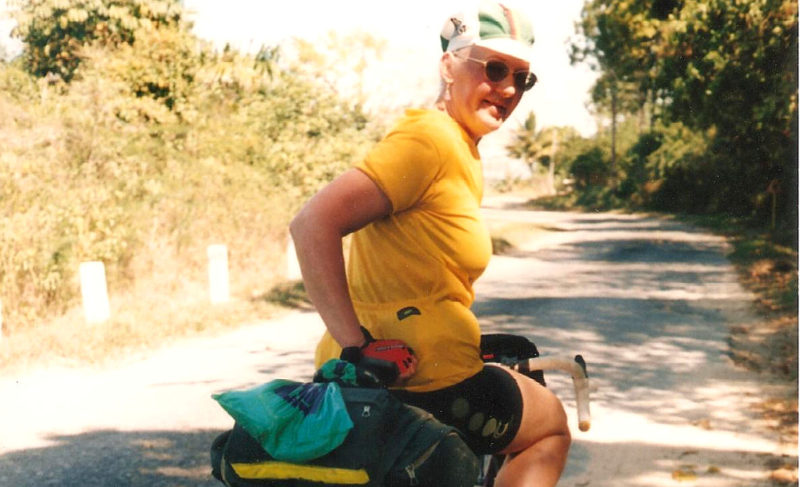 Matahambre Road, drink stop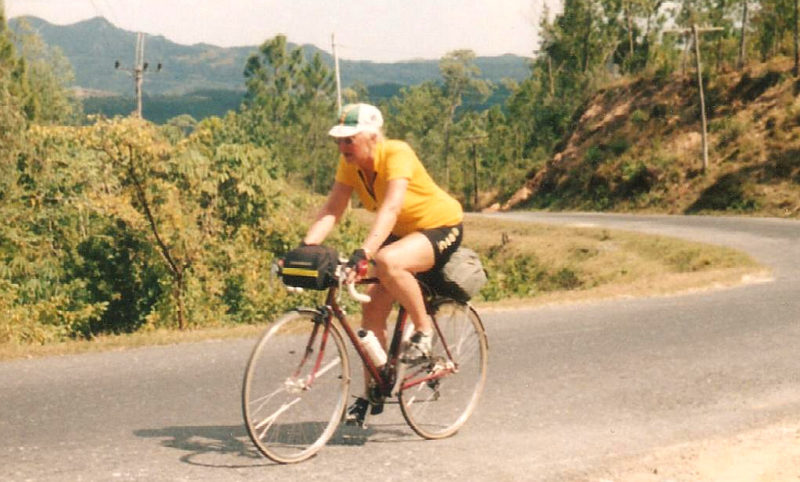 Still going up to Matahambre
Arriving at Matahambre we found a room for $15. The young man who led us there then took us to a nearby copper mine for a visit.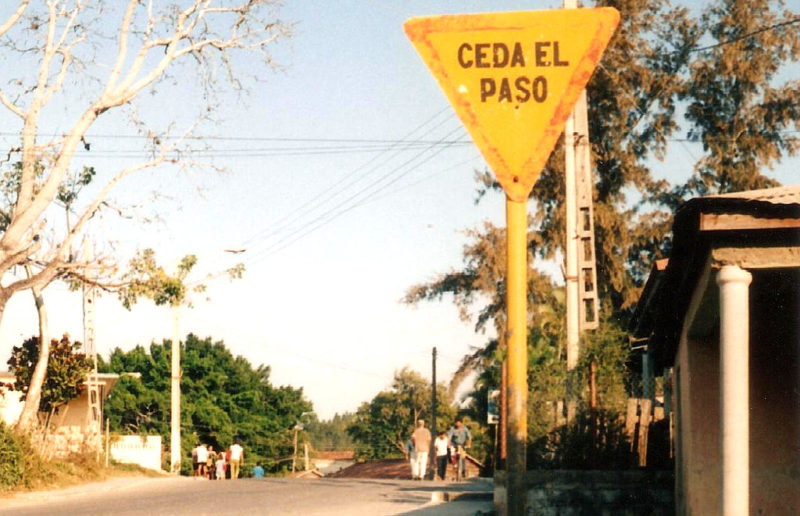 Give way to what?
More mountains next day to Viñales. Again very hot. Our mileage per day in the mountains was 30-35. That was plenty. Dinner that evening was tortilla and pampelmoos (grapefruit).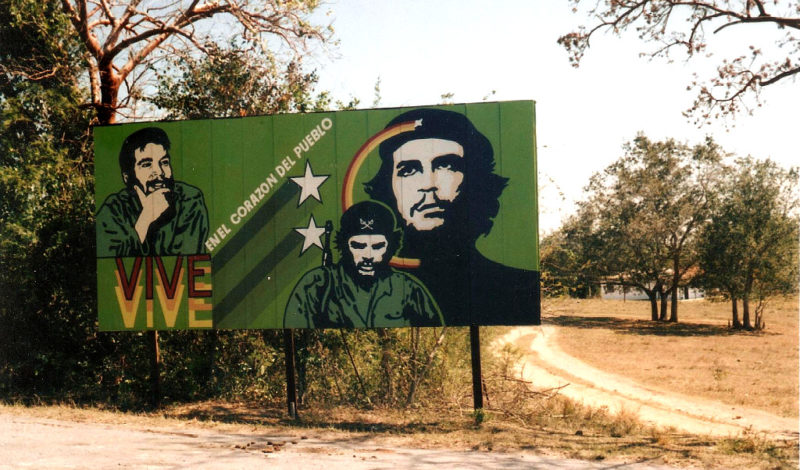 Advert for the Revolution, road to Viñales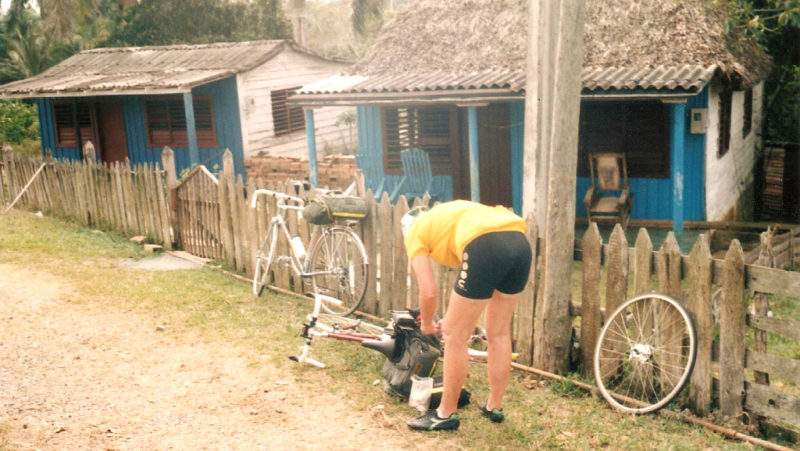 Meike puncture mending, road to Viñales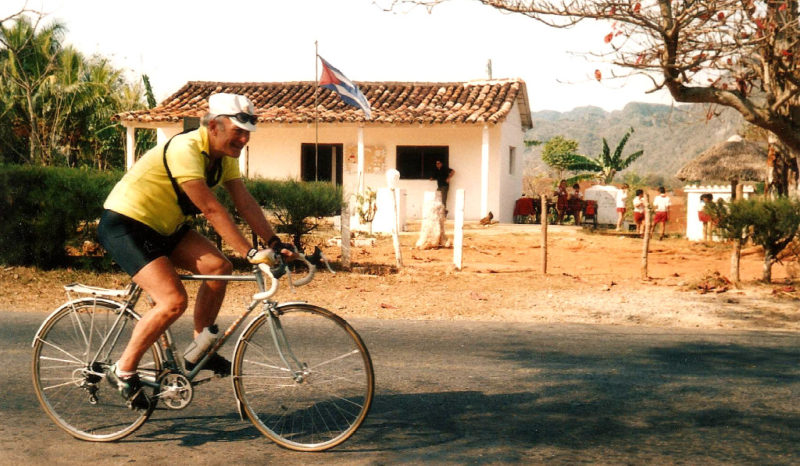 John, school, flags and kids towards Viñales
We had a short ride next day as it was a rest day. Along the road we met a farmer smoking a cigar. I took a picture of him and he invited us to his estate where he grew coffee, sugar-cane, and coconuts.
He told us that he'd served nine years in prison as an anti-revolutionary. With his glistening machete at his waist and his history, I wondered if it were wise to accept his invitation!
At his estate he knocked a coconut off a tree with a huge pole, then beheaded it with his machete, before offering it to us to drink the cold, sweet juice. It tasted delicious.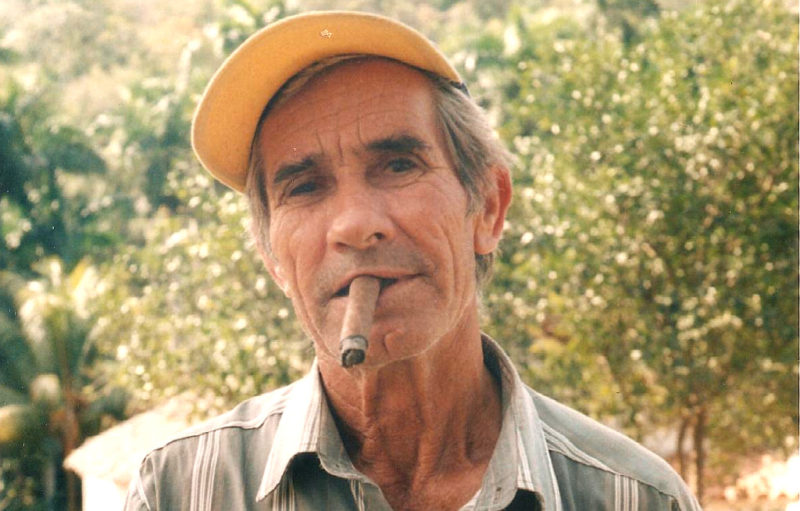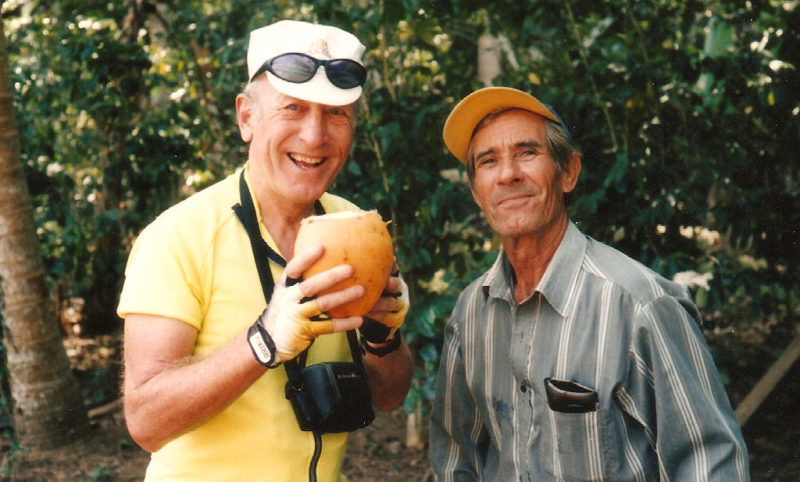 John with his ex-convict host
Returning home we stopped for a refrescos (cold drinks) and a bun at a cantina. There was very little choice of food in the villages.
Our hostess, Violetta, was celebrating her compledo de año birthday) that very day. I sang
"Hear my song, Violetta," for her bringing tears to her eyes. I'm not sure why!
Nearby was a huge cliff, painted with murals depicting the ascent of man. We rode to it next day and had our first mojitos (cocktails made famous by Ernest Hemingway while living in Cuba) at the nearby bar.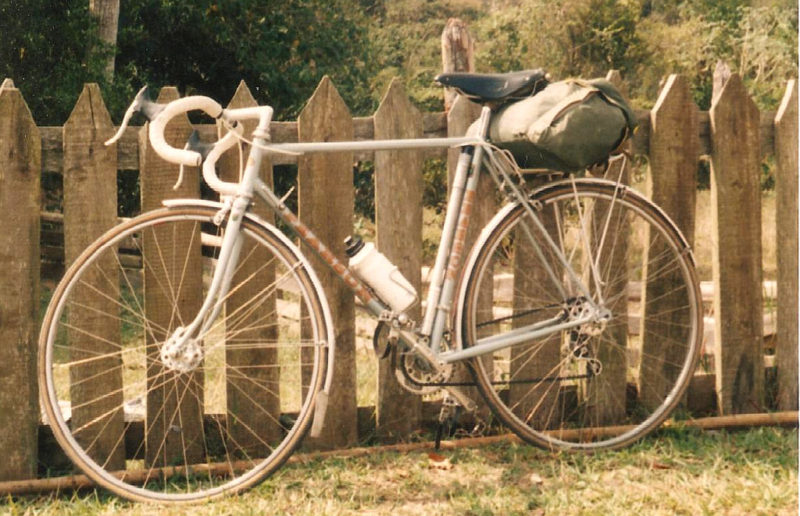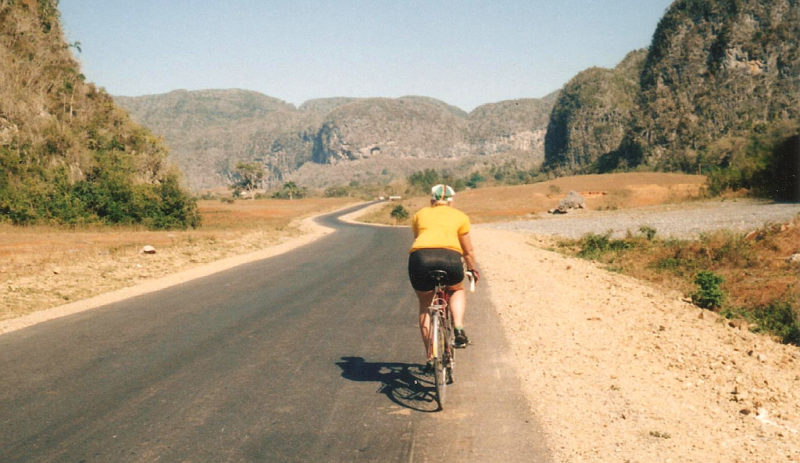 Out for a spin, Viñales
While Meike was away for a few minutes I was approached by a beautiful Cuban girl of about 20 who spoke good English. She was a tourist guide and just loved Englishmen! And she was just dying to visit England! At that juncture, Meike returned in time to save me.
Leaving Vinales at 9.30 next morning we ambled along in the sunshine. Farmers often used yoked oxen to pull a large wooden sledge along the road and Meike hitched a lift on one!
Past orange groves and tobacco fields we rode, eventually reaching La Palma, our day's destination. We sought Aida, the ice-cream shop, as our previous hostess had telephoned her and arranged a bed for us there.
Wandering on foot round town after a shower and change we met Luis, an English teacher at the local high school. He was delighted to talk to us and invited us to his parents' house for home-grown coffee. His parents lived on a state pension of 70p a month each! People were unbelievably poor by Western standards yet were generally very cheerful and happy looking.
Luis had had four wives and seemed to find Meike to his taste….Meike scolded him for his flightiness!
After breakfast of bread and mayonnaise (!) we rode into a stiff wind along a switchback, potholed road, in intense heat. Arriving at Bahia Honda we found the hotel full. Some cheap peso hotels wouldn't accept Westerners.
A boy led us to a nearby house where the wife offered us a room. The house was no more than a concrete, single-storey box. There were no interior doors and, as we undressed, her husband wandered into our room for something from the wardrobe!
Our hostess made us use a mosquito net on the bed. To use the bathroom we had to walk through their bedroom. It's surprising how quickly one adapts to oddness!
Woken by a cacophony of dogs, cows, pigs, radios, TVs, shouts, lorries, we were soon tucking into our breakfast of bread and dripping. Lovely!
Today we were heading for Soroa and a posh hotel for two nights as a treat. We had to ride inland from the coast over a mountain range to reach Soroa. The climb was 16km through jungle terrain, very steep, and in blazing heat. We'd taken extra water as there was nowhere on the climb to refill our bottles.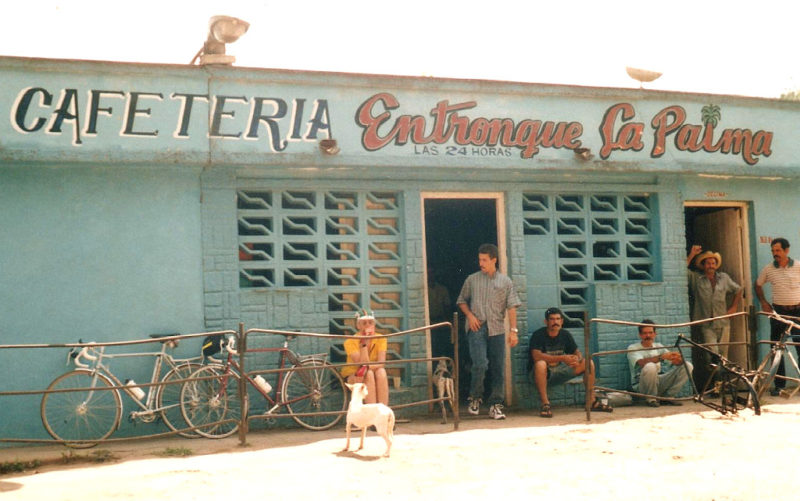 Drink stop
After frequent stops for drinks and rest, I became anxious whether our water would last us to the top. The relief at reaching the summit was considerable, with only a few drops of water left.
A blissful 10km freewheel down a twisting, well-surfaced road followed, and soon we were at the reception desk of "Horizontes" hotel, a plush, built-for-Westerners hotel, carved out of virgin mountain jungle.
A modern, spotless room, air conditioning, TV, hot running water, flushing toilet, greeted us. The pleasure was palpable.
Next morning we walked up a very steep stony track which led us to an eagle's eyrie, "Castillo de las Nubes" (castle in the clouds). There we had lunch after daiquiris (another Cuban cocktail). The panorama of mountains from the restaurant was breathtaking.
Leaving "Horizontes" next morning we sped downhill for half an hour before levelling out and meeting the autopista. It was a strange motorway. Cyclists could ride on it, there was virtually no traffic, young men sold strings of garlic on the fast lane, and there were no signs for turnoffs. We asked farmers in adjacent fields when we were in doubt.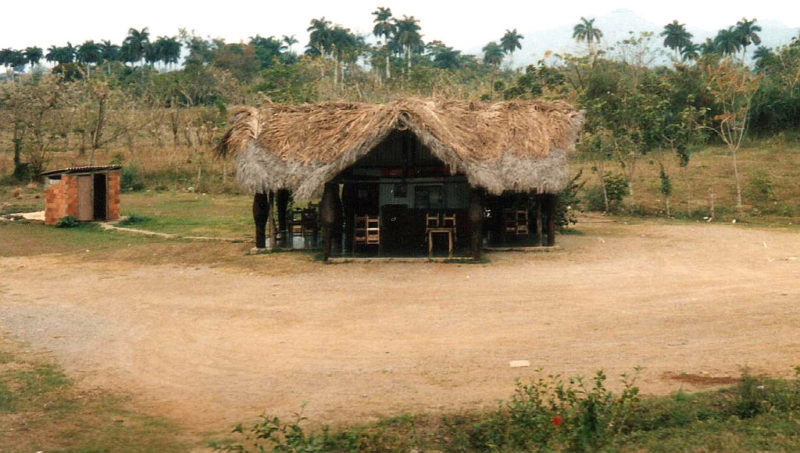 Motorway service station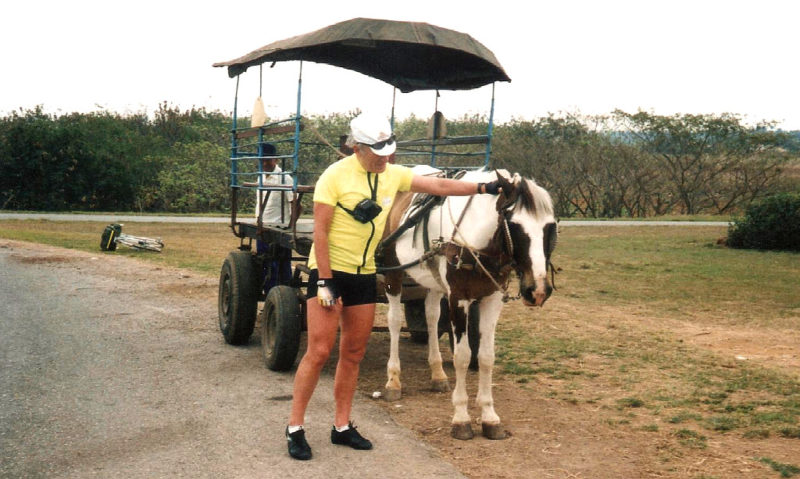 Taxi at motoway service station
Eventually we reached Mariel, on the coast, and found the hotel "Puntilla". It was a poor
peso hotel and our room cost 18 pesos (20 pesos equal $1). Cheap enough! No breakfast though!
It was a room with a view – of a beautiful bay – from our balcony. No running water, but the caretaker brought us a few buckets!
Enquiring in town, we found a baker's shop that would do us breakfast on the morrow. After breakfast we rode along the coast into a strong head-wind and into Havana. Confirming our return flight at Cubanair's office, we then made for town centre and Paula's b. and b. very near the "Inglaterra." This we had arranged through a man whom we had met in a park on our first day in Havana.
Paula and her husband were delightful and made us most welcome. The room was large and clean and also quiet. We were spending our last three days here.
Off we went to the terrace of the "Inglaterra" for tea (tea was generally unobtainable in Cuba) and to be serenaded by a full orchestra. Bliss!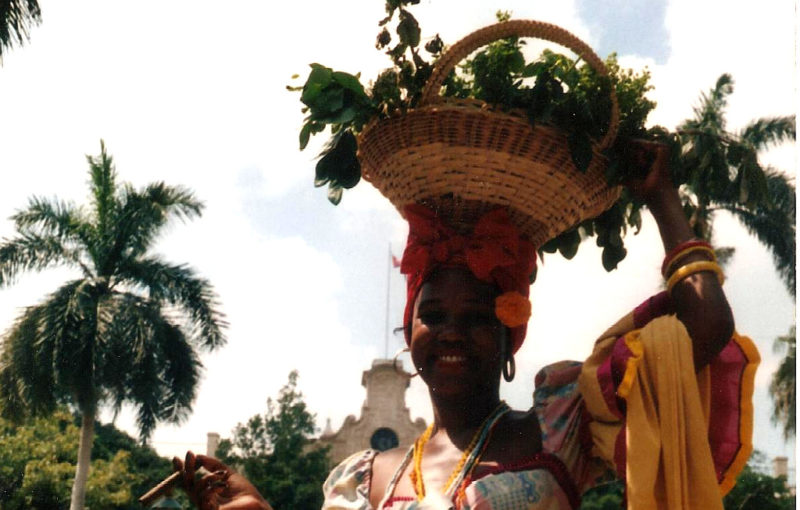 Lovely lady
Gorgeous girls would accost me in the streets even with Meike on my arm. People were desperate to escape the grinding poverty endemic there.
The last couple of days we spent sightseeing in the old town, at markets, down alleys, in parks. The colour and clamour were overwhelming.
Unfortunately Meike's neck purse was snatched from her by a young man in a ghetto area, and we spent hours with the police, the British Embassy, and Cubanair sorting out temporary passport, visa, air ticket and so on. That rather soured our otherwise very favourable opinion of Cuba.
Our man in Havana proved extremely helpful and it was very reassuring to meet British sang-froid in an effervescent situation.
It was with real sadness that we took our seats to fly home next day. As the title says:
Cuba – estupenda!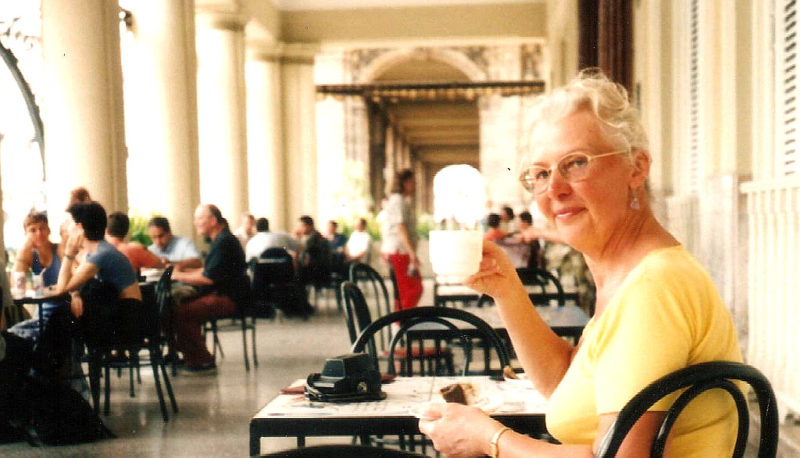 John & Meike Turnbull