Turnbull Tours: Bulgarian Odyssey

Meike and I entered the Balkanair Boeing with a degree of trepidation. Normally we flew British Airways, but £100 per ticket difference proved irresistible!
My travel agent had smiled when I mentioned Balkanair. Did he know something, I wondered! The reality was, Balkanair, for us, was excellent. No fuss over the bikes, no dismantling, no charge.
We had planned an 18—day tour of Bulgaria and flew from Heathrow to Sofia, landing at 8.30pm. We were met by Lyuba, a Bulgarian lady travel agent, who guided us to our first night' 3 lodgings 1n the flat of an elderly lady, close to the airport.
Most tourists head for the Black Sea in the east of Bulgaria. We had a circular tour planned in the west, which is a mainly mountainous, undeveloped area.
No visas were required, the pound sterling bought us 3,000 levi, which enabled us to live like millionaires, and the people were always helpful and friendly. One tiny fly in the ointment was that the Cyrillic alphabet is used in Bulgaria, as in Russia. To counter that, we had bought a Hugo's Bulgarian phrase—book and a tape of colloquial Bulgarian weeks before the holiday and soon knew the tape by heart! It really did help our progress.
Threading our way out of Sofia next morning was tricky. But eventually we were on open road crossing rolling hills in bright sunshine, heading for Dupuitsa, our first stage.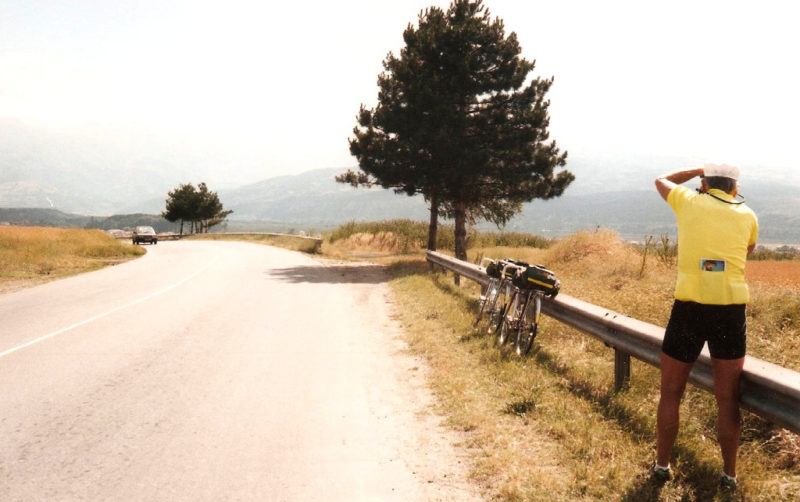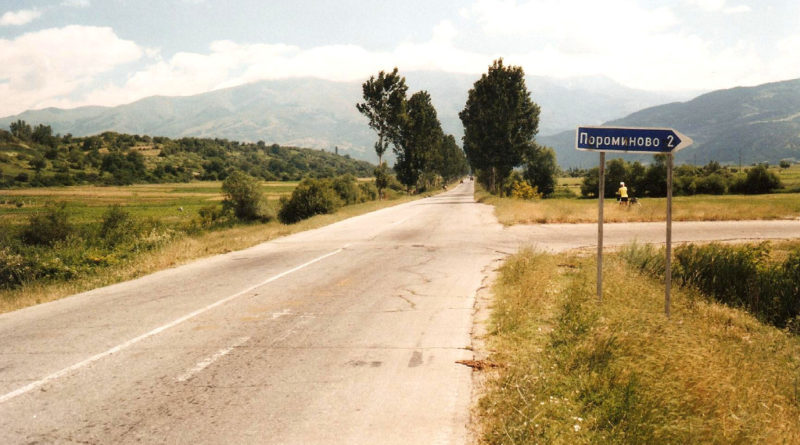 We were entranced by the people scything hay by hand, and building little hayricks. Horses, donkeys, cattle, were the sole means of power and transport, and small towns were full of these animals. It made for a wonderful atmosphere of tranquillity.
Finding a cheap hotel we showered, changed, and strolled round town. We were usually objects of interest by reason of our clothes and fair colouring, which made us conspicuous from the short, swarthy natives.
Our destination next day, one that we had read about, was Rilska Monastery, perhaps the most famous of all in Bulgaria.
After a few main—road miles we turned left and began a 20-mile climb to the monastery. The day was hot and we stopped for drinks and photos frequently. Finally at 5,000—odd feet there it was, surrounded by mountains.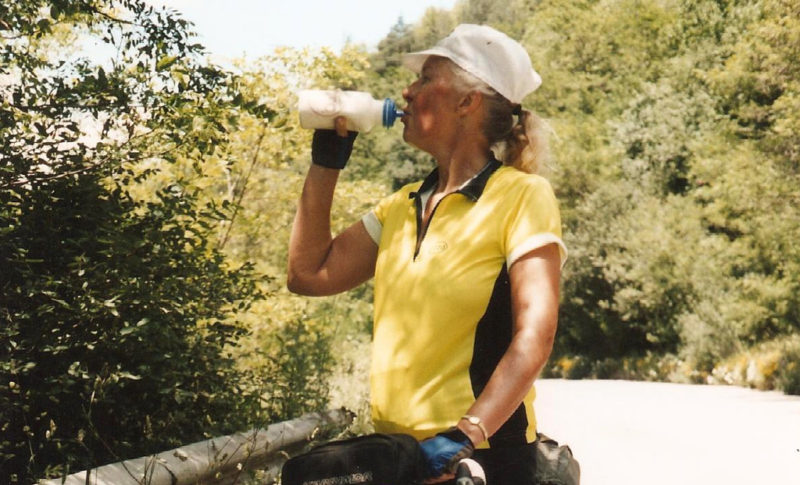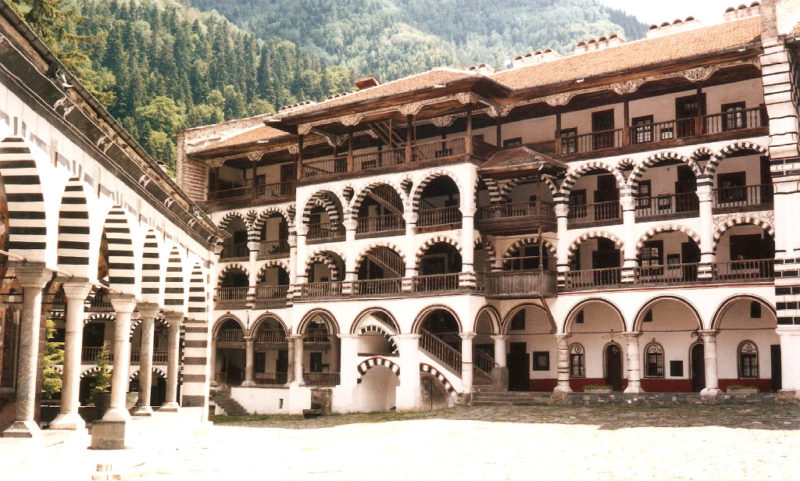 We knew that is was possibe to sleep in the monastery in a monk's cell, and accordingly made our way to the accommodation office. I had joked with Meike about her sleeping with "Boris", a black—bearded monk, and when we entered the office there he was: young, full black beard, dark eyes, gentle mannered! I smiled and nudged Meike suggestively. She affected not to notice!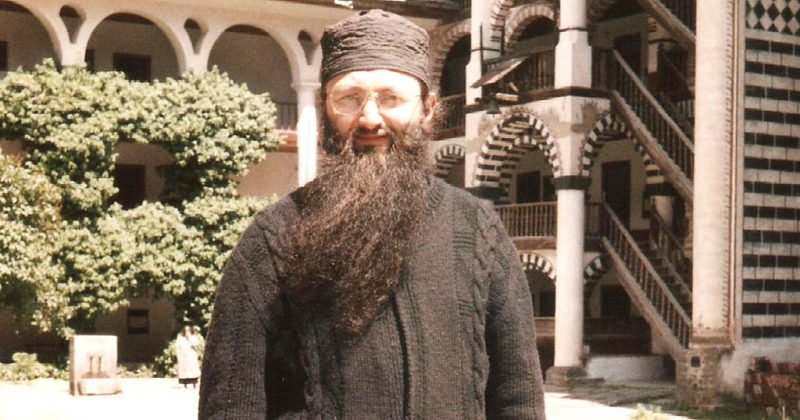 Our cell was comfortable, and soon we went out exploring. The monastery was simply wonderful, painted in black and white and with huge, colourful wall and ceiling murals, depicting saints, devils, and tormented souls. I began to repent my wicked past! There were very few visitors there.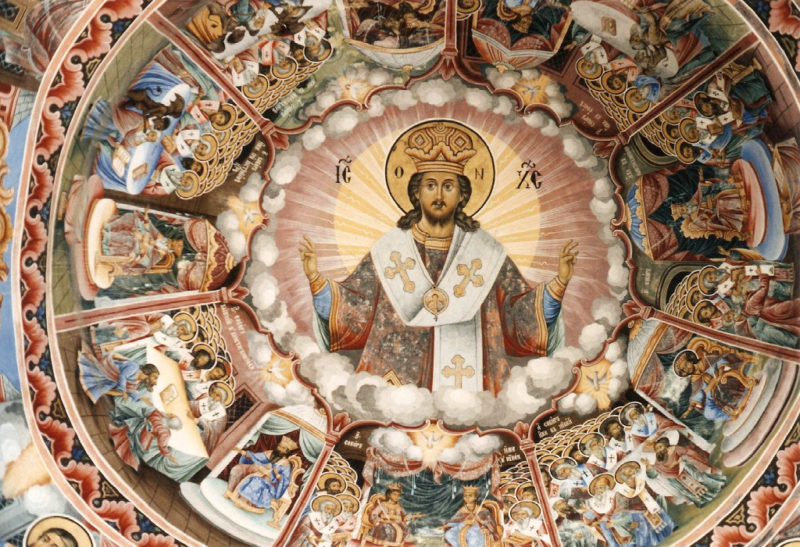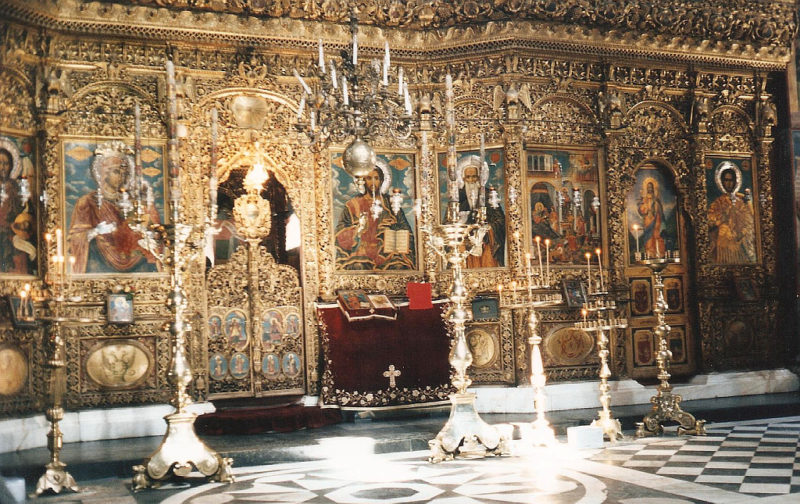 Next day we freewheeled the 20 miles back to the main road, passing a dead black bear at the roadside. Our destination was Bansko and that entailed a 16smile climb through pine forests and meadows abundant with wild flowers.
For £8 we found a very nice room in a small "Mexana" or inn. Bansko was like a Wild—west town, with horses and donkeys everywhere, and stacks of hay in the streets. Next day was Sunday and the whole town became a street market. It was fascinating wandering around the stalls and listening to the constant babble. That evening we had a three—course meal and bottle of wine for £4 at a pleasant hotel! A friendly blonde—haired waitress, on learning that we were from London, called us "English aristocrats." '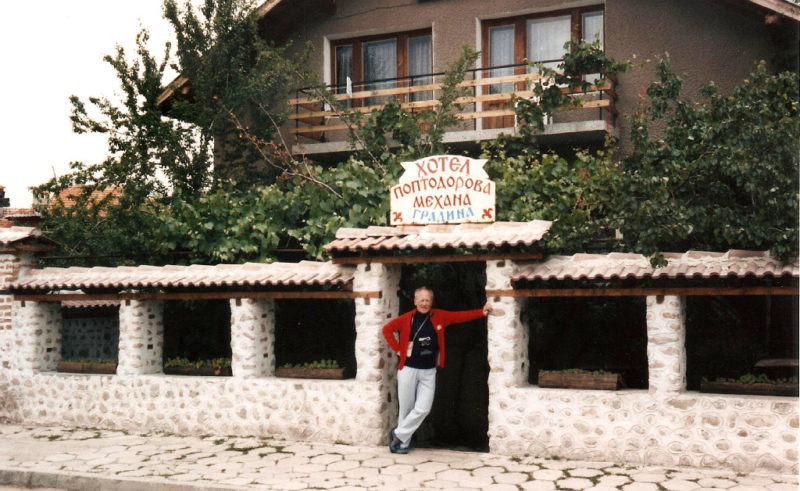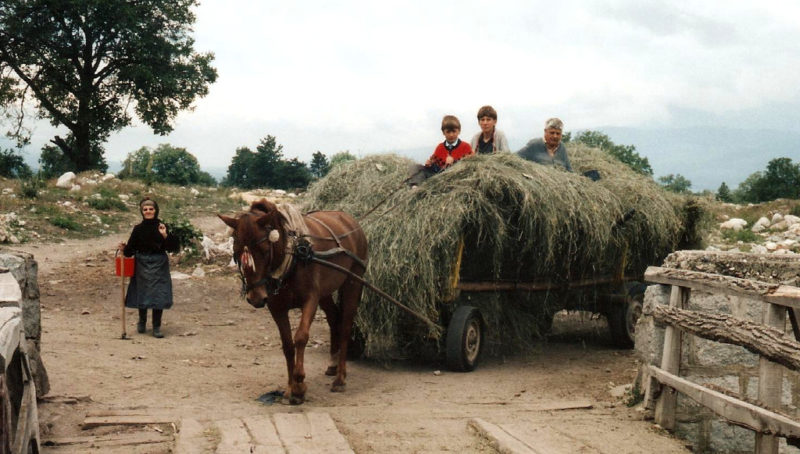 Unfortunately Meike became ill overnight, feeling sick and dizzy. Within five minutes of my asking the hotel receptionist to call a doctor he appeared! He spoke only Bulgarian but the phrase—book earned its keep and soon Meike had had an injection and I had a prescription for medicines. This cost us ~ nothing!
We stayed two more nights at Velingrad until Meike perked up and we then took a train to Plovdiv as she wasn't up to hard cycling. There we met a man who claimed to be a Bulgarian road—race champion of 30 years ago. He rode a bike and admired my Brooks saddle. "Brooks saddles," he said, "very good!"
We resumed riding next day in very hot weather. The route appeared mainly flat from the map but towards the end of the day a nasty mountain pass interposed itself between us and the delightful village of Pavel Banya, where we found an excellect b. and b. for £7 in a country cottage. '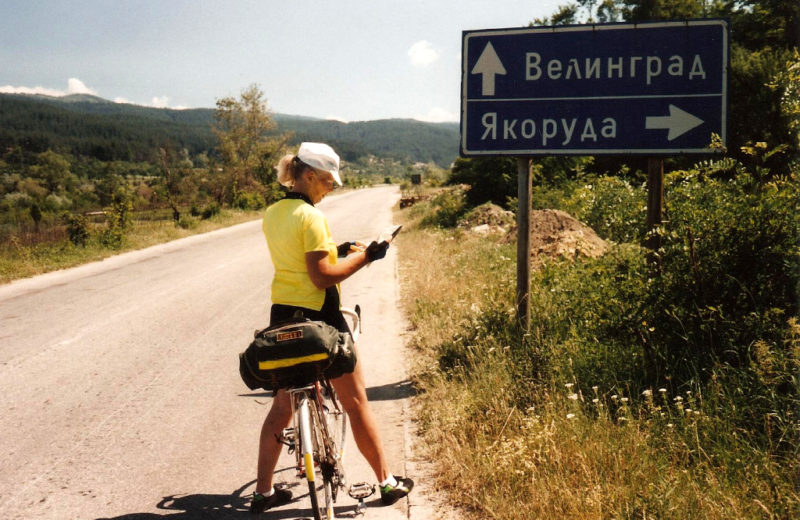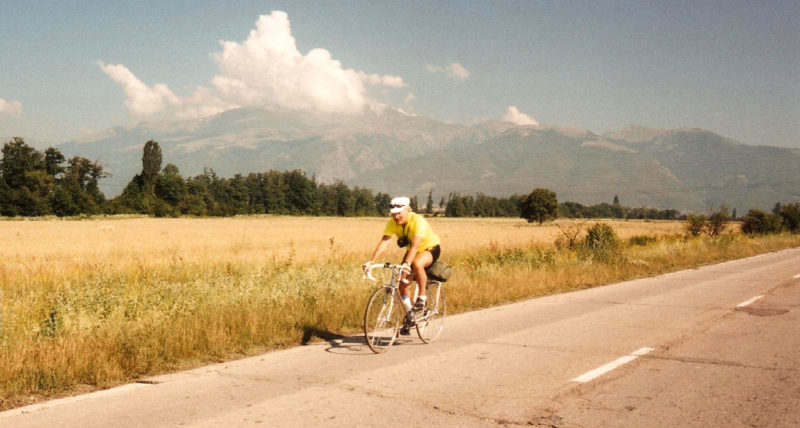 Kazanluk, our destination next stop, was a short ride and we ended up in a wooden "bungalow" on a campsite a mile or so out of town. In short time I photographed a dancing bear and a beautiful bride in town.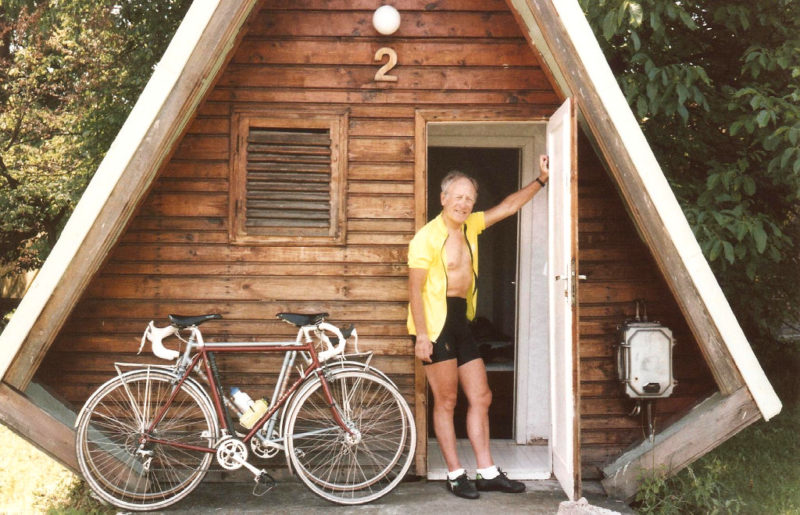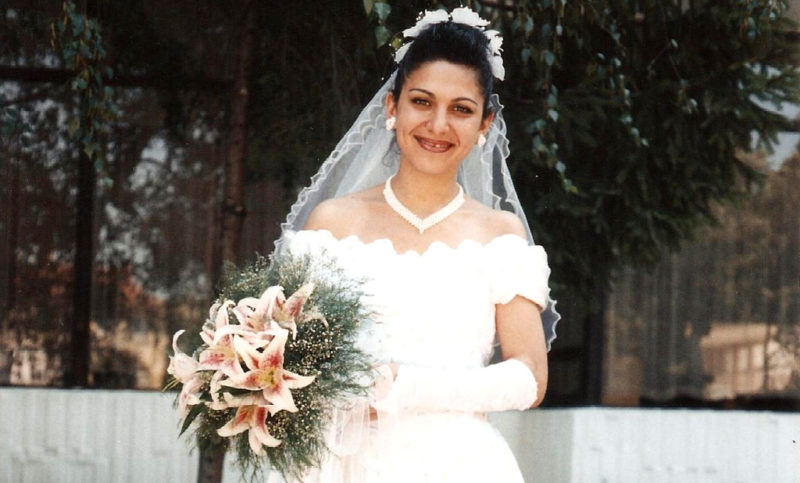 I was pleasantly surprised that in a mainly argricultural former Soviet bloc country girls wore exceedingly short skirts to flaunt their beautiful slim brown legs. Some even flaunted their underwear when bending!
Next day found us climbing 14 miles up the Shipka Pass, passing a golden minaret in Shipka village early on. The summit of 5,000 feet reached at last, we hurtled down for 10 miles to Gabrovo, our next stop.
The only hotel was a state monopoly monolith and charged $64 a room. I was outraged, and asked a bystander if he knew of anywhere that we could stay. "Komm mit mir," he replied,
jumping on his bike.
In three minutes he stopped at a tower—block of flats and bustled us into a lift and up 11 floors. With our bikes!
We had dinner, bed, breakfast with him and his family and he declined my dollars next morning, poor as the family obviously were. (I tucked them under a vase in the bedroom before we left.)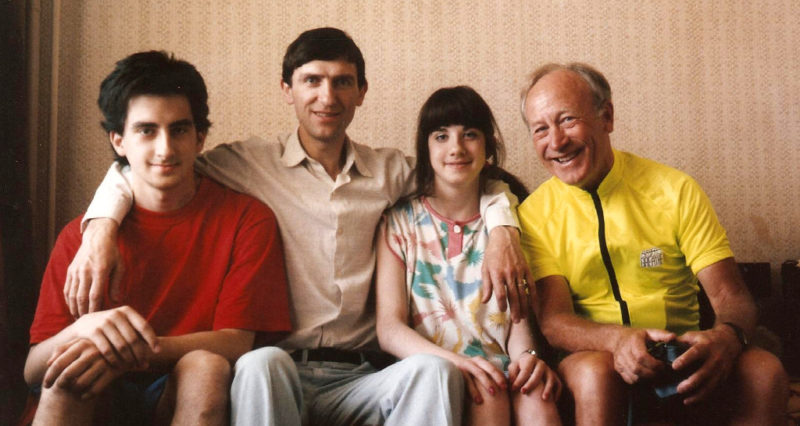 Veliko Turnova was our next port of call. The day was baking hot and lizards played around us in the yard of a wayside restaurant en route. The main attraction at Veliko was a huge castle on a frowning hill overlooking the town, the Czavavets.
Our route now turned back towards Sofia. Still hot and sunny, upland roads, forests and flower—decked meadows. Moussaka and iced yoghurt formed our delightful lunch at Sevlievo. Up and up we climbed, through quaint old villages, heading for Troyan, our destination. The final five miles were steep climbing into the town where we found a delightful in for the night. .
The Troyanska Pass lay in our path next day, the highest, hardest climb of the tour. Seventeen miles of climbing in 35 degs heat. Hairpin after hairpin and little shade. Our water ran out and we toiled upwards feeling unhappy, until at the 5,400 foot summit we chanced upon an icy—cold water fountain. Never has water tasted so deliciously heavenly! Nothing else would have done.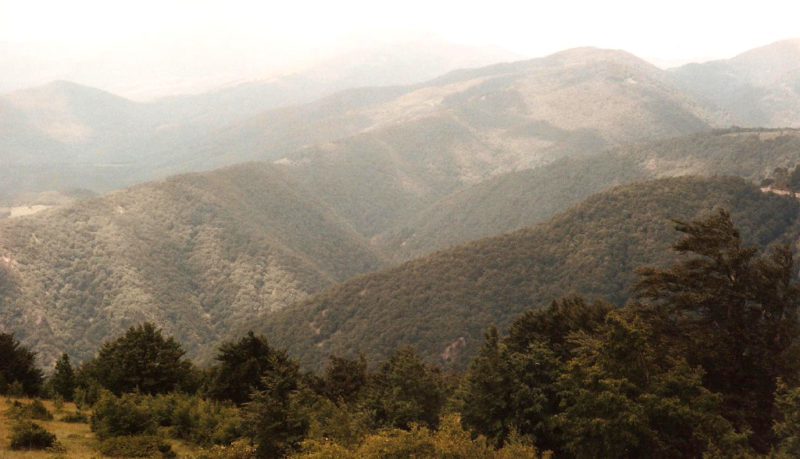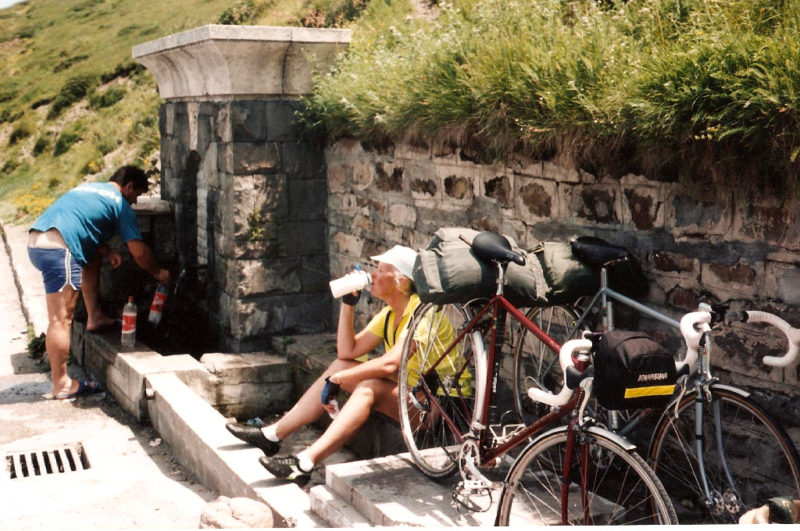 Down 13 miles of pot—holed roads into a strong burning head wind. Our map showed a campsite at Klissoura and on reaching the village we found the campsite was really a collection of lovely stone—built bungalows in a high meadow overlooking the village.
We booked two nights here and on our "rest day" rode a very hard climb of 15 miles to Koprivshtitsa, a captivatingly picturesque famous Bulgarian mountain village, birthplace of the insurrection against the Turkish satraps in 1870. The village appeared a living museum, colourful quaint houses and farms abounding.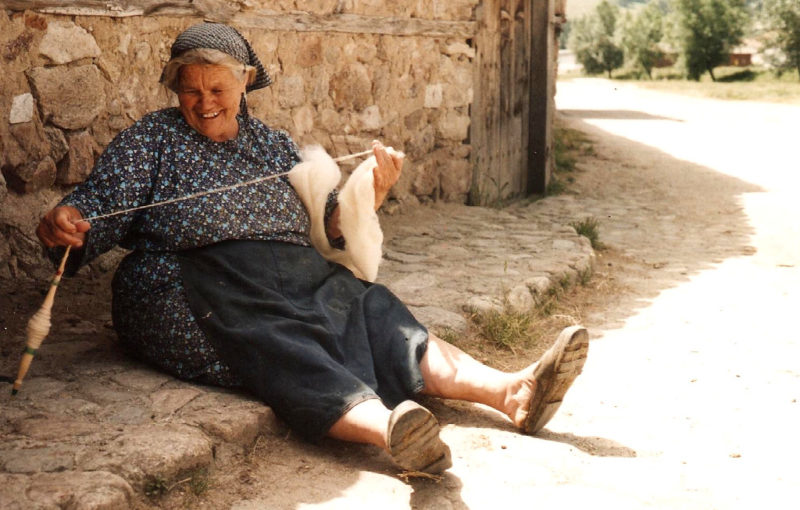 Back down to Klissura Where we met a woman who invited us in for dinner. She was the local headmistress, responsible for 30 staff and 1250 pupils. She earned £40 per month!
Our tour was coming to an end. Next day we headed back to Sofia. It was stiflingly hot. On reaching the city we wended our way to Dora Ilieva, the lady with whom we had stayed on our first night. She was delighted to see us and soon had a meal ready. Later we took a bus into the city for a fleeting visit and a drink.
Next morning we rode the 10 minutes to the airport and booked in for London. No hassle, all straightforward. We were sad that the tour was over, but glad to be going home.
The bikes went like clockwork, not even a puncture. We started out mid—June, returning early July. During this time we covered over 600 miles, mainly mountainous. Some road surfaces were badly pot—holed and broken up, but they were mainly reasonable. Drivers were very considerate and friendly, frequently smiling and waving. (Perhaps they thought we looked odd!)
Some older people spoke German, younger ones a little English. With Hugo's phrase—book we had few problems.