Tuesday Rides, November 2012, part 1
Remember, remember the 6th of November.  No damp squibs, it was a real sparkler of a day!  Here at Croydon we had an early morning frost but a brilliant blue sky again for the Tuesday Ride.  Although the temperature was only 2C in the shade it felt much warmer in the sun as 6 of us set off from Shurguard.  A most welcome face was Helen whom we had not seen for at least a couple of years.
By the time we reached the top of Worms Heath, the climb up from Warlingham, we were all out of breath and glowing.  So a brief stop to smile for the camera.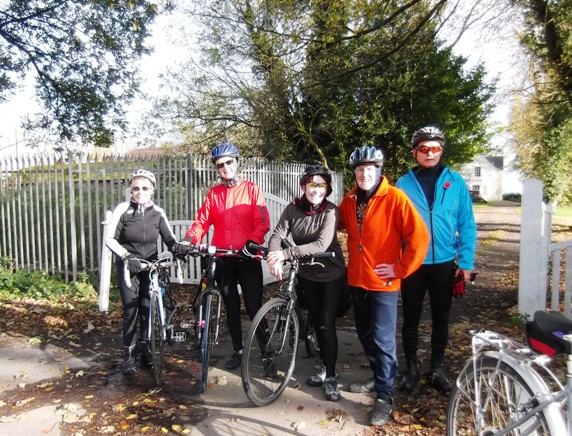 From there we carried on to the highest point on the North Downs at Botley Hill Farm,  then via the back lanes from Tatsfield to the cross roads on the outskirts of Biggin Hill.  Here the traditional thatched Spinning Wheel has been renovated and  re-born as an Indian with the oriental title of The Shampan at the Spinning Wheel.  The new coat of white paint brilliantly reflecting the bright sunshine.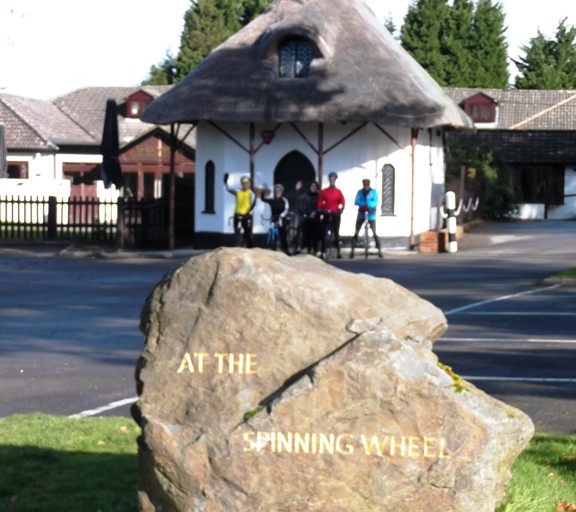 Making the most of this sunshine I took the a little detour along the North Downs ridge adjacent to Knockholt. From this high point we had an uninterupted view over the countryside below, stretching into the distance of the Weald of Kent and the South Downs beyond.  But we could not linger as we had to meet John and Meike at Coolings Garden Centre for tea and the Tuesday social.  Good timing again, arriving at just before noon, we were shortly joined by an unexpected, but most welcome guest. Jeremy, our erstwhile club captain suddenly appeared. The sunshine had also tempted him out. Not on his bike but in his soft top M.G sports car, with the hood down to ruffle his hair!
So yet again we had an enjoyable day, for an enjoyable ride, not too far at around 30 odd miles for the round trip.