Tuesday Ride: 8th Jan 2013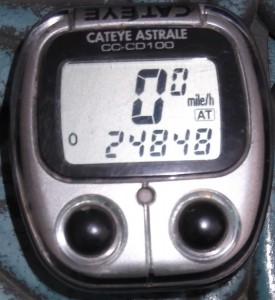 Spurred on by Stuart with his New Year item at  http://anerleybc.org/resolution-logged/  I have joined him in keeping  count of the miles during 2013.   Checking my bike computer on my trusty (or rusty as Tom Vaz calls it) Muddy Fox, I noted that it now showed  24, 848 miles (but would have been 24, 775 on the 1st of Jan).  So my first resolution for 2013 is to get it upto 25,000 before year end. That should not be too much of a problem with regular Sunday and Tuesday club rides. I use other bikes for cycling holidays, tours and local running about, so those miles will be extra.
Hopefully, when the weather warms up later this year,  many more of you will be coming out on rides in the club's cycle jerseys. If you have not yet seen the latest item on what to wear, please do to have a look now at http://anerleybc.org/a-new-year-resolution/  Otherwise it may yet again be an unresolved resolution!
Having got the adverts out of the way, let us now get on with the Tuesday Ride.
The weather turned out to be better than forecast and we even saw a bit of sunshine during the ride. Not enough to get a sun tan but much better than the damp mist of the last Sunday ride!
All the regular regular Tuesday Riders were out, plus a welcome return of big George, home from the North Sea oil rig.
As it was the first time this year for most of us to climb upto the heights of the North Downs, we stopped at Botley Hill Farm to savour the moment.

As well as being on the highest point on the North Downs, at 885 feet, Botley Hill Farm has a disinguished history, going back to the 15th Century.
From there it was a ride along the Ridge and down the very steep descent of Chalk Pit Hill and on into Old Oxted. Another photo opportunity arose at the old mill in Spring Lane where the mill pond was brim full after all the recent rain.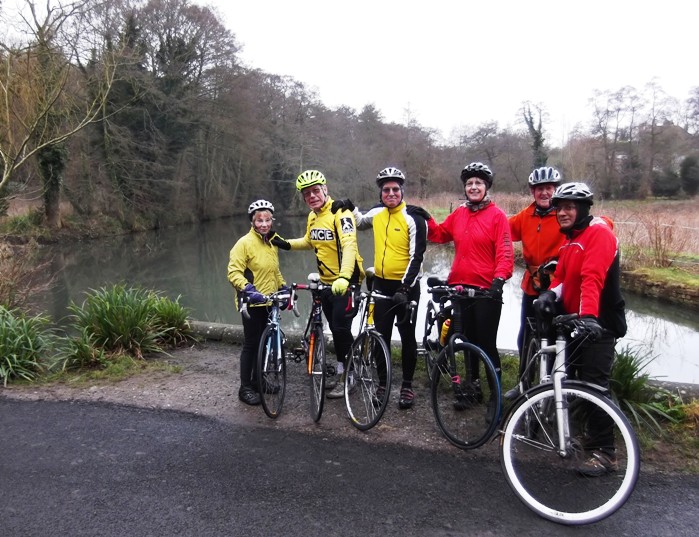 Shortly after the steep climb out of the valley of Spring Lane we hadour first "accident" of 2013. Somehow or other Jenny managed to fall off her bike. Fortunately no serious damage to either her or her bike,  the bruised knee only having a further 5 minutes of pedalling to a new tea stop at the Oxted Morrisons. Definitely a place to return to, with a pot of tea which provide two full mugs for only 89 pence!
Here the 6 of us expanded to 7 when Jeremy arrived as we were locking up our bikes, then 9 when we joined John and Meike who were already there. At this rate of attendence we will be overtaking the Sunday Riders!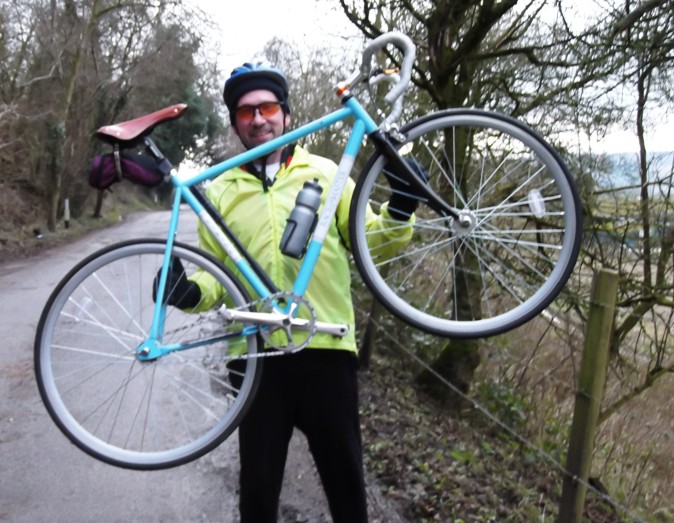 Although I had heard about Jeremy's latest machine, I hadn't seen it.  So just to show how light his fixed wheel Viking, is, or perhaps just to show how fit he is, here is the proof!
The ride to Oxted was a short one but I had hoped to get my first hundred miles of 2013 completed.  Unfortunately, when I got home I was 3 miles short, the ride being only 25 miles.  But it was a few more miles to add to my accumulating total at  http://www.mycyclinglog.com/.  And for others who want to join Stuart and me I have started a log for the Anerley Bicycle Club at http://www.mycyclinglog.com/groups.php.
Next Tuesday meet at Tesco when we venture into scenic Surrey.
And a P.S.  Tom Vaz and I started a bit H.I.I.T on Thursday, that is High Intensity Interval Training.  We did four hill repeats, when on each short but hard hill climb, I got my heart rate upto over 154 beats a minute.  Reached 157 on the last, which for me is in excess of 95% of max.
The total distance which of course included going back to the bottom of the hill each time, was only 9.1 miles. However I did thus manage to get upto my target of over 100 miles since 1st Jan!