Now that Christmas and New Year are over and done with, something else that has been hanging in the air for too long!
It would be very nice, if like many other bike clubs,  Anerley B.C riders wore club colours on our club rides.
The subject of a new design of our club cycling jersey was first proposed well over a year ago and I have been asked if  an early resolution to this matter can be made.
First we need to agree on what design is to be chosen, and then on how many club members will actually buy one if the price is right.  The price will depend mainly on how many jerseys are ordered, being subject to a minimum quantity.  The original quote was £40 each for a minimum order of 10.
Of the few who have stated a preference, the most popular design by far is Design 1.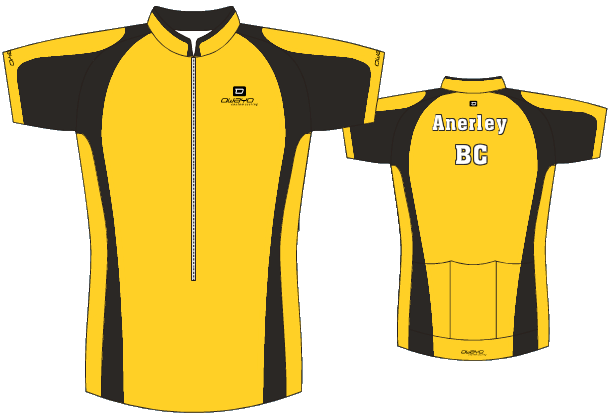 The following choices having been made :
Sharon – 1,3,4 but not 2
Graham  – 1
Louise  – 1,3 but not 2 (*)
Gina – 1
Mark Hancock – 3
Julia (and Tom?) – 1
Frank Kippen – any of them!
Austen – 1 but with club name amended to a logo, (see an example below from Brian).
(*) A suggested amendment is that the Club name on reverse should be in black, rather than white.

Myself (Des) and John Dadson will stick with our existing Anerley B.C jerseys, which we happen to like!
As you can see from the few club members who have responded, design No 1 is the favourite.
However, assuming that all those who have shown a preference for Design No1, would actually buy one,  there is not yet the minimum requirement of 10 for an order to be placed.
The full details of preferences, amendments to the suggested designs, etc, can be seen at  http://anerleybc.org/new-club-jersey-design/   You may have additional comments/preferences, if so add these to those already posted.
So PLEASE can members make the small effort required to say whether or not they would be interested in buying a new design jersey.
If you are, what is your preferred design? Do you have any preference for suggested amendments? Once a consensus has been agreed, we will at least be one step closer to resolving this long standing matter.