Tuesday Ride: 6th Sept 2016
Today's ride was a bit of a disaster, but all's well that ends well!
I sent an e-mail for amended ride details to be sent out to all via a Bugle Update, but for a reason unknown it did not get sent out. The reason for the update was that instead of going to Edenbridge Golf Club for the tea stop, the venue was instead to be Fades Tea Room in the centre of Edenbridge. This was for the Anerley, a new place which I found via an internet search.
So off we went, split into the now normal, two groups. All went well until we got to Limpsfield and after crossing over the A25, I took a right turn to follow some delightful country lanes.  A mile or so further on, we stopped to wait for group 2 before the next deviation.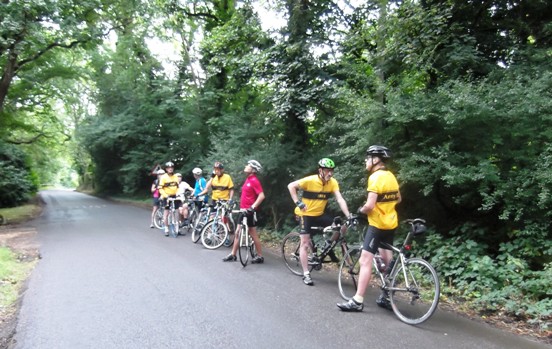 After a lengthy wait we realised that something had happened to group 2. Our Speed Ace, Barry, went back up the steep hill that we had just descended, in search of the missing party. A few minutes later mobile phone contact established that group 2 had missed our previous right turn and were heading to Edenbridge by another route.
Barry soon returned without of course finding the missing persons, at which time we were just about to set off again when the dreaded words were called
"Puncture!" – and this turned out to a serious puncture, or should I say "punctures" which defied the quick fix and resulted in a long walk for the deflated person!
Anyway to cut a long story short the remainder of group 1 set off at a high speed pace to get to the tea stop before group 2 supped up and left before we had even arrived.
Then the next problem arose, finding the Fades Tea Room. Fortunately for us all, John and Meike had arrived first, found the place and were sitting outside in the seated area. I say fortunately, because Fades had changed its name to Minstrals! And the "tea room" is actually a coffee shop, but a very pleasant place and will no doubt be revisited by Anerley B.C. on many future occasions. So all was well that ends well!
No problems going home, and I we had a 40 mile ride through some of my favourite country lanes.