We were again lucky with the weather. Although it started off with a chill in the air, it was sunny and that always makes a bike ride so much more enjoyable.
After the pickup at Coulsdon the "B" Group consisted of a dozen and we kept up a good pace out to Headley Common. Then it was down Tot Hill, straight on to cross the A24 into Young Street and then the climb up past Bocketts Farm to the roundabout at the top of the hill.
We had a slight delay here due to a mechanical problem. This being a rear derailleur which was making contact with the rear wheel spokes when trying to engage the lowest gear on the long hill up to this summit. After some investigation it was not clear if this was just an adjustment problem, or whether contact with the spokes had bent the derailleur arm. Accordingly it was decided to continue on to the tea stop with the unfortunate rider ensuring that the lowest gear was not used until the gear problem was fully investigated and rectified.
Straightening a bent drailleur or the gear hanger is probably best left to a bike shop where the proper equipment is available. However if it was only a matter of minor adjustment, this is a relatively simple job of just turning an adjustment screw.
The photo below shows the two screws, normally marked H and L, for adjusting the movement of the chain on the highest and lowest gears. And the next photo explains what to do.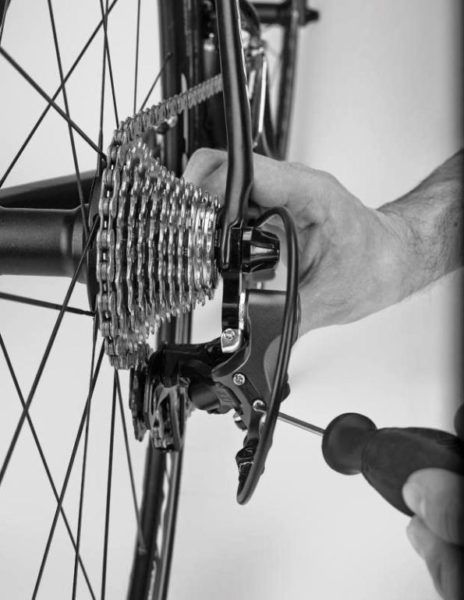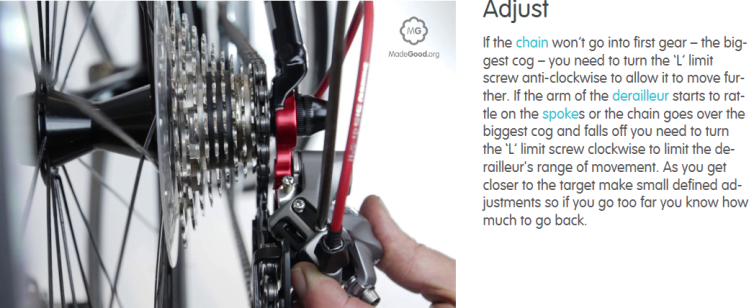 Over time rear derailleurs do need adjustment as the operating cables stretch. The above is from an easy to follow DIY guide. about how to make all and any adjustments to the rear derailleur.
Back on the move again, we continued along the Guildford Rd to Effingham, where at we did a left turn into a nice country lane which leads up to the ridgeway on Ranmore Common, a much easier climb than that up from the Stepping Stones near Boxhill!
Here, at Whitedown Lane we joined the route taken some 45 minutes earlier by our "A" Group, and weaved our way through the road works and pipe laying just before the exhilarating, high speed descent to join the A25 adjacent to Abinger Hammer. I suspect that this may have been where this photo of the "A" Group was taken.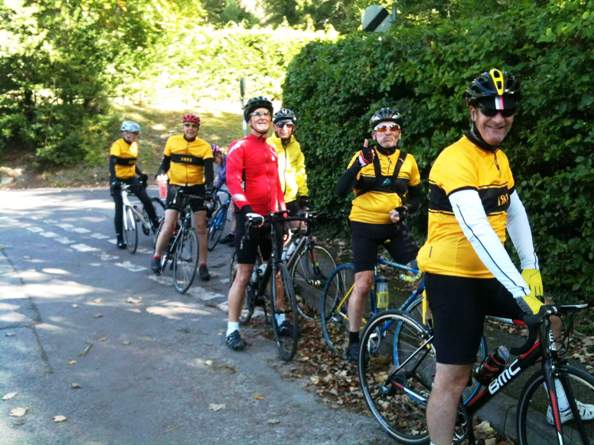 As we cycled the last half mile to the tea room at Abinger we passed "A" Group as they started their return leg back to Purley. They did however add another photo to add a bit of colour. Here are some of them enjoying the fine fare with John and Meike at the tea stop. Note the bone china cups and tea pot of a real, traditional English tea room!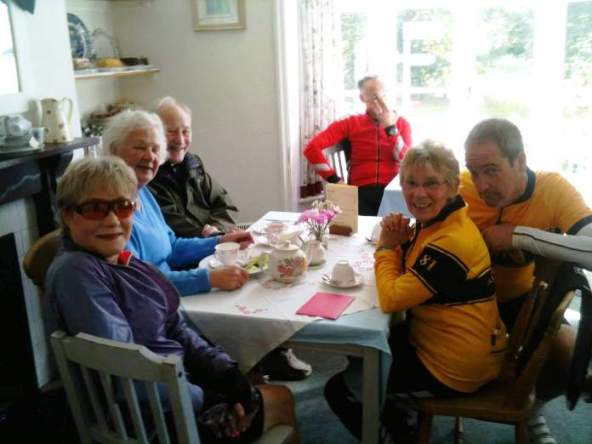 Finally, I must thank all of the Anerley riders, and especially John D and Meike for presenting me with  birthday cards, because, yes, it was my birthday this week!
Des.