Tuesday Ride: 31st January 2012
Last day of the month, first day of snow!  Yes it was cold but we still braved a short ride to the Tudor Rose at Westerham.  The light snow showers started as we began the climb up towards Botley Hill Farm. This climb to the highest point of the North Downs always brings out the worst of the weather. Colder, wetter, more windy, more foggy, and if snow is forecast you can guarantee it will be falling there!  Whilst it was only a dusting the icy particles played havoc with the eyeballs on the stinging, fast descents from the top of the Downs!

Two of  Anerley's snow men!
Want to get away from the English winter?  Then have a look at John Dadson's item at http://anerleybc.org/cycle-in-alicante-february-14th-to-march-1st/, advertising a trip to the sun and warmth of southern Spain.
 As a regular continental cycle tourist, John has invested in a top of the range, Dahon folding bike.  The bike was in a sale at Geoffrey Butlers, they did a price match against the same bike on offer at Evans.  The result was that John got it at a reduction of some 50% from the normal retail of £1200.  A real bargain!
Folded and packed into a holdall type bag it is ideal for easy transport on bus, train or plane.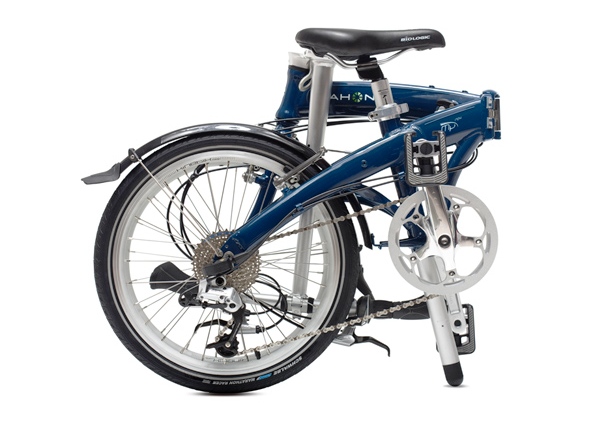 As you can see in the photo above, this version of the Dahon folder has plenty of gears which will be needed in hilly Spain!  John brought his Dahon out this Tuesday for an acclimatisation ride before his Spanish tour.  It certainly coped well with the ups of the North Downs, and with no handling problems on the wet, slick roads.
John has kitted his bike out with a good sized top bag.  This should be more than adequate for day tours, such as during his upcoming visit to Alicante.  Pannier bags are also available if greater luggage capacity is required.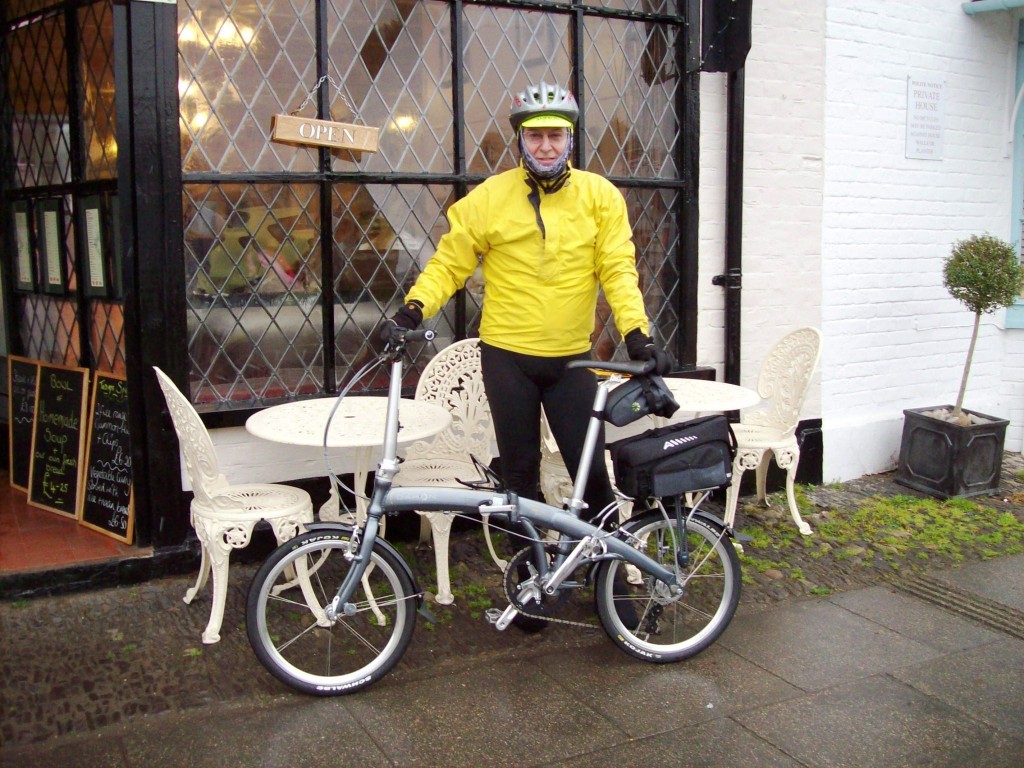 John and Dahon on a cold winter's day at Tudor Rose, Westerham
My hot tea and scrambled eggs on toast were most warming and welcome at the tea stop, where we were again joined by John and Meike.  John had braved the winter's cold on the previous Saturday, to continue his tricycle training at the Croydon Arena.  He couldn't wait to tell us of his latest progress.  After 9 laps as a warm up he made his first attempt to cycle on two wheels.  And as he described it:
Sitting on the saddle, brakes  on, pedal set, and  OK lads to his supporters for a gentle push off.  A bit of a wobble as he started to pedal and pick up speed.  Was he  balancing on my own or were his supporters still holding him up?  A quick question to them confirmed that he was self supporting.  And at the end of his first circuit he punched the air.  "I'm cycling again!"
 Next Tuesday the ride starts at Tesco, Purley.  John Dadson will be leading the ride as I am off to warmer climes,  Marbella for a few days.  See you in a fortnight, so Hasta Luego!