Tuesday Ride: 29th November 2011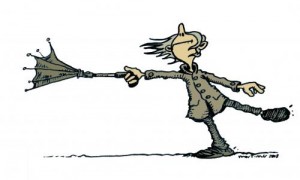 Today I suffered terribly with the wind.  No it was not the beans on toast for breakfast but the mistral from the south, at least force 6.  At one point going thru Hamsey Green a very strong gust almost brought me to a standstill.  Our ride to Browsers at Lingfield was the hardest ride that I can remember.  It was a real struggle against the forces of nature most of the way, especially the full blasts along the Limpsfield Rd, thru the open fields of Marden Park and again heading south down Tandridge Lane.  Here, reaching the Bricklayers Arms I turned off towards Crowhurst to take advantage of the twist and turns, hedges and trees, which offered some shielding from the unceasing wind.
But this was not all to our eventful ride!
First I must introduce Sharon our newest club member, who added a new and welcome face to the small band of Tuesday riders.  We had gone but 400 yards to our first turn off into Brancaster Lane, when it we realized that we had lost 25% of our riders!

The search and rescue team was promptly dispatched, only to find that John D had a puncture.  Well, not actually John, but his tyre! We found him found wrestling with tyre and inner tube – a rear wheel puncture.  After months without one, he informed me that it was now 3 in as many weeks.  He blamed the thin casing of the lightweight tyres on his fixed wheel training bike.  Unlike the heavy boots (Schwalbe Marathon tyres) on another of his bikes, which after 5 years are still puncture free.  That was good news because my bike is shod with Marathons!
But this was not the end of John's pneumatic drills. Ninety minutes and 15 miles further on it was Sandra's turn to suffer the deflating effects of a slow puncture. She managed to get to our tea stop, where noble John came to the rescue of our damsel in distress and did another quick inner tube change.  What a gent. Who said that chivalry was dead?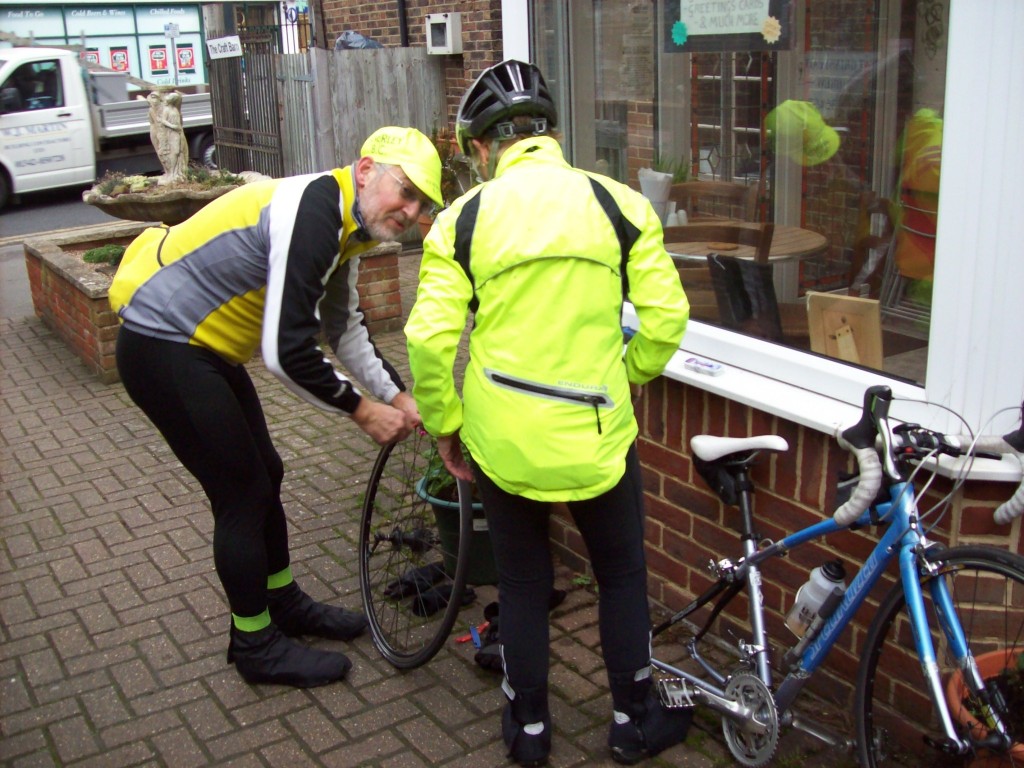 Then it was time for us wind swept four to rest over tea and toast, or in the case of calorie counting Sharon, a huge portion of chocolate cake and cream!
Here at Browsers we again met John and Meike (and an Australian cyclist), and between us yarned about our travels and home countries. And a good time was had by all!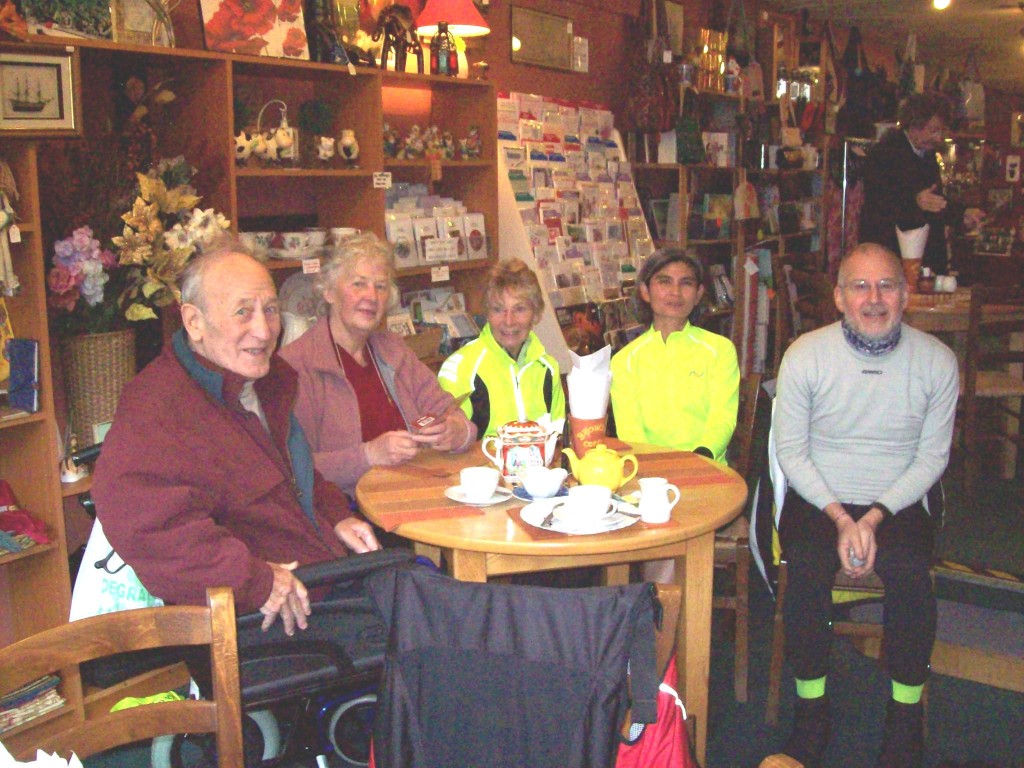 Needless to say, we sailed home on our return journey, with a fair wind behind!
Next week, weather permitting, we are off to Squires Nursery on the A25 near Buckland. Depart from Tesco, Purley at 10 a.m.  Hasta la vista!