Tuesday Ride: 27th December 2011.
A very small turn out for the last Bank Hol of the year, I suppose everyone was out bargain hunting at the post Christmas sales.  Anyway it was good to see John Dadson, Yiannis, Tom Barnes and Tom Vaz made it for the final club ride of 2011.  And it was especially nice to see that Yiannis had not only made it all the way from Highbury, but that Father Christmas had brought him a new bike!
Gone was the heavy weight mountain bike, now replaced by a swish Ribble Sportive 7005, all in white!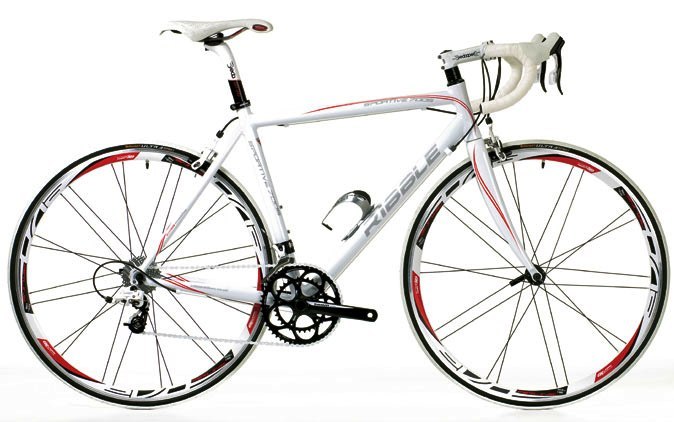 For the non technically minded, 7005 refers to the type of lightweight alli tubing used in the construction of the frame, and Sportive the purpose for which this bike was designed.  So we can expect a bit of long distance and sporty riding from Yiannis in 2012.  A bit of Audaxing company for Louise and our other fast ladies!
As a lot of our tea rooms were closed for the Bank Hol I took them on a mystery tour of some of Surrey's hills to a pub, but did not tell them which one and where we were going.  To keep up the mystery I devised a round about route to keep them guessing, and from their comments they enjoyed the tour which incorporated a bit of climbing of Farthing Downs, the North Downs and the Green Sand Ridge.  Perfect territory for Sportive training!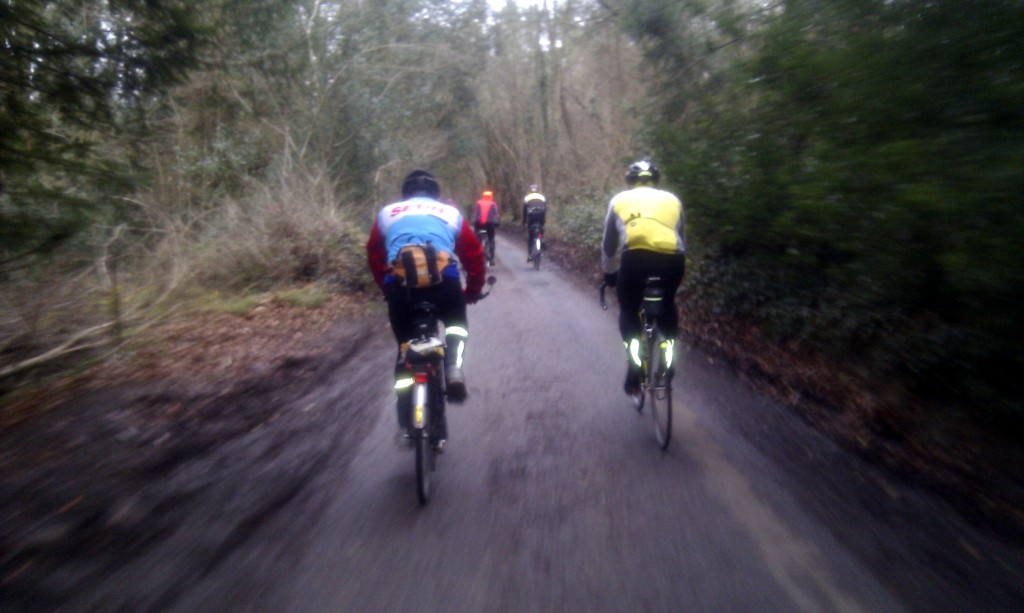 After the climb up from Horne to Outwood we stopped so that the boys could have the final hug of 2011 in Gayhouse Lane.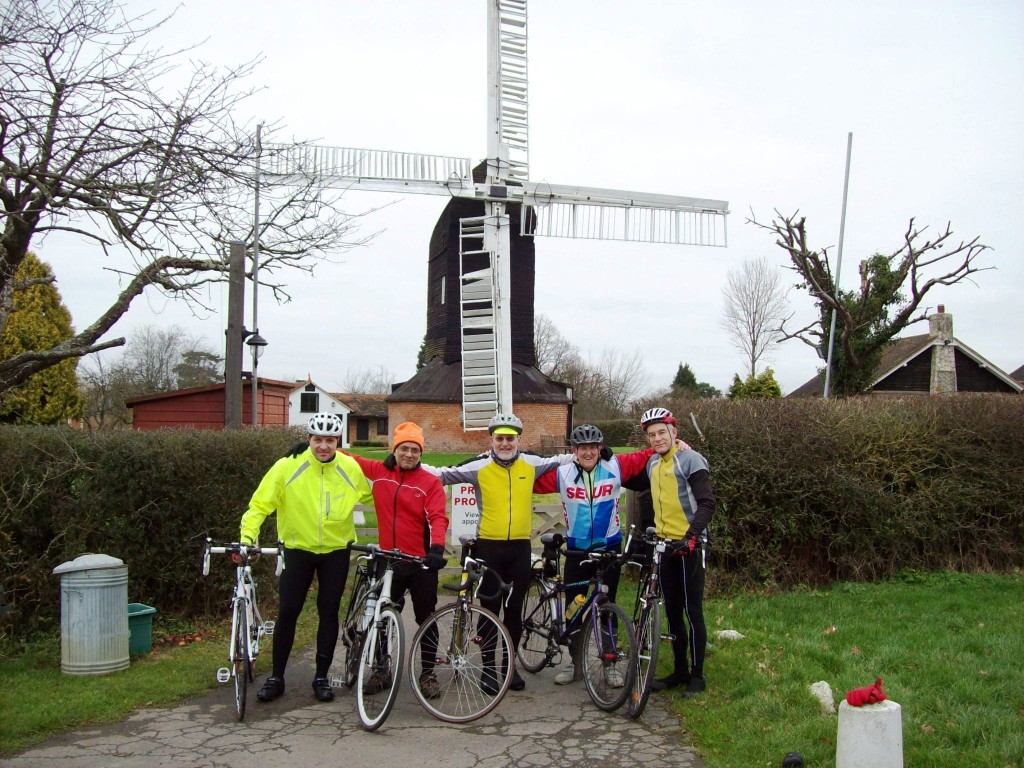 Outwood Mill was built in 1665 and is Britain's oldest working windmill.  It is a "post mill" where the whole body of the mill, weighing over 25 tons, rotates into the wind on it's central post.  This post is made from a single, enormous oak tree. The mill had only been standing for one year when the Great Fire of London started in 1666.  Being located on the highest point of this part of the Surrey weald it provided an ideal view point from which the locals could view the flames as London burned, lighting up the night sky for several days.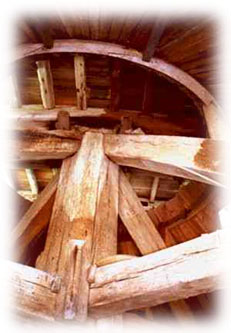 From the mill it was only a short ride to our lunch time destination at the Dog and Duck.  Perfect timing by us after 2 hours of riding, as John and Meike were just getting out of their car.  Also joining the throng, it was nice to see that Sandra had made it.  Knee making progress and she is hoping to soon be back on her bike.  Perhaps the first Tuesday ride of 2012?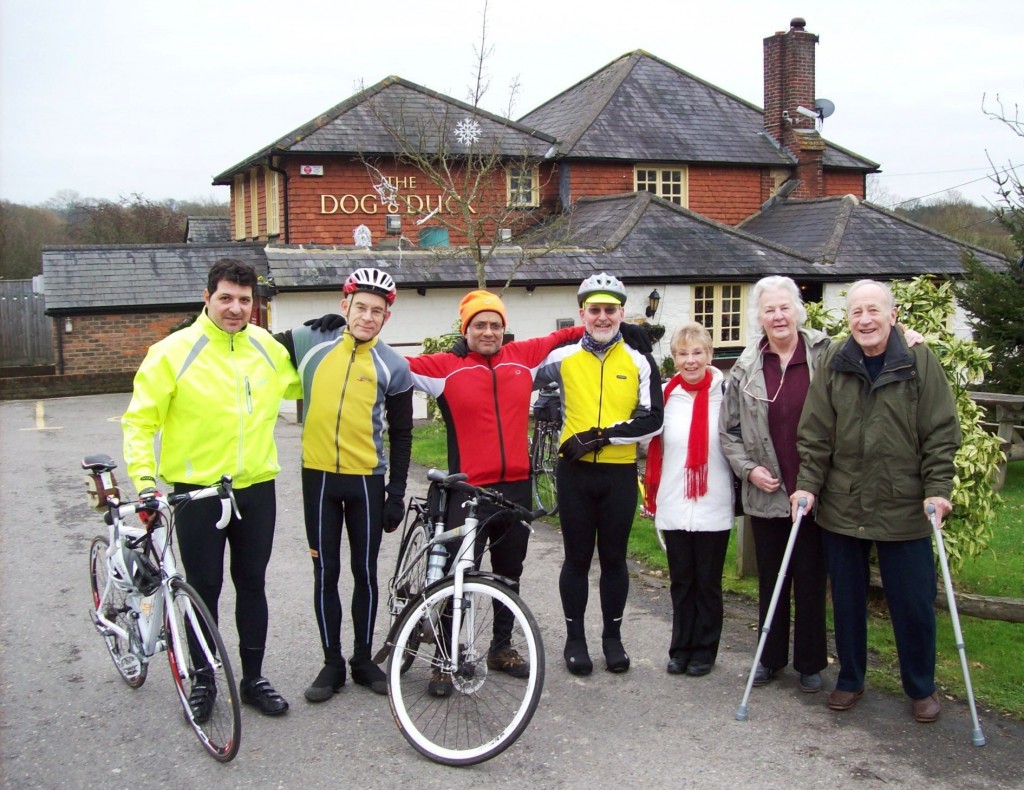 Look what Santa brought. Yiannis got a bike, Tom got a bright yellow hat!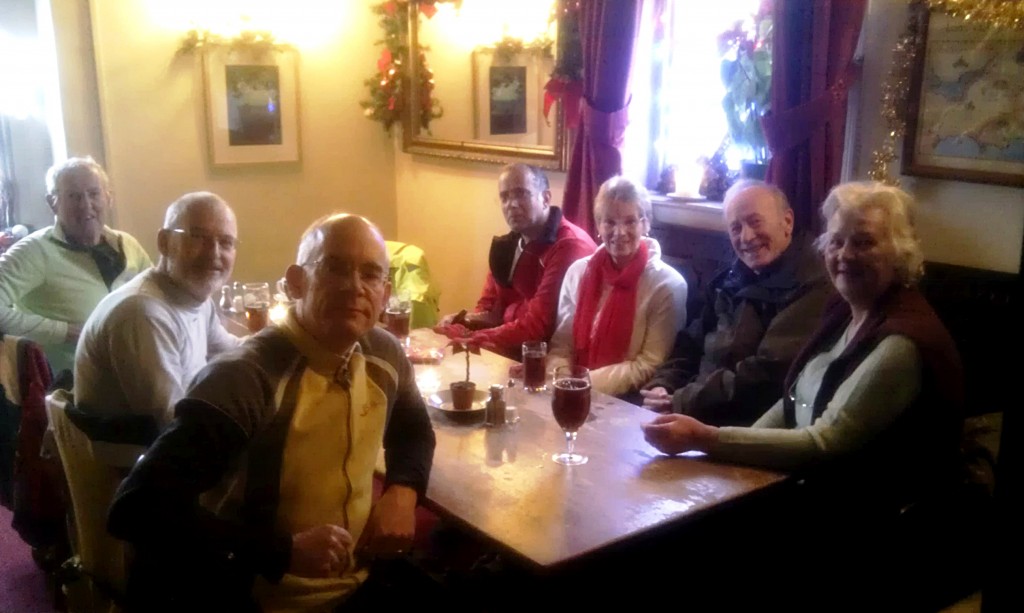 Yiannis helped with the photos, and provided the statistics (track at the end of the post):
Distance: 46.51 km
Duration: 2h:54m:10s
Avg Speed: 16.0 km/h
Calories: 1184 kcal
Altitude: 95 m / 244 m
Elevation: 494 m ↑ / 502 m ↓
So that's it for 2011. A Happy New Year, see you all again soon, and my new year resolution is to get fitter not fatter, so calorie counting starts now!