Tuesday Ride: 27th August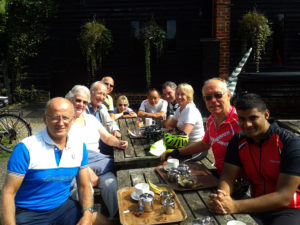 I guess Des and the Thursday club can only dream of days like this where we had glorious sunshine and a turnout of NINE riders for a Tuesday morning trip to Bockets Farm. Most surprising guest was Brian Penny fresh from his triumphant London 100 ride in under 5hours. The time is so good that John T doesn't believe it!
We took the "traditional" route via Walton on the Hill and Ebbisham Lane/Hurst Lane when we realised that Frank had gone solo once more. Oh well we thought he is bound to turn up and indeed he did eventually join us in the farmyard for tea looking sheepish after leading a young lady astray in Headley!
After much cursing about wasps and one ruined piece of toasted teacake Julia, Meike and Sandra sat indoors while the rest of enjoyed another chance to bask in the sun before the rapid ride home through Ashtead and Chalk Lane. Beware that the traffic calming chicanes in Ashtead are being used for F1 practice as a speeding MCB van overtook us on the wrong side of the road before nearly meeting a Merc head-on. Another case for chemical castration!