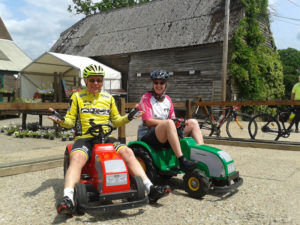 Although Tulley's Farm is one of my favourites it is a long ride for a Tuesday at around 42m. As John had taken the day off and I wanted a huge piece of cake, I decided that it was high time we made our way there.
Through Coulsdon, Chaldon and Caterham on the Hill, Redhill Airfield, Copthorne. Return journey followed the very country lanes around Effingham ie. Effingham Lane.
Fortunately the guys were up to it and contributed to a fabulous day on the farm. Frank and Jenny had a go at harvesting but I suspect they were not really taking it seriously!