Tuesday Ride: 25th January 2017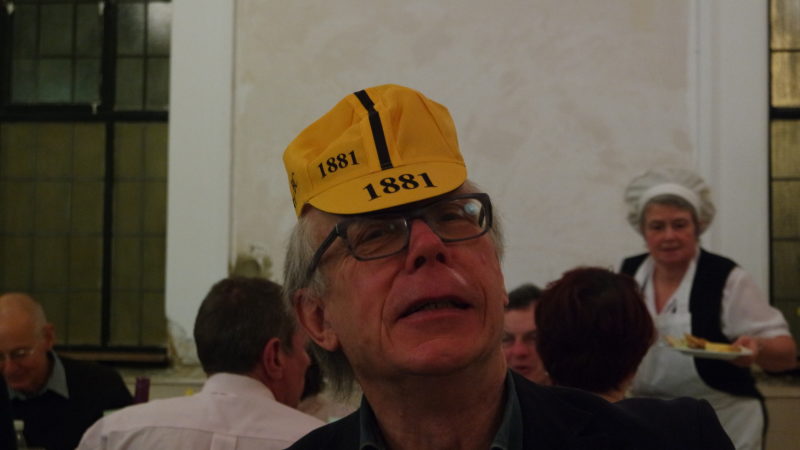 Frank writes:
Very much enjoyed today's sunny ride.
I wore my silk balaclava/hijab as it was chilly 1st thing then it warmed up albeit we were on the lookout for the odd icy patch and you avoided Beddlestead Lane . When I was on my local road Kersey Drive, a car braked suddenly coming towards me and did a small skid. He probably did not see me as the sun was in his eyes which was a problem later in the ride.
We went through the badlands behind New Addington where on a previous ride we were stoned by some young oiks along Layhams Lane not far from the MET Police dog training Centre before turning down Nash Lane . I tried to keep ahead up Jackass Lane and met 2 horses on a bend but was blinded by the sun to see the road ahead. But all was okay and Paul and you overtook me towards the top of the hill near Keston church at the main A233 junction then down Downe Road to Downe village and stopped near The Queen's Head as we had lost the peloton!
As you thought they went the alternative busy route Shire Lane. I mentioned this pub was Nigel Farage's family watering hole and Sandra went ballistic… Having a curfew I went ahead as you were still speaking to Ian on your mobile. Later I met the peloton coming the opposite way and we entered High Elms together. I reminded them that we were going to the Golf club for refreshments.
Golf club service very good and John and Meike then joined us. I said to John I had saved him a table space and sat next to him. He said he was feeling much better and it was his 1st outing since Christmas. I mentioned I had registered for the Anerley trip to France and it will be my 2nd time on foreign soil. Previous ride was BHF organised from Chartwell to Versailles via Channel tunnel with bikes in a large support disabled persons vehicle that the driver had bought for the expedition!
We had a table discussion about the quickest way back to Selsdon. I followed in part your quick route via the A21. I left the club car park down the lane and turned right into Shire Lane. I then spotted a left turn up Church Lane to Farnborough village that you had mentioned. It was very pleasant as the church bells were being rung with great gusto. I joined the A21 and later turned off on to A232 Croydon Rd through Coney Hall then left along Addington Road A2022 towards Selsdon and turned up Featherbed Lane through Forestdale and Selsdon Vale. Home at 12.55pm!
I trust you all had a good trip home via Tatsfield.