Tuesday Ride 24th July 2012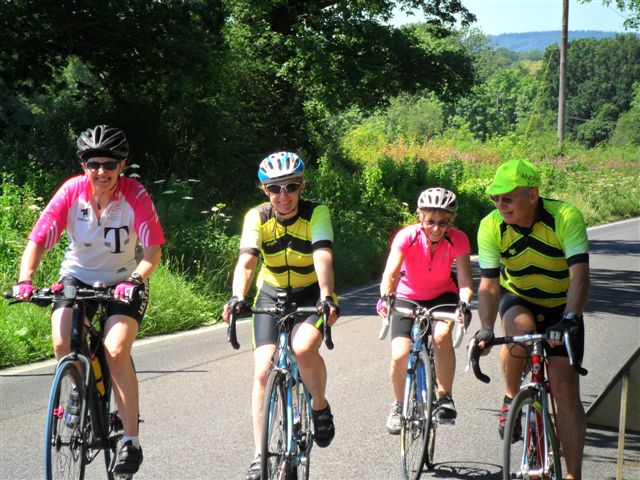 Once again the intrepid John Dadson lead out a group of fearless ladies (Sandra, Ewa, Jenny and Julia) on a Tuesday adventure. The day was hot, and was going to grow even hotter. Tanhouse Farm just south of Newdigate was John's choice of destination, a place loved by cyclists of all ages, as we were to discover later.
We headed out on the usual route through Coulsdon, along Outwood Lane, through Kingswood Warren Park and onto Dorking Rd.  Sadly, we didn't head to Box Hill, thereby possibly missing out on a view of cycling greats doing their training, but instead flew down Pebblecoombe. We then headed south along pleasant lanes to elevenses.
We met John and Meike as usual, and sweltered in the noon day heat under the plastic corrugated roofing! This was not surprising, as on the news that night, it turned out that Charlwood was the hottest place in England that day (32°C), and we were only three miles from there.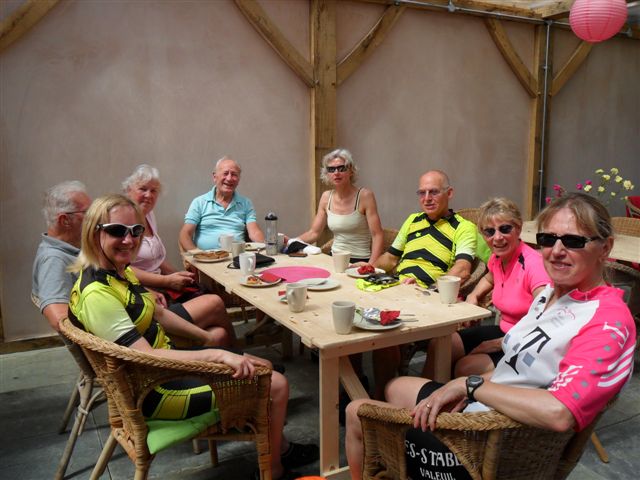 However, we were by no means the only cyclists sweating it out that day. Many riders (inspired by the upcoming Olympic road race, perhaps) were about, and some of them we met at the farm. One of these was Jim Trenowden, who was well known to John and Meike, as he and John had raced against each other years ago.  Jim was a member of the Addiscombe Club, and is still with them. At the impressive age of 86, he is still a keen rider, enjoying rides around the Surrey area south of Reigate Heath.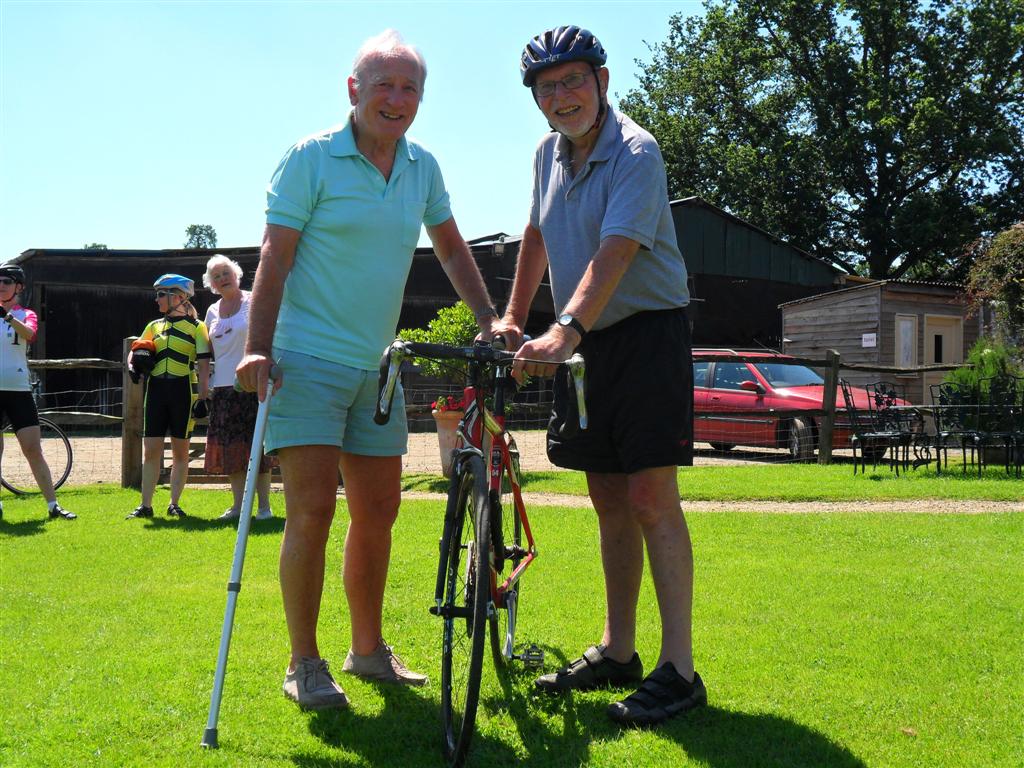 On the way out, we bumped into another cyclist, who recognized the Anerley bumble bee stripes sported by John and Julia, and informed us that he had ridden with the club in 1959!
It was nearly 1pm by the time we set out for our long ride back to Purley. It was even hotter now, and we were astonished to see that the tarmac was already melting in many places. The ride home was not without event, as we managed to "mislay" two of our members (who shall remain nameless), who missed a left turn due to the others not waiting for them (who shall also remain nameless!) and therefore carried blithely on for miles. Thanks to the marvel of modern technology, however, they were located and the rest of the group followed them, only to find them a few miles up the road sitting on a grassy knoll in a shady spot having a lovely gossip.