Tuesday Ride: 23rd February 2016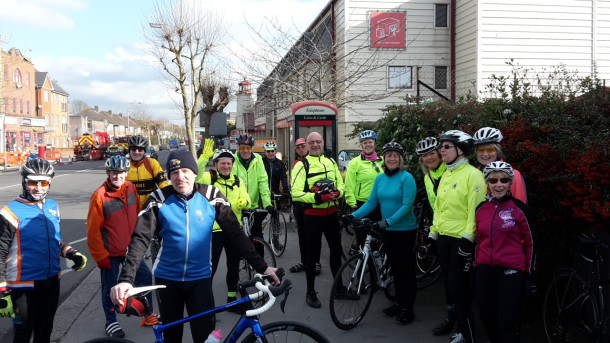 Having heard that Mark was coming out on his shiny new machine I changed the route to one avoiding puddles.
A record breaking 17 of us left Shurguard and just for a change we went struggled up Purley Downs Rd, through Selsdon past Frank's house and and Farley Common – which must have been a little bit galling for Frank who only joined us at Shurguard at the very last minute.
Dave had a puncture just before Sainsburys at Warlingham and by the time we rejoined the main group at Botley Hill the party was breaking up. 6 riders headed off their own way leaving 11 of us to carry on through Limpsfield and Staffhurst Wood before arriving at bridges in Edenbridge. Service was prett good and of course it was VERYH good value.
The route home was relatively flat through Marden Park and I got home in time for a cup of tea and a snooze.
Regards
Tom Vaz