Sunday Ride: 21st February 2016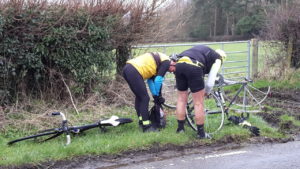 The promise of a very heavy headwind greeted those who met up at Shurguard before pedaling southwest.
A day of much drama as three punctures were encountered. Tom Tom turned up with a puncture at the start so there was a bit of delay before we headed through Coulsdon towards Reigate. Sadly, Stuart then suffered from sudden deflation and during the ensuing delay, Jim and Mark carried on ahead when Mark had a puncture. Des didn't have a puncture because of his (new) kevlar belt which he had hoarded for many years however, he felt knackered and went home.
Bob lingered on after Reigate Heath and Dave & Tom Tom went back in search of him. In the end I managed to arrive at Tanhouse with Maggie in front leaving me in solitary splendour.
However, there were all reunited for the usual refreshments. Only four of us headed through Rusper before turning towards Capel and Ockley. We took the Devil's own route up Leith Hill Lane which involved one of the most arduous climbs I've ridden with the club.
Jeremy overtook us and saved us a space at the banquet of beer and crisps provided by the Stephen Langton@Friday Street.
Sadly the fantastic wind which blew in our faces all the way to Tanhouse had disappeared by the time we headed home but we made good progress and got home in time for tea and a snooze.