Tuesday Ride: 23 November 2011
After the beautiful sunny Sunday, Tuesday was a more typical grey and damp November day.  However the weather did not deter Anerley's Tuesday riders.  Tom Vaz was back after several weeks of domestic chores and we were also joined by Brian Penny, a first I think for him.  Jeremy's half promised visitation remained unfulfilled and Ricky phoned in sick.  Well not actually sick, but bruised by his kissing the tarmac on Sunday's slippery roads!  So get well soon Ricky!
Going out thru Chipstead valley it was the first time that I had been in that direction since the laying of the new tarmac.  It was a real pleasure after years of zigzagging, trying to avoid at least the worst of the multitude of potholes.  And much safer now!
The route that we took is below. I have not yet quite mastered how to use this mapping tool.  It shows a ride distance of 22 miles but this does not include the return leg from Kingsdown and back to Purley, which it did not want to add in!   
Our destination was Annies at Leatherhead where we again met John and Meike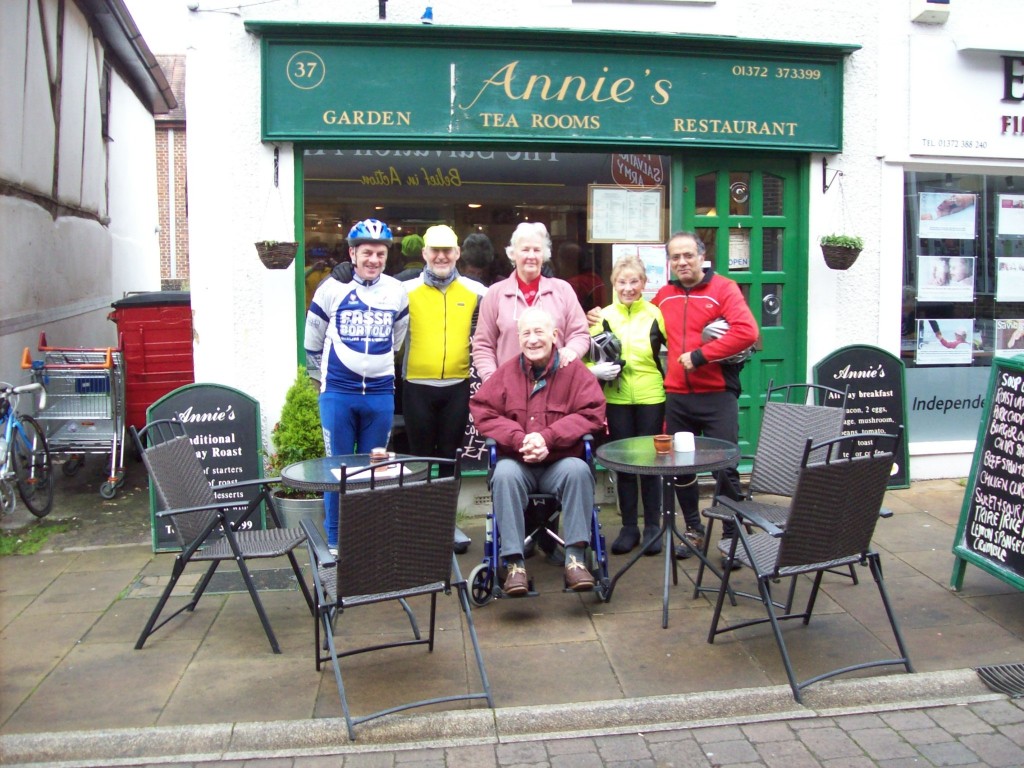 On our return leg we went thru Ashstead and cut across to Chalk Lane which leads upto Epsom Downs. Instead of our normal route home via Banstead, at Tattenham Corner I followed the road around edge of the Downs to Tadworth. The purpose being that I wanted to introduce them to what I hope will become a popular Anerley sprint, just like the one by Knights Garden Centre, coming into Warlingham.
In my previous item http://anerleybc.org/are-you-speed-limited/
Are you Speed Limited?
I asked where a 30 mph sign was. No one made any suggestions so you might better recognise it as being in the Chipstead valley by the Ramblers Rest. I am sure that you will now all recognise these !
Next Tuesday, weather permitting, it is the Surrey Hills. Browsers Tea Room at Lingfield, meet at the Shurguard building at 10. Hasta la vista!