Mynyddoedd a Llynnoed – Mountains and Lakes
My previous item about our Welsh cycling holiday was an easy ride around two of the lakes at Bala, (see http://anerleybc.org/welcome-croeso-i-dolgellau-a-bala/) . This time it is a challenging ride with over 4,000 ft of climbing. Not for wimps, although I did just manage it, only having to get off once to walk a short bit!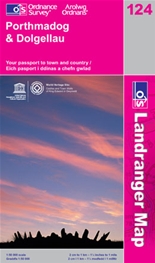 Whilst most of the route follows the Welsh Cycle Routes Nos.82 and 80, you will see a bit of wild Wales on this ride.  So I would advise taking a map, preferably the O.S Landranger No 124 Porthmadog & Dolgellau, just in case!
This map now shows these cycle routes so you shouldn't get lost.  However don't be put you off by my cautions.  The hardest bit can be by-passed, and which ever way you go, the end result, the  beautiful valley of the Afon Dysynni and Tal y Llyn Lake are well worth the effort.
So let's go.  Clip your feet in, or tighten the straps of your toe clips, cos heading out of Dolgellau we go straight up a long and steep climb!  We follow Cycle Route  82.  This is the mountain road up and around Cader Idris, the second most popular mountain in Wales with walkers.  It was our intention on another day to climb this mountain, and hence one of the reasons why we had brought our hiking boots on this holiday.
It was another fine morning when we set off, but we were soon regretting the large breakfast we had just eaten at our very friendly and accommodating B&B.  As we got higher the road levelled off and looking over to the west we had wonderful views over the Mawddach estuary to the sea. Tom has used a photographic programme to stitch together a panoramic view.  This is available as a free download from Microsoft and gives a perfect picture. As you can below you cannot see where the multiple photos are joined together.  The free Microsoft download is at  http://research.microsoft.com/en-us/um/redmond/groups/ivm/ice/

ALTERNATIVE, EASIER ROUTE: After about 5 miles there is a turn-off to the right. It leads past a local beauty spot, the Cregennen Lakes. This road continues, leading down to the main coast road (A493) by Arthog. Follow this south until it heads inland to Llanegryn. Here take left turn onto Cycle Route 80 which is shortly joined by our route which follows Route 82 over the mountain ridge.
BACK TO THE MOUNTAIN!  We visited the Cregennen Lakes and then returned to continue following Route 82. Half a mile further on the route takes a left fork onto what becomes a very steep, unmade track. This continues for about half a mile before tarmac again appears. This is wilderness country!
As the track got steeper, the surface got rougher, so much so that it became necessary to get out of the saddle and honk. But then the back wheel spins at each and every stony lump. Both Luke and I had to get off and walked.  Well not exactly walk, it was a hard push to get the bikes moving. Tom however excelled, as well as being the team photographer, he managed to crag hop to the top!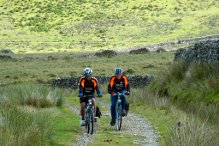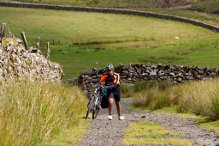 It was then that we heard a deafening roar. No not a Welsh dragon, but a low flying jet plane which suddenly appeared from nowhere!
These mountains and valleys are used by the RAF for low level fighter pilot training and from then on, about every half hour a screaming jet would flash by at very high speed.  Quite exciting!
I was in this area some years ago, driving up a mountain road, when we saw 3 huge RAF Hercules transporters flying down a valley beside our road.  They were ground hugging and we were actually above, and looking down at them!
It is these Hercules that are used to infiltrate SAS and other troops into war zones, so low flying expertise is essential.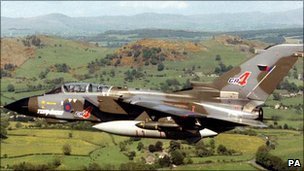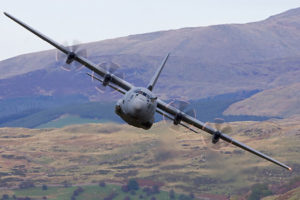 Hearts thumping, partly due to shock, but mainly due to the mountain climb, we sat beside the track and relaxed in the sunshine. Perfect timing for our picnic lunch of sandwiches and home made bara brith.
Then it was the descent. Back on tarmac and a long, fast, exhilarating ride, winding our way down to the valley floor. Here we joined Route 80 and the alternative route via the coast road. We were now in the valley of the Afon Dysynni.
Crossing over the river, ahead of us was the imposing, 820 foot high wall of Bird Rock. This is still the home of nesting cormorants even though the sea receded hundreds of years ago.
As you can see from the photo, the weather was rapidly changing. The dark and threatening sky promised rain, lots of it!
Just as we and the Afon Dysynni reached Tal y Llyn Lake, the heavens opened.  We took refuge in a bar/restaurent beside the end of the lake.  A half hour of drinking tea did not stop the rain so waterproofs on, we headed for home.
At the far end of the lake we joined the A497 and the 4.5 mile slog up the steep exit from the valley. Once over the ridge it was a mainly downhill ride to Dolgellau which would have been fun, but for the pouring rain!
Below is a map of the route. Click on the link to expand and for more detailed route notes:
http://www.cycle-route.com/routes/Circular,_Dolgellau_to_Dysynni_Valley-Cycle-Route-6334.html