Tuesday Ride: 19 Sept 2017
I have just got back from a visit to Northern Spain where there are no flat bits, and the bits that go up often take you above the clouds.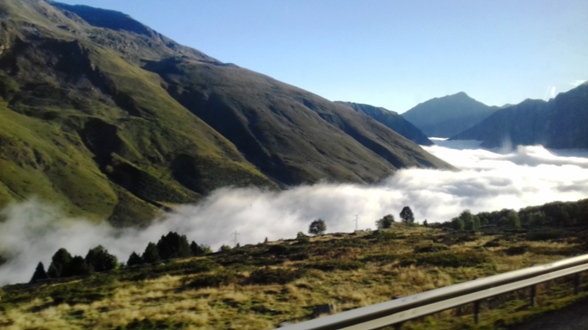 For about the last 6 weeks I have been doing a bit of hill training with Fran, and have more recently been joined by some other of our club members. This and the visit to Spain inspired me to try out a hilly ride to see if my hill sessions had been of any benefit.
Where better for a try out, than the Kentish hills. Or should that be the hills of Kent?
So little did the Anerley's Tuesday Riders know what was in store for them!
We set off at 10 o'clock, 13 of us split into two group for road safety reasons, and went immediately on to the first steep climb up North Downs Rd to Sanderstead pond. It was however followed by a long down hill thru Selsdon and Addington. We continued on to the top end of Featherbed Lane where we stopped for a photo shoot by the White Bear.  A photo of each of the two groups.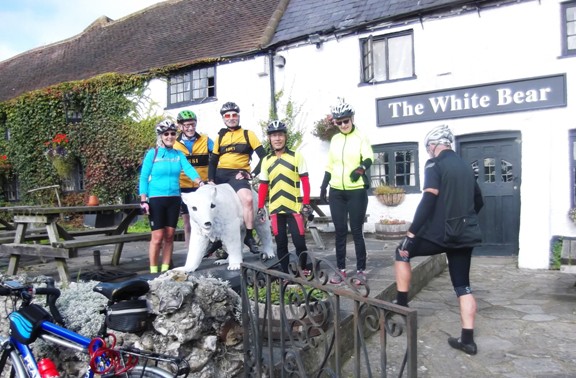 The White Bear also provided an excellent background to show off our newest recruit, Jo Rifaat, together with her new bike, a very nice Haibike 820 model with a sensible choice of a triple chainset. Extra gears are very useful to get up and over the many steep climbs in Kent and Surrey. And this day's ride would certainly be a good test of the climbing abilities of both bike and rider!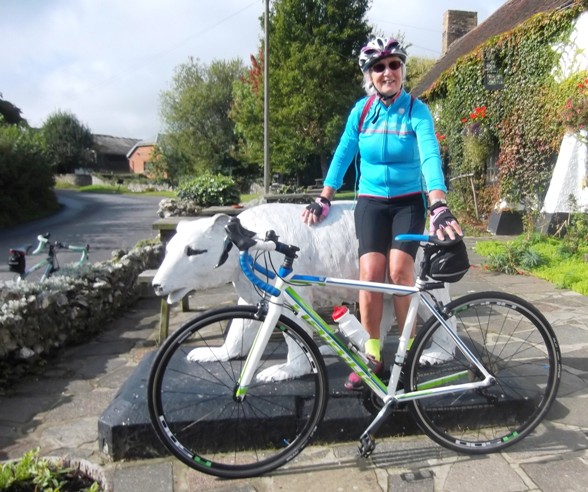 It was not very far from the White Bear to the next big test, the steep climb up to the Saltbox, adjacent to Biggin Hill Airport. And just to prove we did go make it to the top.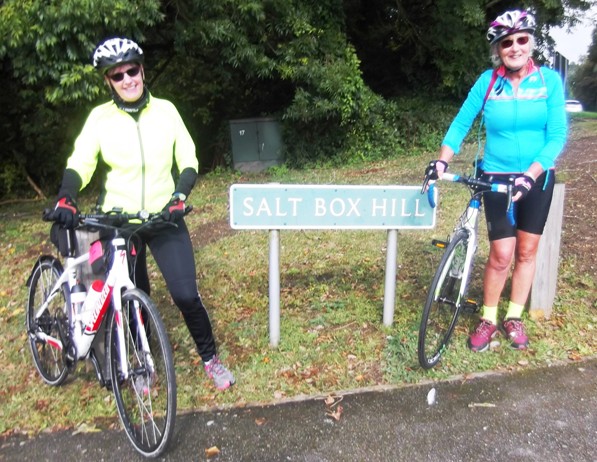 But this was just one of the bigger challenges, of which the steepest heart pounder was the 25% climb up to Cudham village.

I think that it was probably a blessing that down in the valley at Pratts Bottom, just before the next heart pounding climb, "Puncture" was called.
After the delay that ensued, it was decided that the sensible course of action was to take the lesser climb back up Rushmore Hill to Coolings Garden Centre. This alternative tea stop was much appreciated! As was the much easier ride back home.
On the last few miles back after Botley Hill, Jo went steaming by on her new bike, leaving me to see her disappearing into the distance ahead. And that was after all the many climbs of this day's ride! So clearly both bike and rider met the challenges and passed the test.
And in case you wondered. Yes, the few hill training sessions that I have recently been doing, have definitely improved my climbing, so I will definatly be doing more.
And  an update from  Tom Vaz who led the 9.30 group up the same hills.  And also suffered the curse of Pratts Bottom!
"Nearly everybody walked up the steepest 25% section."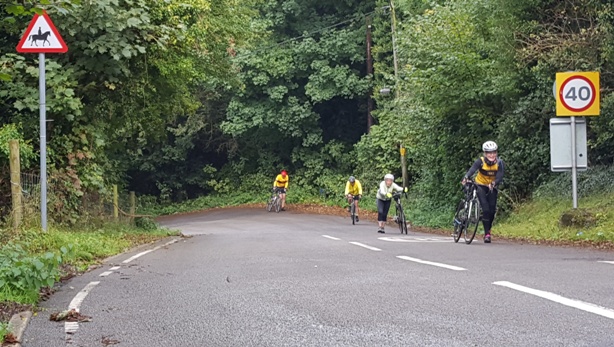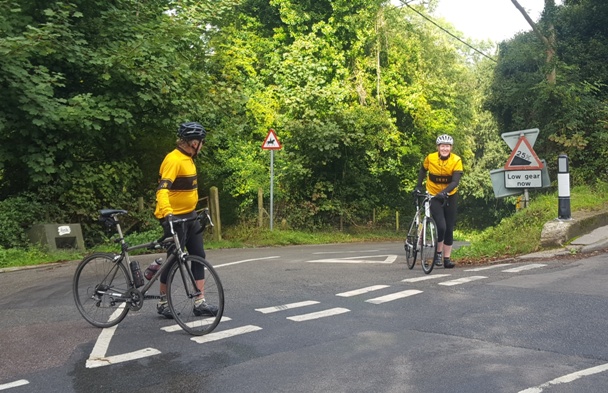 "Two VERY slow repair punctures near Pratts Bottom meant we got there at 12.45 but we got there to meet up with a forlorn Meike and John.
Another puncture on the way home meant we had to leave Dave Potter behind. Mick has become the new puncture support Captain having had to assist with all three…"
Tom.
My group (the 10.00s) will recognise the location of Tom's photos, the 25% heart pounder up to Cudham Village.
It looks like a case of tortoises and hares, and the 10 o'clock tortoises won on that climb!
Des.