Thursday Ride: 21st September 2017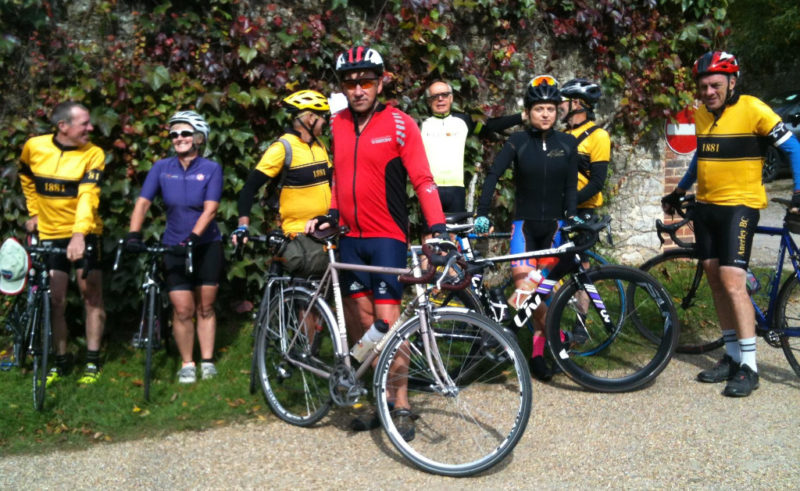 This Thursday we went to Ightham Mote for lunch.
We had a strong group of rider's, Agne, Belinda, Jeremy, Dave Go, Barrie, Brian, George and myself. The weather was warmer than I thought it would be. The first big climb of the day was Beddlested. I set a good pace down the hill with Agne, George and Barrie joining me at the front. Not sure who was first up.
Once all together we dropped down Botley Hill and onto the Pilgrims Way. We reached Otford in 1 hour 20 minutes. We crossed the A25 at Seal before the second climb of Stone Street. Again Agne, George, Barrie and myself at the front. Once all together we rode into Ightham Mote where young Frank was there to meet us. John and Meike had gone to the Golden Hop by mistake but they do not open on a Thursday.
All had a good meal while we tried to contact Mieke. No joy, so once fed we set off home via Hildenbough, stopping to have a look at Frank's hedge. We turned for Toy's Hill,saying good bye to Jeremy who didn't fancy the climb. The top climbers of Brian, Barrie, George and Agne left myself, Dave Go,and Belinda in their wake. we found the climb very hard today. Must of been the speed we rode at.
Once together we set of down hill. Strava tells me i was doing 45 mph here. We reached the Pilgrims Way again where Brian went home to Oxted. The rest climbed Botley Hill with George and Barrie battling it out for king of the mountain and Agne in pursuit. We split at the top with George, Barrie and Belinda heading for Caterham while myself Agne and Dave had a fast ride back to Croydon.
60 miles in 4 hours 13 minutes ave speed 14.25mph.
Mark H