Tuesday Ride: 13th November 2018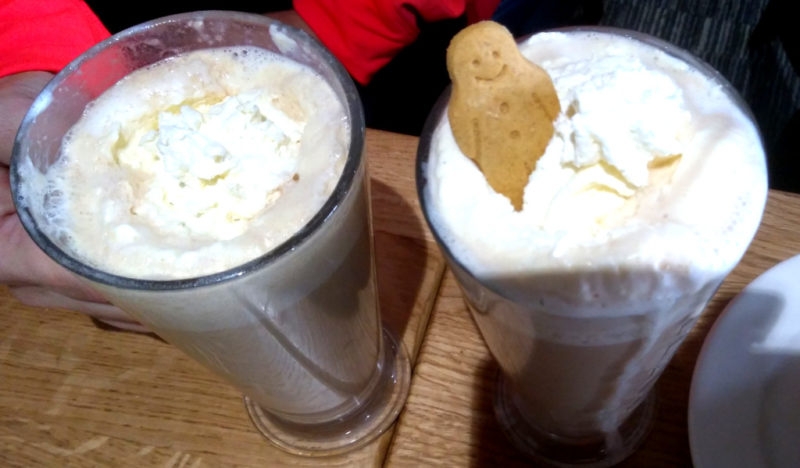 Group 'B' was big so became 'B1' & 'B2' led by John D and Des respectively on a bright, beautiful autumn day with all the remaining leaves vibrant in a multi-coloured patchwork as we sped along country lanes. It was good to welcom Tom V back after a five week painful layoff.
'B' took the Titsey Hill/Limpsfield route avoiding most hills (except that nasty turn onto the A25). Finally locating the local Costa Moira & Bill B indulged in their 'Christmas Latte' [above].
Some while later Group 'A' rode into town with Tim S leading the posse. I'll leave Frank to describe their expedition [bottom of page].
The return was not so flat. John was on fixed but to nutters like that Crockham Hill was a challenge. To those of us with 30 gears it was a lot more. Give me Ide Hill anyday. Anyway 'B1' was now on its own as we took the Clackett Wood return.
One almost felt sorry for the M25 drivers. While on our route petrol was £1.29/litre the service station was extorting £1.49. Ripoff!
A couple of pictures of some of 'B1' admiring St Andrews Church, Limpsfield Chart.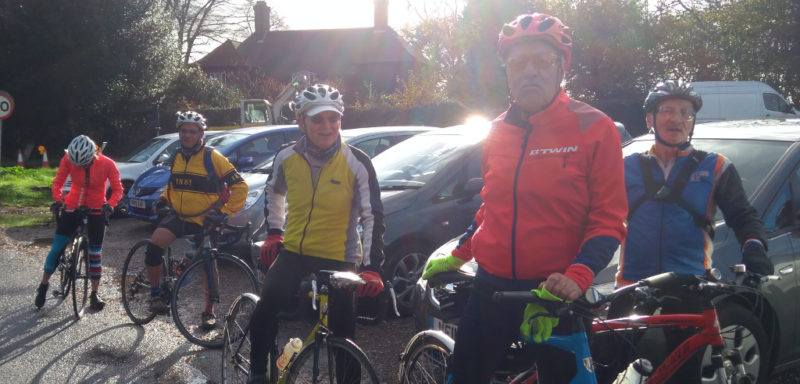 For us it was 32.24 miles @ 11.37 mph
And here is Frank's Report:
Group A – Tim [TL], Dave [IT background], George, Viv, John Eden, Frank, Paul.
What a glorious sunny day with temp of 14C. Dave and I were in shorts. Very wet lanes, some with ponds, with plenty of hazardous crushed leaves, husks and usual pot holes galore.
Excellent mystery 9.30 ride via Bromley southern area including a couple of 24% hills the other side of Biggin Hill. We reached the A25 at Brasted then over Toy's Hill [closed due to tree cutting but we got round the vehicles], Four Elms to just short of Edenbridge boundary sign when I got a puncture in the front tyre. Dave and Tim stopped by to assist. I found a 5mm thorn in the centre of the cover. As Tim said not so surprising as we passed a number of hedge cutting activities along our route.
The bright sun was a constant major problem when travelling in a southerly direction.
Costas was choc a bloc with Anerley riders from group B when group A arrived to add to the slow moving queue.
The 2nd stage of the mystery ride took us west parallel to the green sand way ridge and we went over it via Tandridge Village that is somewhat easier than Crockham Hill. We then found ourselves on a partly made up track then a road back to the A25 not far from the Godstone bypass roundabout. Turned right for Marden Park where we did an impromptu free wheel competition through the estate then the dog leg under the railway bridge[no cars in the way] until the road starting rising significantly. Tim stopped about a bike length ahead of me having slip streamed me..
We then turned left into Woldingham Road to A22 Wapses Lodge roundabout. Dave was the only sensible one who did the under pass. The roundabout was hairy. I turned right at Whyteleafe via the station [bad choice] and then up the long Hillbury Road reaching Warlingham Green at 2.50 pm for a Times paper then a pit stop at Michael's and Sandra's Flavours café for a coffee and a superb slice of bread and butter pudding then Selsdon home feeling a touch cream crackered. Yoga in the evening up at New Addington was very relaxing.