To Brighton and Back – Record Setting Rides!
The Borough of Croydon, by its geography, has long been associated with cycling.   The reason that Croydon became a venue for cyclists is that it lies on a natural transport corridor between London and the south coast. This corridor splits into two routes through gaps in the North Downs. These two routes separate at Purley, one following what is now the A23 to Brighton, and the other, the Godstone Road (A22) via Lewes to Eastbourne.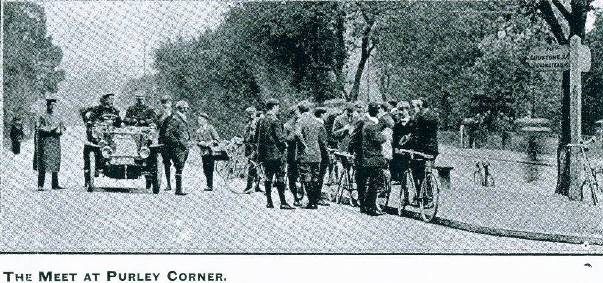 Purley, where these two road separate, became a favourite meeting point for generations of cyclists, including the Anerley Bicycle Club.   We know this from the earliest copies of the club magazine. For example an Anerley Gazette of 1905 has a photo of the club gathering at Purley  before setting off for their club ride.  Of course today you cannot recognise this location.  The signpost (far right) points to Godstone and East Grinstead, this being the start of the Godstone Rd.  The trees on the right have  been replaced by Purley's Tesco Super Store. How times change!
More evidence of the importance of Croydon as a meeting place for Anerley club rides is evidenced by this listing of the club rides for April 1905.  In those far off days people were more religious and Sundays were very much days of rest and for church going.  Hence the club's bike club rides were on Saturdays. But note the late afternoon start times!  This was because most people worked at least on Saturday mornings, if not all day.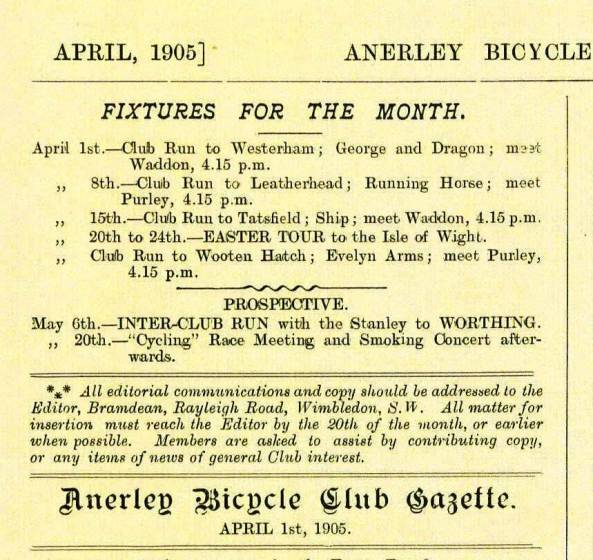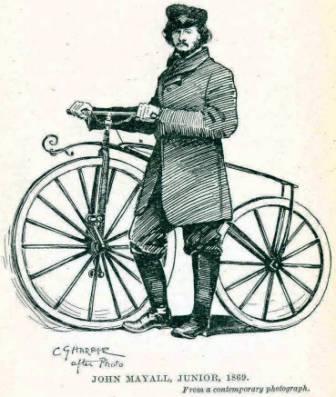 However since the earliest days of cycling it was the road to Brighton which became the greater challenge. The first record that I have found of a cyclist in Croydon, was in 1869 when John Mayall became the first bicyclist to cycle from London to Brighton on a French made velocipede.  And naturally he cycled thru Croydon!
To read about his epic and historic bike ride see http://anerleybc.org/the-first-cyclist-to-ride-from-london-to-brighton/
Mayall's first attempt was unsuccessful.  Unlike today's lightweight bikes, his wrought iron velocipede weighed some 90 lbs!  After cycling from London, the struggle to climb up the long incline from Purley to the top of the Merstham Gap left him exhausted.  He free wheeled down into Merstham and caught the train back to London.  (The expanding Victorian network of railway lines which passed thru Croydon and Purley Junction became much valued by our early (and later!) cyclists). Shortly after, Mayall made a second, successful attempt, becoming the first cyclist to ride from London to Brighton.
Now thousands do it each year!
But our story of setting records on the Brighton road goes back to long before John Mayall.  The original trend setter was no less than royalty!  For a wager the Prince Regent (later George IV),  drove his horses and carriage from the Royal Pavillion at Brighton to Clarence House in London and back again.  From that time on, racing on the Brighton Road became fashionable.
The last record drive by coach and horses was in 1888, some 40 years after the steam driven train had made coach and horses redundant. In that year, to demonstrate that coach and horses were faster than trains,  coachman James Selby set out to drive his team of four from London to Brighton and back in under 8 hours.   This he did with 10 minutes to spare, earning himself a £1,000  wager.
By 1888 cycling was a growing sport with a very competitive racing fraternity.  Selby's much publicised, record setting drive inspired cyclists to take up the gauntlet  in order to better his time.  This first being achieved in the summer of 1890,  when the  famous bike racer of that era, Frank Shorland, completed the return ride of 108 miles in a time of 7hrs-19mins, eclipsing Selby's record by over 30 minutes.
History is a Record of Time. G.H. Smith the Anerley Bicycle Club's first historian (who appears in the 1905 photo at Purley Corner),  tells us that "no road record was ever more popular amongst cyclists than that of the London to Brighton and back". And its popularity was guaranteed, when in less than a month  S.F Edge an Anerley B.C member set a new record time  (16 minutes and 20 seconds quicker).  For very many years the challenge of this ride continued, with some of Anerley's finest and other top cyclists achieving ever faster times.
Unfortunately, now increased traffic, traffic lights, and the other intrusions of today's congested highways make it impractical to continue to race this historic course.  However the story of racing on the Brighton road makes fascinating reading, not least the last record setting ride by a duo of Anerley B.C's elite.
The Last Attempt!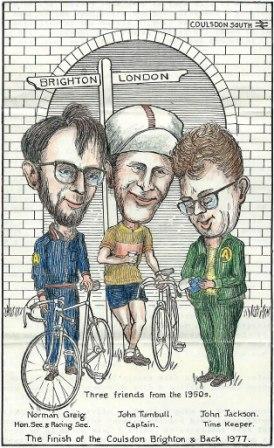 We must go back nearly 40 years to when the Anerley B.C course record was last attacked,. On a cold Saturday morning, at 4.45 hrs on 14th July 1977, the first of the Anerley pair, Norman Greig, kicked away from the time keeper beneath the rail bridge by Coulsdon South Railway Station. Thirty minutes later, John Turnbull being the second challenger, set off. Each rider being followed by a car with an observer to ensure that all traffic lights were obeyed, no other infringements occurred and no unfair advantage taken.
At the Brighton Pier roundabout a race marshal provided cheerful greetings and encouragement to each rider as they headed back over both the South and North Downs to the finish line at Coulsdon. An added spur to their record breaking ambitions was that now a favourable S.W. wind urged them on.
First away and hence first home was Norman Greig, and greatly cheered he was to learn that all his hours of effort were rewarded with a record breaking ride. Now the minutes ticked by and the wait for rider number two, who remember, had set off 30 minutes after Norman.
Suffice to say, that 38 years on, Norman still holds the club record for the Coulsdon to Brighton and Back, but unfortunately for him, his record is for holding this record for the shortest time!  For only 19 minutes and 12 seconds after completing his record breaking ride, John Turnbull stormed home to eclipse Norman's briefly held record by 10 minutes and 48 seconds!
And for the record, John Turnbull's ride, 3 hours, 31 minutes & 57 seconds is after more than 38 years, still the club record.  And due to ever worsening traffic, likely to remain so ad infinitum!
The Ride that Set a Precedent
Cycle racing on the Brighton road owes much to the competitive natures of the coach men who plied their trade on this important highway. It was the demand for speedy delivery of the mail and passengers that created an ongoing quest for every faster journey times.  Selby's coach shown below, was typical of those plying the London to Brighton road.  Note  that the word "Croydon" is written  below the coachman' seat.  This indicates the importance of the town on the London to Brighton road.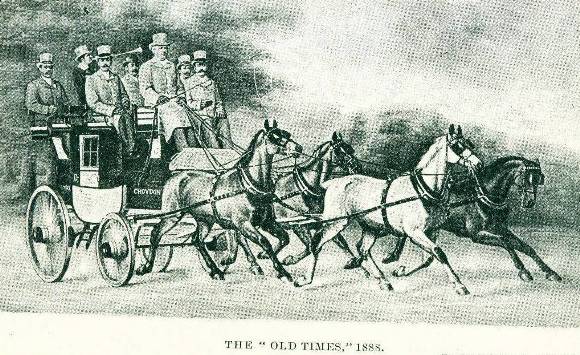 When coachman Selby made his record setting ride in 1888, to achieve an average of circa 14 mph over the rutted roads, it was necessary to make a speedy change of horses at regular intervals. On the way to Brighton and on the return, the Windsor Castle was used as one such coaching inn to change the team of four.  The picture above is of Selby driving the "Old Times" coach on that record setting ride in 1888.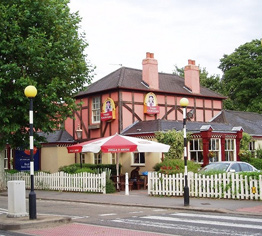 The Windsor Castle Inn survives today, now as a Toby Carvery.  You will pass it when you cycle along the Brighton Road at Purley Oaks, within yards of the cycle shop, Bike Plus, and just down the road from where the Anerley B.C. Rides begin.
James Selby did not live long to celebrate his fame and the legacy that he left for generations of racing cyclists.  He died in 1888, the year of his record breaking drive, aged only 46.  He is buried at Highgate Cemetery with a memorial showing his place in the history of the Brighton road.  On the headstone are a coachman's horn and whip. On the surrounding posts are inverted horseshoes.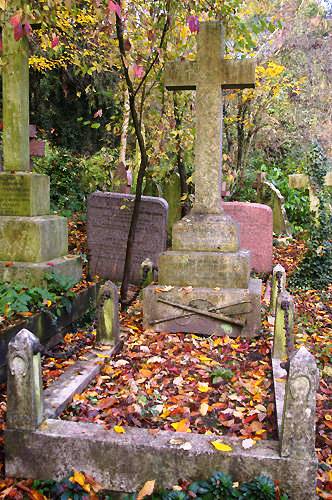 Selby covered the 108 miles with 8 teams of horses and 14 changes. Averaging 13.97 miles per hour (excluding 6 minutes 12 seconds, the time taken for the 14 changes) he completed the run in 7 hours and 50 minutes. He won the sum of £1000, a huge amount in those days. Perhaps the strain was too much, in that same year after 3 days of illness he died aged only 46.
His funeral was sensational, starting from Edgeware Road the procession was nearly  a mile long.
Des