Sunday Ride: 14th February 2016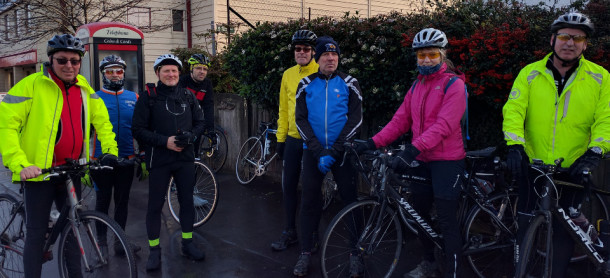 Punctures resisted and unresisted
Tom Tom stepped up to the plate to lead the above plus three on a shorter run to Lingfield's RedRum cafe – noted not so much for horses but its pound in the slot aerial railway. The good news was it was somewhat drier than our last expedition. The even better news for the mountain goat division was the inclusion of the always fun 'The Enterdent' ascent of Tilburstow Hill just passed Godstone.
Refreshed we cantered along to Crockham Hill where the sensibles adjourned to the Royal Oak and the goats took to the hills again.
Even more refreshed the sensibles forgo the mountaineering opportunity to take the flat return to Marden Park interrupted by a flat front on my bike. The third puncture on three rides – the new Des? Perhaps there is more than a point to Maggie's choice of solid tyres?
Altogether a splendid 40 mile ride with a bonus. The problem with cheap mini-pumps is you can never get much more than 60 psi back in. But if you are in Croydon this is not a problem. Opposite East Croydon Station near the Brompton Dock is a complete bike DIY setup. As you can see from the photos (thanks Tom) below not only is there a track style pump but a complete outfit of bicycle tools to fix most repairs. Even a place to hold your bike. But don't be tempted to nick the tools 'cos they are well secured by wires.