Thursday Ride: 9 May 2013
The Thursday Ride was preceded by warnings of high winds. And the forecasters were right! The highest wind speed recorded in the south east was at Kenley, 48 mph. So not only did we have the challenge of the Surrey Hills, we also had the constant fight against the gusty conditions to factor in.  The worst bit being the high  and open ground by the Epsom Downs racecourse. But first we had to fight our way to get there!
Philip had an appointment to keep so it was arranged that he would get the train to Tattenham Corner, arriving at 11.38. This determined the tea stop – Annie's – at Leatherhead as we should then be able to get there shortly after 12 noon. I then had to work out a route, leaving Purley at 10, to arrive at the Tattenham Corner as near as possible to 11.40.  I would like to claim that it was my excellent judgement, but luck did play its part!  As we rolled up at the station we saw the train coming in so neither Philip nor us were required to wait about in the blustery wind. The "we" being myself, George, David and Mark Hancock, now of course joined by Philip.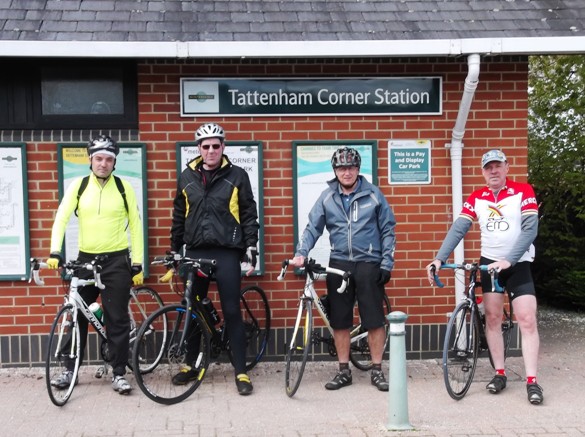 But we original four had done a fair few miles before this rendezvous.  Leaving Coulsdon we climbed up Portnalls Rd to the high ridgeway at Chipstead, then took the turning off to Mugswell, or is it Monkswell?  Well actually neither. Its original name was Magswell, named from the well of St Margaret.  The well being a feature, the feature of the Well House Inn.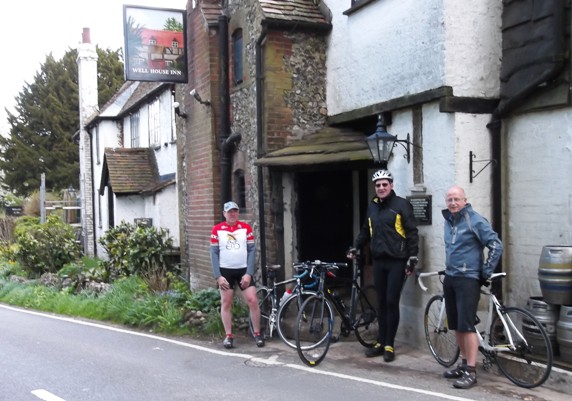 The present day pub was originally three small cottages which date back to the mid-1560, when Henry VIII hunted deer in the adjacent Kings Wood. But we did not linger for a cup of holy water or even a pint of the devil's brew as we had an appointment to keep.  Following a big loop which took us over Headley Common and into Ashstead, then on the outskirts of Epsom we climbed Chalk Lane upto the Grandstand on the famous Derby race course and over the Downs to its famous Corner, and our meeting point.
Arriving at Annies, just after 12, it was full with lunch time diners, but meeting up with John and Meike we had the back room area all to ourselves.  
No new faces on this Thursday Ride, but we did have a new bike. Or rather, George had a new bike. A very nice, and hardly used by its previous owner, Boardman Pro, high-end fitness bike.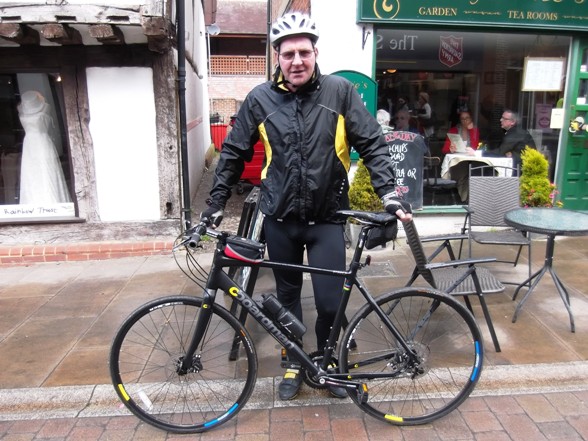 Next Thursday we meet at Shurguard at 10 and head off to the crypt tea room at Sevenoaks parish church. Another favoured place for  home made cakes and a cuppa at bargain basement prices. But then you would expect that in the church's basement!