Thursday Ride: 2 May 2013
The  second of the new Thursday Rides was a scorcher of a day and sunshine makes our beautiful countryside even more beautiful.  Green fields with baby lambs, the wooded hills of the Weald, old manor houses and ancient farms, lots to see and admire as we pedalled south following for most of the way,  a once important Roman road. This road, from London to a Roman port on the coast near present day Shoreham, passes a few miles east of Croydon.  Skirting the village of Tatsfield it becomes the present day Clarkes Lane. It was here, just after passing the old Botley Hill Farm, that we joined the actual route of this Roman road.  The ancient route then drops down from the North Downs ridge, parallel to Clacketts Lane.  Crossing the A25 it climbs the hill over wooded Limpsfield Chart before dropping down the steep descent adjacent to Trevereux Hill.  You can see this part of the Roman road marked on the O.S map below.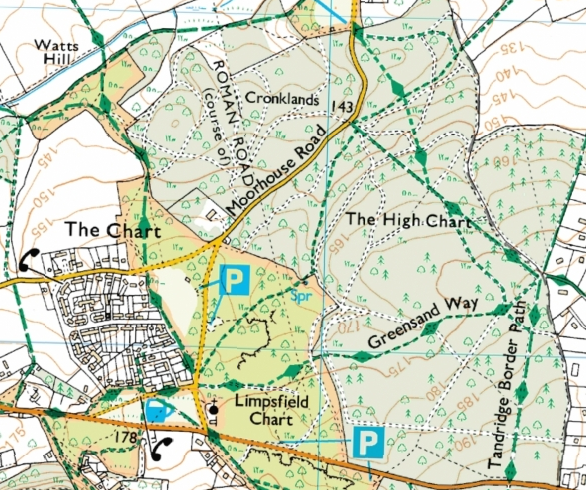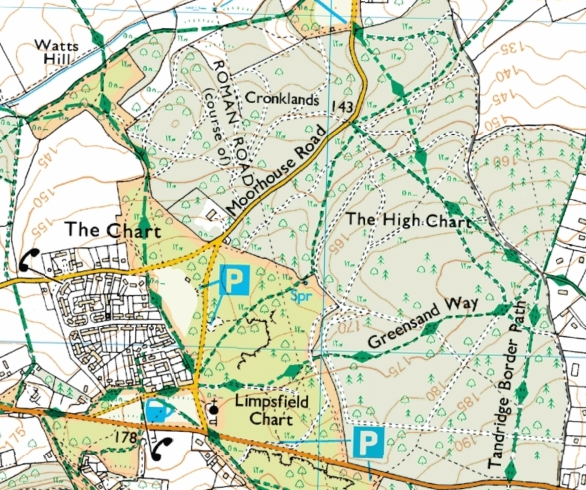 Today's intrepid travellers were a little less in number than a Roman legion, being just me, Dave, and a welcome return after a winter's hibernation, Philip from Forest Hill. It was a forested hill when the Romans last marched this way!
For Tuesday riders who might have forgotten, Philip is now re-starting his training for the Ride London 100 mile charity bike ride, so we expect to see more of him over the coming weeks. And to put a face to a name of this Canondale rider: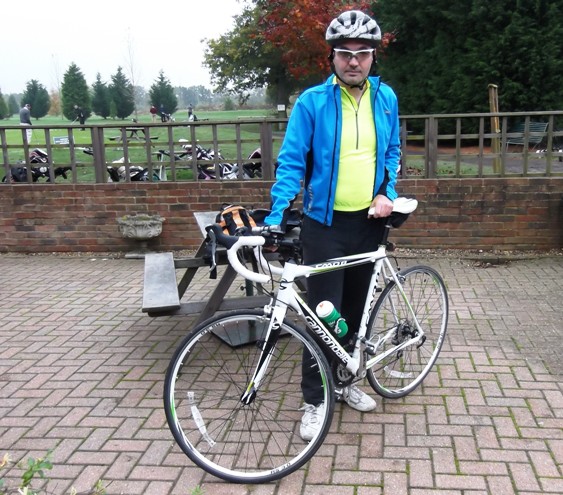 We soon crossed over Kent Brook which defines the county border between Surrey and Kent, and the rich pastures of this lowland area are dotted with some beautiful old farm houses, some of which date back hundreds of years. For example Moat Farm which is on the Surrey side of Kent Brook.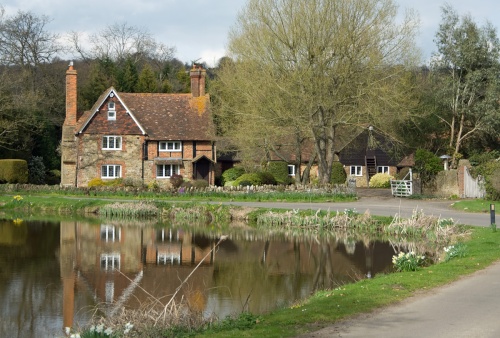 Going along the Pootings (that's an unusual name!) towards Four Elms, we had a short stop when Philip had a front wheel puncture to fix.  After this it was only a 15 minute pedal into Edenbridge, the market town which grew up around the river crossing built by the Romans.  Our tea stop was at "Bridges", a centre run  by local volunteers which guarantees a modestly priced cuppa, toast, and a selection of homemade cakes, etc.
Returning by a different route we were back at Purley shortly after 2 o'clock having pedalled an interesting and scenic 36 miles.
Next Thursday we meet at the Purley Tesco and head out along the North Downs, in a southwesterly direction to a destination in Surrey.