Early rain had ceased by 10 o'clock when we met at Tesco, Purley. Along the way we picked up Jenny at Coulsdon, plus a very welcome new face to the Thursday Rides.  But not a new face to Anerley B.C as he attended at least the last two Annual Dinners. This was Dave Grant, the husband of Jenny, who set off with us riding a blue Ridgeback fitted with straight bars with tri-bars added, Dave being a member of the triathlon section of the South London Harriers. Man and machine are shown below with Mark Hancock our ride leader in the background.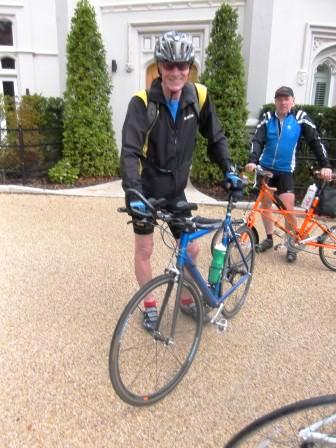 Not only a posh bike, but also a posh background. Due to a slight navigation error when going thru the private estate at Kingswood, we took a short cut to get back on track. The short cut entailed us speeding past a dozing security guard, all that is except Jenny, who as tail end Charlie didn't quite make it! However with female charm and a big smile she sweet talked her way past the guard who was now out of his hut and baring the way. The property being guarded against unwelcome intruders was this beautiful bit of Victorian splendour.
If you don't recognise it, it is the centre piece of the original estate of Kingswood Warren, now converted into some VERY expensive apartments.
Shortly after this photo shoot I had to peel off at the top of Pebble Coombe Hill as I had to be back home before 1 o'clock, so Frank Kippen takes up the story.
"Mark turned right at bottom of Pebblecombe and took us thru Betchworth to Brockham. Here we then turned right down School Lane, through a lovely area with a number of modest hills, until we reached the north/south road and went southwards past Henfold Lakes. In between, I caught up with a guy on a bike, obviously touring, with 2 panniers fore and aft and with a map on his front bar bag.
As we were near Newdigate I invited him to join us for a cup of tea which he accepted. He was from Bucharest, Romania, and on his way back home having reached Aberystwyth. He had set off on his epic journey at the end of May and en-route had ridden parts of the Tour de France route. He was due back home by the end of October  -a 12,000km bike ride!!!!
As well as a marathon cyclist, his main sport is as a mountain marathon runner (40k runs!) and he had a tee shirt with info on it. I don't speak much Roumanian, but fortunately George (that was his name) did speak English! He had just packed his bike with camping gear, etc, and set off for the U.K, his bike then weighing 50kg.  And here is Roumanian George with his rather over-loaded bike!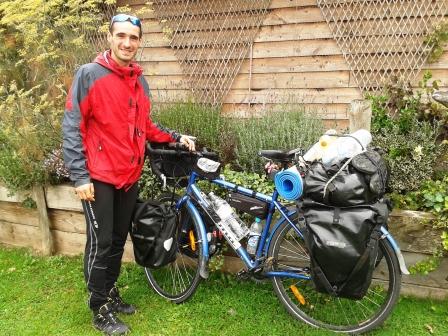 He did admit to one slight problem, conventional brakes with brake blocks were just not up to the job. Going down steep hills he often had to walk as the brakes could not control the speed. Next time disc brakes perhaps!. Although George had a problem going down hill he didn't admit a problem hauling him and his overweight machine up hill.  So we nicknamed him the  mountain goat.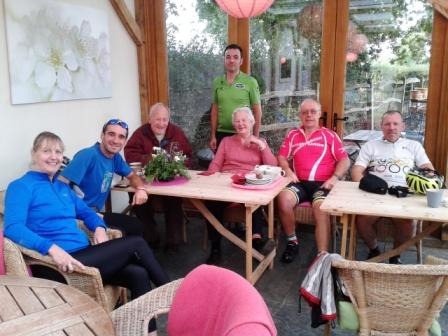 At our tea stop at Tan House Farm we met John and Meike and we all has an opportunity to talk with George.  I introduced John's 400,000 miles subject. (What is that?) Even John was impressed by his journey. Meike gave George the ABC web address and names of people in the photo he took of us. George  said he will comment on the  this Thursday Ride, so George keep in touch.
He was  amazing! A very wiry man, or as I referred to him, a lean machine. Hope he sends us a write up of his ride!"
Des and Frank (words) plus photos from Dave.