On this our fourth day we were headed for Koblenz, which in English translates to confluence. This city of course being on the confluence, or meeting place of the two great German rivers, the Mosel and the Rhine.  But before setting off on this 50 k bike ride we  had to see a bit of the historic old town of Cochen, our overnight stop from the day before.
Cochen is dominated by its magnificent "fairy" castle. It was however built as a military complex somewhere around 1100. It certainly saw early use in this capacity as it was captured in 1151 by King Konrad III who nominated it as an imperial castle.  After many more battles it was eventually completely destroyed by French troops in 1689 and lay derelict for nearly 200 years. The ruin was purchased in 1868 for 300 Goldmark by a very wealthy German businessman and rebuilt in its present day Gothic splendour. The inside and its furnishings are just as splendid as the outside.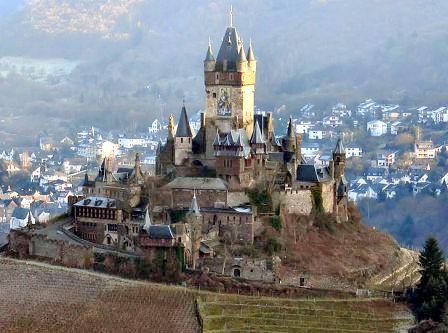 Cochen is one of the top 2 must visit towns on the Mosel (the other being Bernkastel which we visited yesterday). Too much to see on a short visit as we had to move on. However the old town centre has many medieval, timber framed buildings  surrounding the market square with its old fountain of clear water from the mountains above.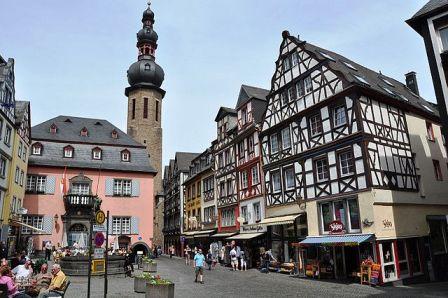 However this and most of the towns and villages along the Mosel, regularly suffer major flooding, the last being only 2 years ago. Below is a photo of a recent flood, and the next one shows the heights to which the worst flood levels have reached – lines and year dates marked in the corner of the building.
Although the town is a now a major tourist attraction it does have a darker side. Many in fact. Just one example is that in the Nazi era it was home to a concentration camp. Here, 13,000 slave labourers worked under brutal conditions making spark plugs and other ignition system parts for the well known German company, Bosch.
Another bit of quaint architectural history was passed thru as we came nearer to Koblenz. This was part of what had originally been the defensive outer wall of the only moated castle on the Mosel.  The archway, now spanning the main road and adjacent cycle path was where the moat once protected the inner castle area.
And soon we entered the major city of Koblenz where a cycle path took us all the way into the  city centre and to German Corner.  This is where the Mosel joins the bigger river, the mighty Rhine. German Corner is dominated by the huge bronze monument commemorating the founding of the German Empire under Kaiser Wilhelm I, following the Franco-Prussian War.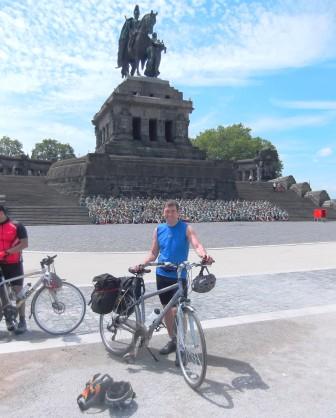 And of course we had to have photo of all five of us at this important meeting point, the confluence of Rhine and Mosel!